I love the feel of a cashmere sweater. In this post I put together some Cashmere sweaters that you will love from Voltaire and zadig. Their clothing line has a cool and edgy look that transcends every age group.
10% off on voltaire and Zadig website
This 10% can reduce what you pay for their pricey cashmere sweaters. However, they are literally a work of art and will last you for years to come. A great stylish staple for your closet
Zadig&Voltaire women's gray cashmere sweater with heart motifs, part of an exclusive collaboration with Venezuelan artist Jormi Graterol
Zadig&Voltaire women's grey cashmere hooded cardigan, heart detail on the front with "J'Taime" on the back.
women's cream cashmere sweater.
loose fit cashmere sweater, embellished with an intarsia star motif, pointelle ZV signature at the bottom.
blue cashmere sweater with V neckline with star patches on the elbows. I love this nique metallic detail for a true boutique look.
Recap of cashmere sweaters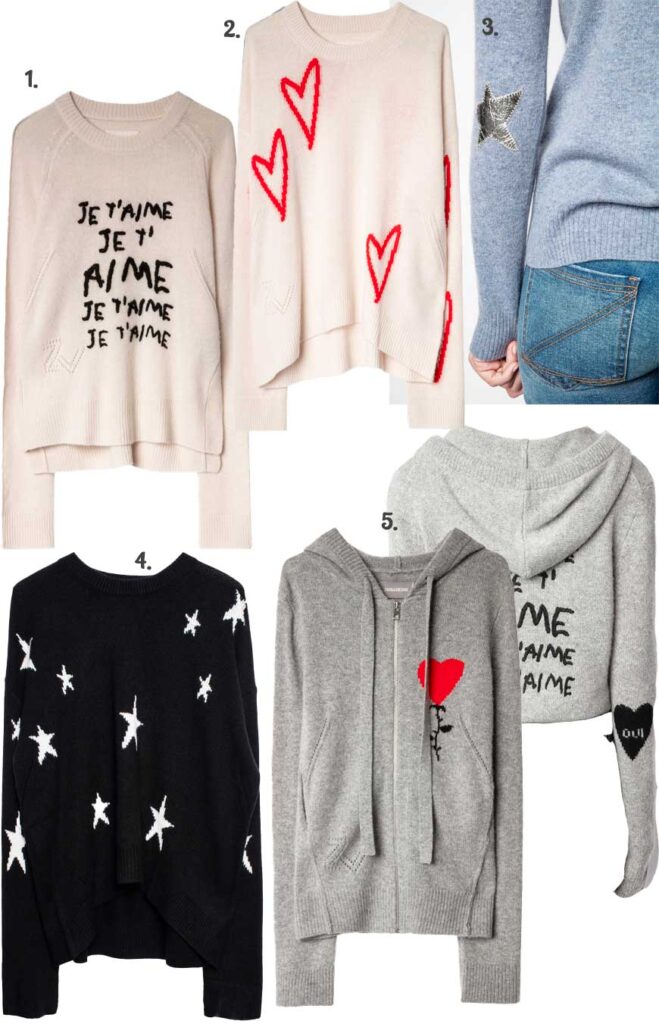 // 1 // 2 // 3 // 4 // 5 //
Additional retailers for Cashmere sweaters
You can definitely find less expensive Cashmere sweaters from retailers. Many retailers that are producing cashmere are doing it in a sustainable way. Such as Everlane, They have a wide range of colors and a lower price point. Grade-A cashmere from Mongolia runs from $100 to $155 and in sizes XXS to XXL.
Additional retailers that you can check out for more sustainable less expensive sweaters are listed below. However they do not have the same look and style as the above Voltaire and Zadig cashmere sweaters. One solution would be to buy one of the basics below and add your own embroidered touch! I did exactly this on a past diy sweater post that you can read about here.
Let me know what your favorite style is. Comment below!