My blog periodically contains affiliate links meaning that if you make a purchase, I might make a small commission at no extra charge to you. Purchases made through them are greatly appreciated.
In this post I have created a free calendar download for March to motivate you. The last two months I have created a free monthly inspirational calendar for anyone to download for free! You can find the February here. These fun printable calendars help keep track of your busy days, while adding a motivational quote for each day to keep us on track.
Theme for March download Calendar
March is all about renewal as we leave behind (hopefully) Winter and enter Spring. That's why my Calendar Download For The Month Of March is To Motivate You. Think about what this year has to offer us. What better way then having a calendar page in front of you to start each day.
How to assemble your Free downloadable March Calendar to motivate you.
All you need to do is download from the download button below and print. follow these easy instructions below. With a little ribbon you can customize your printable calendar.
Once downloaded, decide on paper quality. You can use regular printer paper, or go for something a little more custom, you decide!
Cut each box out along lines, so that you have each day cut out separately.
Using the circles on top, use a hole puncher, They are all aligned so each square calendar day will sit perfectly on top of one another.
Pick out a pretty ribbon or yarn. I chose yellow for this month. (Yes! for all new things!) Thread your ribbon through the hole in each front hole and off with a bow.
Tack up under the bow for a finished look. There you have it! your printable Calendar is ready to go.
I tacked it to my bulletin board in front of my work space for good visual access. Each day take a read and remember what motivates you.
Supplies needed for your Calendar
Check out the individual March Calendar pages below
Trust the next chapter because you are the author.
The secret of getting ahead is getting started.
Everything you can imagine is real.
Do one thing everyday that scares you.
If something is important enough, even if the odds are stacked against you, you should still do it.
Hold the vision, trust the process.
People who wonder if the glass is half empty or full miss the point. the glass is refillable.
Things may come to those who wait, but only the things left by those who hustle.
Success isn't about how your life looks to others. It's about how it feels to you.
You have been criticizing yourself for years, and it hasn't worked. Try approving of yourself and see what happens.
Keep your face always towards the sunshine and shadows will fall behind you.
We can do anything we want to if we stick to it long enough.
Work hard, be kind, and amazing things will happen.
Never give up on a dream just because of the time it will take to accomplish it. The time will pass anyway.
Nothing ever goes away until it teaches us what we need to know.
When something I can't control happens, I ask myself:Where is the hidden gift? Where is the positive in this?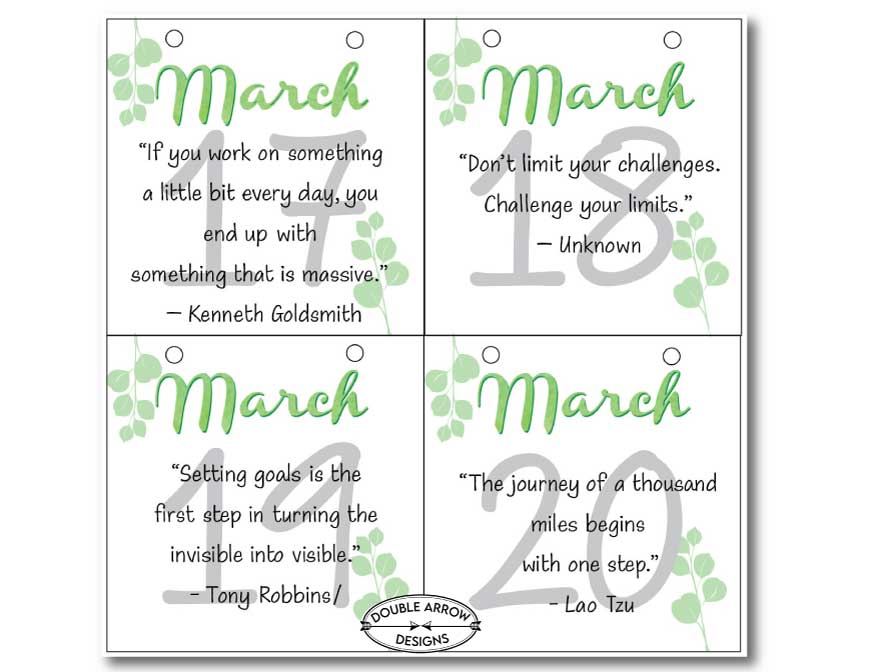 If you work on something a little bit everyday, you end up with something massive.
Don't limit your challenges. Challenge your limits.
Setting goals is the first step in turning the invisible to visible.
The journey of a thousand miles begins with one step.
Additional March pages
You must do the things you think you cannot do.
If you want to fly give up everything that weighs you down.
Doubt kills more dreams than failure ever will.
I never lose. Either I win or learn.
The best way to predict your future is to create it.
Do the best you can. No one can do more than that.
Always be careful when you follow the masses. Sometimes the M is silent.
Only do what your heart tells you.
The big lesson in life is never be scared of anyone or anything.
Be happy with what you have while working for what you want.
Today is your opportunity to build the tomorrow you want.
One blank note, for your own Quote!
Free Calendar Download For The Month Of March
Download the Free Calendar For The Month Of March to motivate You. Each day will be a new quote to remind ourselves how special we really are.
12 Month Calendar
I have also designed a 12 month perpetual printable calendar that you can find here. This 12 month calendar is perfect to fill in the year and days to comply with amy year that you are using it for!
Accessories for your desk!
I decided on a floral theme to work with the idea that March will bring us a renewal if spring! All these accessories went well with my March calendar.
Share with me how you put your March calendar together. What ribbon you decide on and where you put your Inspirational March Calendar. Visit me each month, as I post a New free downloadable calendar ready to print for the upcoming month. Please consider joining my mailing list,Hope you enjoy!
Related posts
Below are some additional posts that you may find helpful, check them out!