My blog periodically contains affiliate links meaning that if you make a purchase, I might make a small commission at no extra charge to you. Purchases made through them are greatly appreciated.
In this post I created a July calendar printable that is perfect to download, print and then assemble into this awesome July inspiring tear off calendar. This can be used or given to a friend or make for yourself. So you can be inspired for the month of July. I use mine, hanging from my bulletin board and remind myself to see the beauty in each day.
For the Month of July
I celebrate each month below is a July calendar. In this post you will find the following free July calendar download. Print as many as you like for personal use.
Month of July inspirational calendar
July Calendar versions!
Scroll down to find the calendar perfect for you!
Download below your July calendar pages.
Just hit the link below and you will instantly download a pdf of the July calendar with inspirational quotes for each day. Once you download, print on paper. I always suggest Epson presentation paper, for better quality. Then with either a scissor or a paper trimmer, cut out all the squares. Convenient hole punch guides are at top, simply use a hole punch and thread with some ribbon or yarn. Stick on a bulletin board for daily Inspiration!
When printing your July calendar with inspirational quotes, my suggestion is to print landscape so that each box will print out 3 3/4″ by 3 3/4″
July calendar daily inspiration
When I think of the month of July month I think of Independence day, so my inspirational month of July calendar is themed around independence and what that can mean for each of us. I spent my childhood on Rockaway beaches and every July 4th there was an amazing array of fireworks. To this day it is my most favorite holiday. The display of fireworks is a testament to our freedoms not only as a country but the freedoms we possess as individuals. We are so lucky to have be born in this time of such choices. These quotes for this month are about celebrating life, and having our independence and choices. We are as free as we allow ourselves to be.
Check out the individual Calendar pages below
Freedom lies in being bold
I am no bird;and no net ensnares me;I am. free human being with an independent will.
No one outside ourselves can rule us inwardly. When we know this, we become free
I know but one freedom and that is the freedom of the mind.
Independence is earned by a few words of cheap confidence.
Nobody gives you a chance…So you just have t stand on your own two feet and take them.
You don't need a significant other to lead a significant life.
Freedom is the will to be responsible to ourselves.
My mother told me to be a lady.And for her, that meant be your own person, be independent.
I am thankful to all those who said "no" to me. It's because of them I did it myself.
Never get involved with someone who wants to change you.
Happiness is being independent.
No person is your friend (or kin)who demands your silence, or denies your right to grow.
Tame birds sing of freedom. Wild birds fly.
I know but one freedom and that is the freedom of the mind.
Be an independent thinker at all times, and ignore anyone who attempts to define you in a limited way.
Freedom is not worth having if it does not include the freedom to make mistakes.
Never put the key to your happiness in someone else's pocket.
We must be free not because we claim freedom, but because we practice it.
The only real prison is fear, and the only real freedom is the freedom is freedom from fear.
Because in the ed you're all you got.
If you want a thing done well, do it yourself.
Care about what other people think and you will always be their prisoner.
It takes nothing to join the crowd, it takes everything to stand alone.
We are all the artists of our own lives… We can use as many brushstrokes as we like.
Expose yourself to your deepest fear; after that, fear has no power, and the fear of freedom shrinks and vanishes.
The best place to find a helping hand is at the end of your own arm.
Freedom(n.): To ask nothing. To expect nothing. To depend on nothing.
Self- reliance is the only road to true freedom, and being one's own person is the ultimate reward.
Self- reliance is the key to a vigorous life. A man must look inward to find his own answers.
To find yourself, think for yourself.
Note page- perfect last day of the month where you can write your own quote, or better yet some words of encouragement to yourself!
Inspirational Quotes for July
Love these quotes that I have added to this inspirational July calendar! Each day has a different quote that will set you right for the day. I chose ones that are uplifting and to remind ourselves how strong we really are.
Check out my past posts for my months inspirational printable Monthly Calendars. I am adding all the months so that each month will have your own special inspirational quotes for each day of the month. You can find printable June Calendar to finish off this month before you head into July.
July calendar to keep organized
As a designer, I loved redesigning a calendar and adding my own design flair for a pretty eye catching calendar that you can download for free! Yep, and not only that but I have fun versions for multiple needs, check out below the different versions you can find and download – for free!
Full Month of July calendar page:
Just scroll down until you see the design you like and you can find the direct download link(s) under the image. Actual downloads are logo free. The images below are great to pin for your pinterest board, so pin away!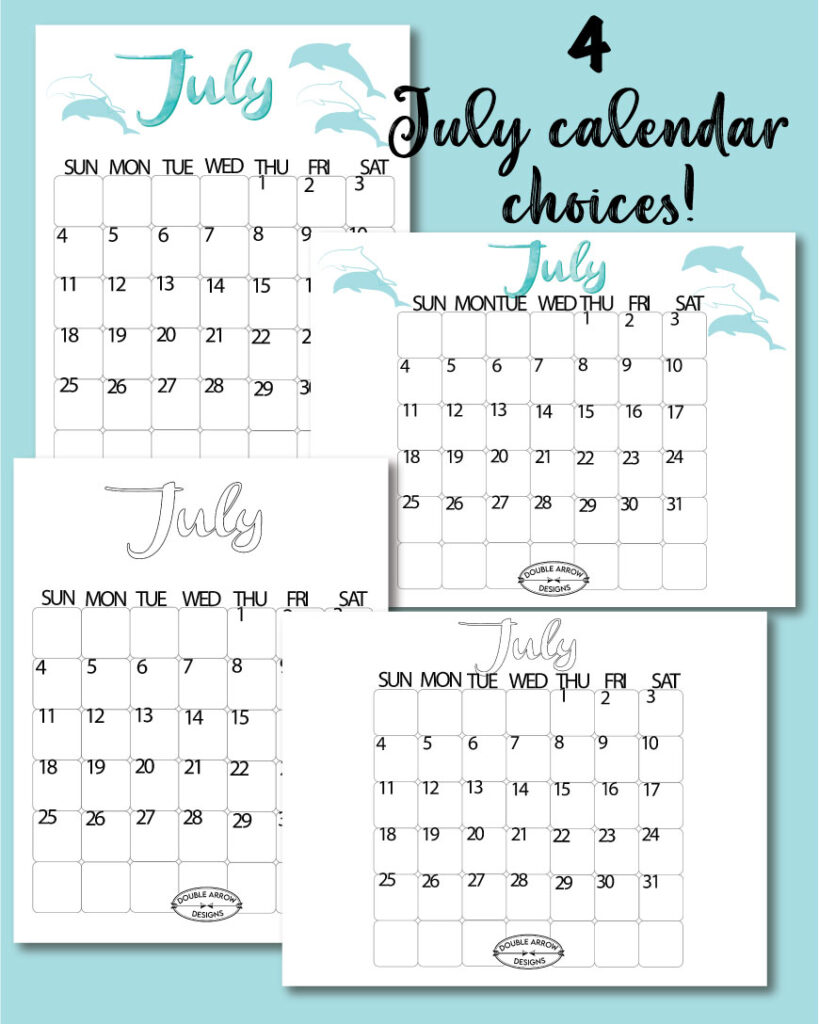 There are four versions to choose from, just pick which one suits you best, or download all and use in multiple places.
Perfect for your planner, binders or bullet journal, or bulletin board! Or use the July calendars as is! Check out below for each month with free downloads.
Supplies Monthly Calendars
Instant download. Free printables.
Download and print out your Favorite version of the July calendar. Or download the Monthly and the inspirational one and use both! Personalize them by adding your own events and holidays. Print out the Vertical one or the horizontal one. So many options to choose from.
FREE PRINTABLE JULY CALENDAR – SO PRETTY!
If you don't want to use these in color then you might like the black & white version I've made. All of my free Downloads come without my Logo on them, the images are great to use for pinterest.
Additional Months
Since the beginning of the year I have been creating a monthly inspirational calendar that you can download and assemble like I have.
Printable July calendar – Pin to your favorite Pinterest board
Let me know if any links are not working. Always helpful so I can fix anything that may need to be fixed.
Desk Accessories- for your home office
Having your calendar on your desk definitely helps keep you organized. I put together additional desk accessories to complete your work space.
July and beyond
I am looking forward to summer! Summer months always allows for easier living, a time to enjoy other things in life. Enjoy this resource and remember that each day we have, the potential of self growth. Use it to its fullest!
Keep in touch with my newsletter and you won't miss the monthly calendars.