My blog periodically contains affiliate links meaning that if you make a purchase, I might make a small commission at no extra charge to you. Purchases made through them are greatly appreciated.
In this post I created a May 2021 Calendar printable that is perfect to download, print and assemble into this fun May 2021 Inspiring tear off calendar. This can be used or given to a friend or mom to be inspired for the month of May. I use mine, hanging from my bulletin board and each day remind myself to see the beauty in each day.
For the Month of May 2021
I celebrate each month with a monthly 2021 calendar. In this post you will find the following free calendar 2021 downloads. Print as many as you like for personal use.
Month of May 2021 inspirational calendar
Colorful vertical month of May 2021 calendar
Colorful horizontal month of May 2021 calendar
Black and white vertical month of May 2021 calendar
Black and white horizontal month of May 2021 calendar
All 12 months of 2021 vertical calendar
Scroll down to find the calendar perfect for you!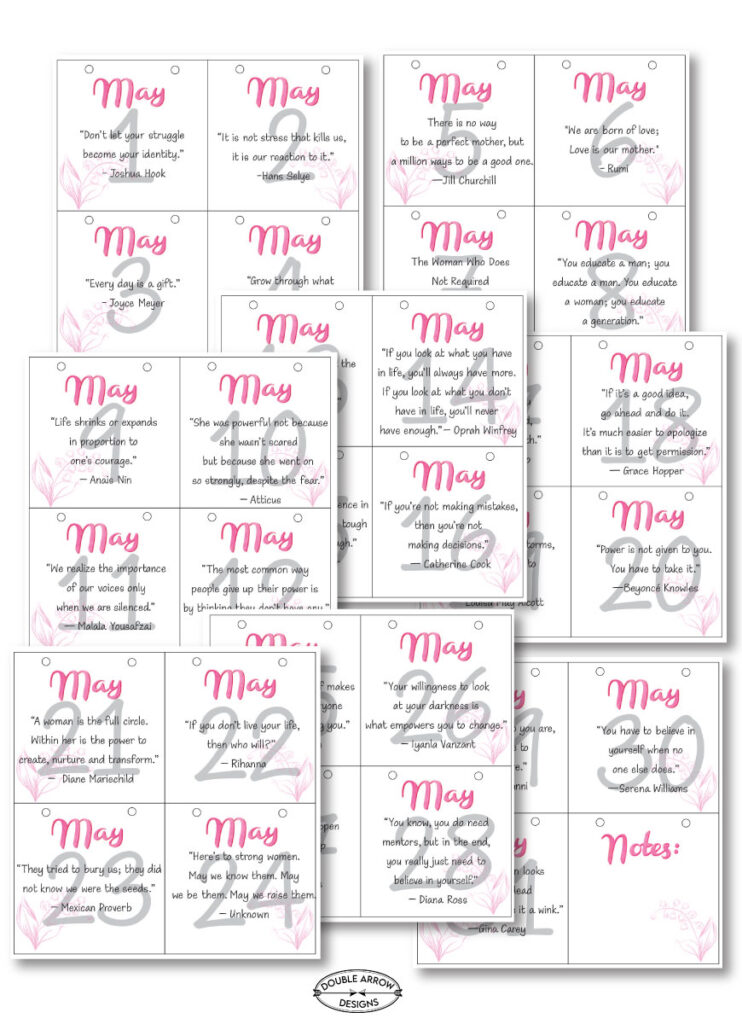 Download below your May 2021 calendar pages.
Just hit the link below and you will instantly download a pdf of the May 2021 calendar with inspirational quotes for each day. Once you download, print on paper. I always suggest Epson presentation paper, for better quality. Then with either a scissor or a paper trimmer, cut out all the squares. Convenient hole punch guides are at top, simply use a hole punch and thread with some ribbon or yarn. Stick on a bulletin board for daily reminders on how strong we really are!
When printing your May 2021 calendar with inspirational quotes, my suggestion is to print landscape so that each box will print out 3 3/4″ by 3 3/4″
May 2021 calendar daily inspiration
When I think of this month I think of Mother's day, so my inspirational month of May 2021 calendar is themed around moms and women. We are kick ass when we want to be. We are the nurturers, the caregivers to everyone. It is so important to remember as women who we are and the super intelligence and insight we have. So I dedicate this month to all women. All the quotes in this May 2021 calendar are inspired by women, or written about women and their strengths. We have so many to be proud about!
Check out the individual Calendar pages below
Don't let your struggle become your Identity
It is not stress that kills us, it is the reaction to it.
Everyday is a gift.
Grow through what you go through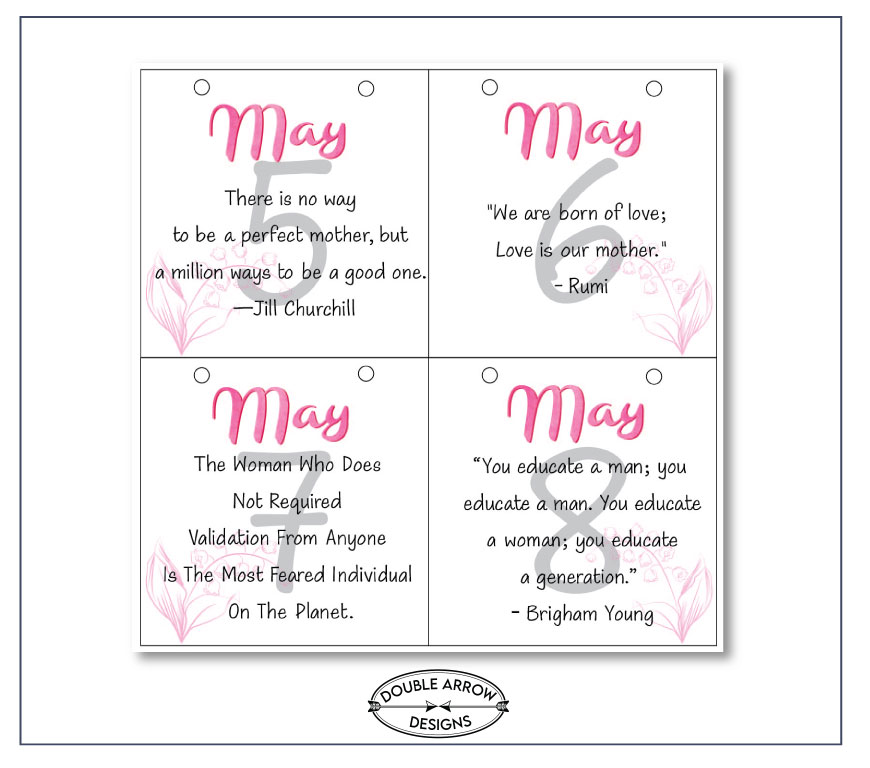 There is no way to be a perfect mother, but a million ways to be a good one.
We are born of love; love is our mother.
The women who does not require validation from anyone is the most feared individual on the planet.
You educate a man, you educate a man. You educate a woman, you educate a generation.
Life shrinks or expands in proportion to one's courage.
She was powerful not because she wasn't scared, but because she went in strongly, despite the fear.
We realize the importance of out voies only when we are silenced.
The most common way people give up their power is by thinking they don't have any.
Do you want to meet the love of your life? Look in the mirror
If you look at what you have in life, you'll always have more. If you look at what you don't have in life, you'll never have enough.
You have to have the confidence in your ability, and then be tough enough to follow through.
If you're not making mistakes, then you're not making decisions.
What makes you different or weird, that's your strength.
If it's a good idea, go ahead and do it. It's much easier to apologize than it is to get permission.
I'm not afraid of storms, for I am learning to sail my ship.
Power is not given to you. You have to take it.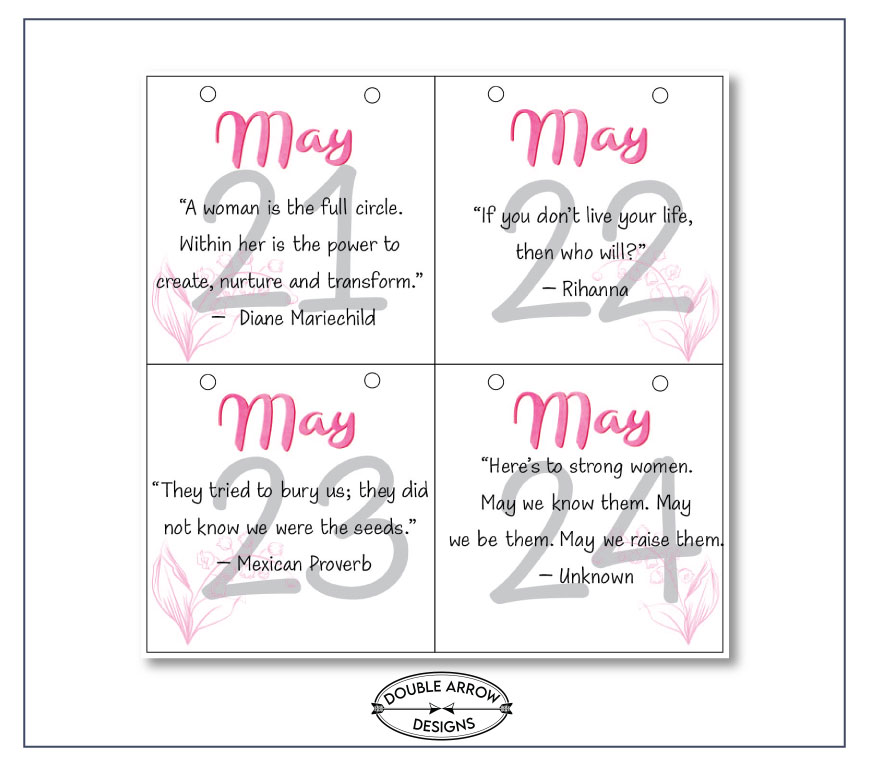 A woman is full circle. Within her is the power to create, nurture and transform
If you don't live your life, then who will?
They tried to bury us; they did not know we were seeds.
Here's to strong women. May we know them, May we be them, May we raise them.
Taking care of yourself makes you stronger for everyone in your life…including you.
Your willingness to look at your darkness is what empowers you to change.
Amazing things happen when women help other women.
You know, you do need mentors, but in the end, you really just need to believe in yourself.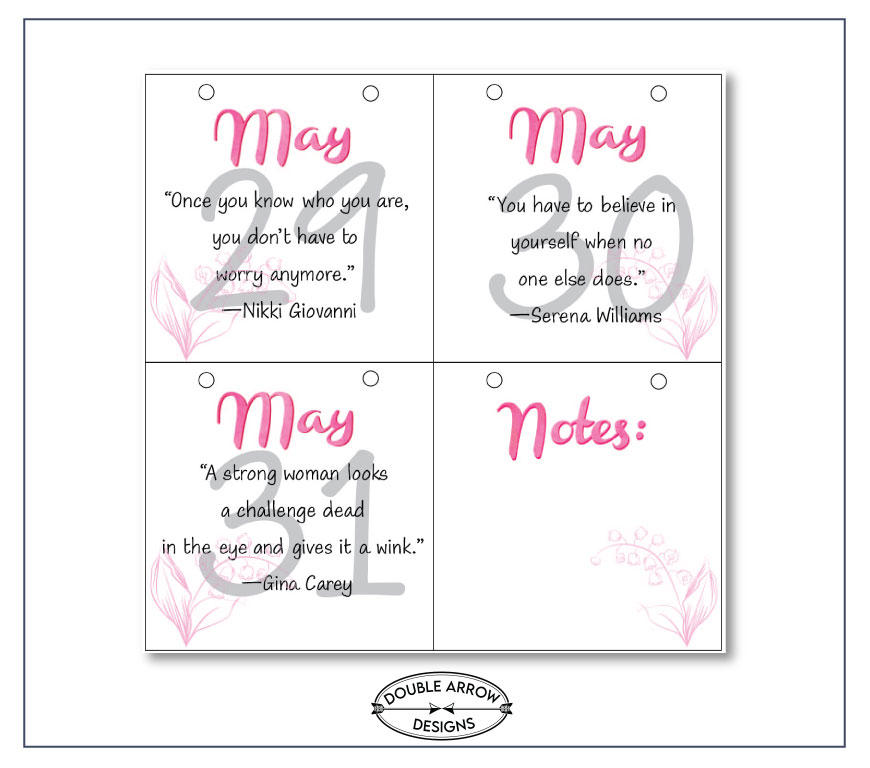 Once you know who you are, you don't have to worry anymore.
You have to believe in yourself when no one else does.
A strong woman looks a challenge dead in the eye and gives it a wink.
Note page- perfect last day of the month where you can write your own quote, or better yet some words of encouragement to yourself!
Inspirational Quotes for May 2021
Love these quotes that I have added to this inspirational 2021 calendar! Each day has a different quote that will set you right for the day. I chose ones that are uplifting and to remind ourselves how strong we really are.
Check out my past posts for my months inspirational printable Monthly Calendars. I am adding all the months so that each month will have your own special inspirational quotes for each day of the month. You can find Printable April 2021 Calendar to finish off this month before you head into May.
May 2021 Calendar to keep organized
As a designer, I loved redesigning a calendar and adding my own design flair for a pretty eye catching calendar that you can download for free! Yep, and not only that but I have fun versions for multiple needs, check out below the different versions you can find and download – for free!
Full Month of May 2021 calendar page:
Just scroll down until you see the design you like and you can find the direct download link(s) under the image. Actual downloads are logo free. The images below are great to pin for your pinterest board, so pin away!
There are four versions to choose from, just pick which one suits you best, or download all and use in multiple places.
Colorful Vertical Month of May 2021 Calendar
---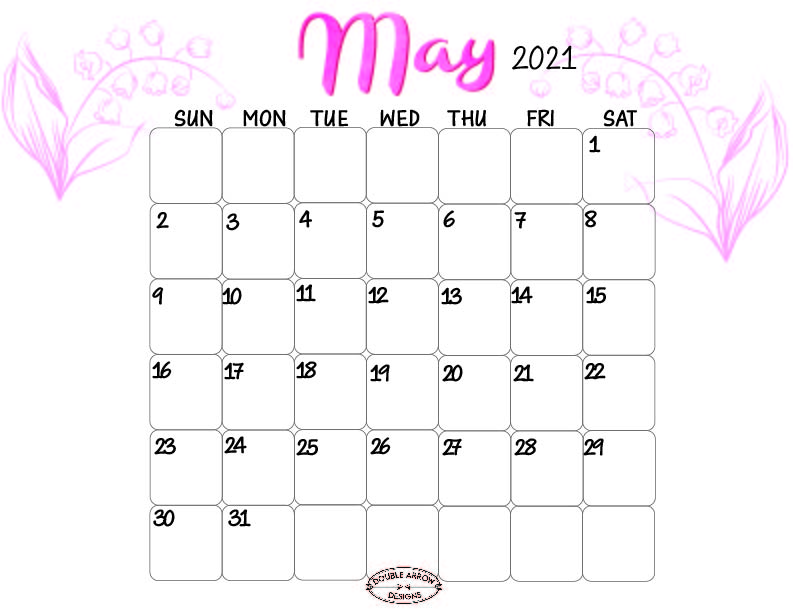 Colorful Horizontal month of May Calendar
---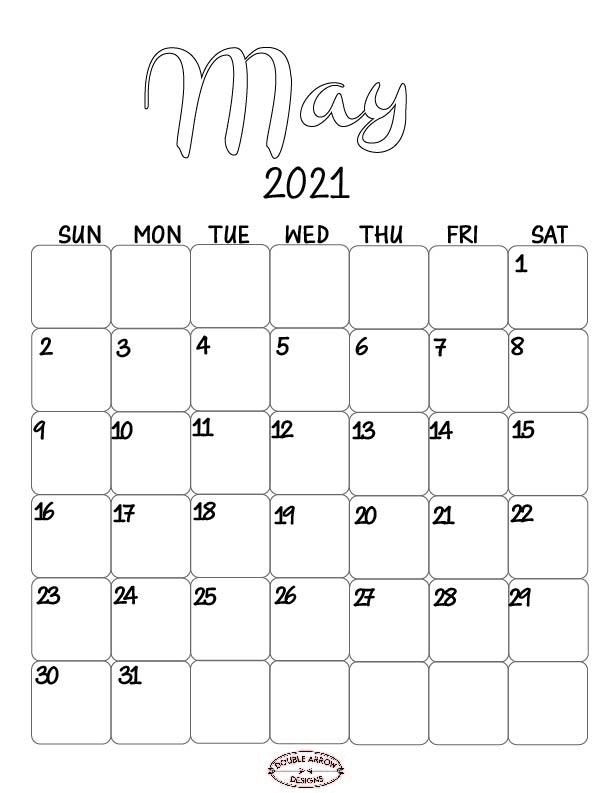 Black and white Vertical Month of May 2021 Calendar
---
Black and white Horizontal Month of May 2021 Calendar
---
Perfect for your planner, binders or bullet journal, or bulletin board! Or use the May 2021 calendars as is! Check out below for each month with free downloads.
Supplies Monthly Calendars
Instant download. Free printables.
Download and print out your Favorite version of the May 2021 Calendar. Or download the Monthly and and the inspirational one and use both! Personalize them by adding your own events and holidays. Print out the Vertical one or the horizontal one. So many options to choose from.
FREE PRINTABLE MAY 2021 CALENDAR – SO PRETTY!
If you don't want to use these in color then you might like the black & white version I've made. All of my free Downloads come without my Logo on them, the images are great to use for pinterest.
Additional Months
Since the beginning of the year I have been creating a monthly inspirational calendar that you can download and assemble like I have. See Below for each months calendar. Just download and you are set for each month of 2021.
Look at this pretty themed Monthly 2021 Calendar, so pretty, and easy to download and print so that you can stay organized for the rest of the year. All the graphics on these calendars have been drawn by me. Each graphic helps to depict the feel of each month, so no two months look or feel the same. So with color coordinated months, each month looks different. Then I took each monthly graphic and used this to create my inspirational monthly calendars. Each month coordinates back to these fun printable inspirational daily calendars.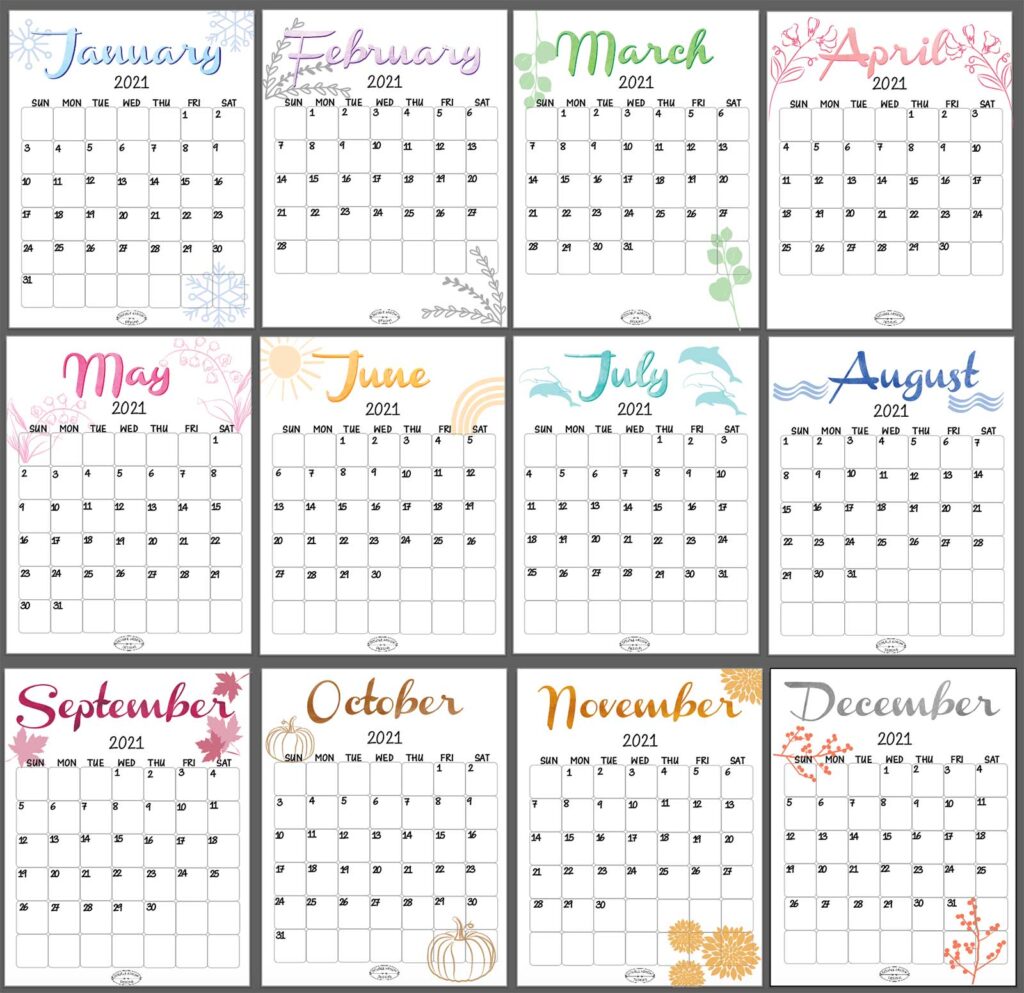 Printable May 2021 calendar – Pin to your favorite Pinterest board
Let me know if any links are not working. Always helpful so I can fix anything that may need to be fixed.
2021 and beyond
As 2021 is rolling along, I am optimistic for a fun summer. Our perspective each day plays a huge role in this. So remember that each day we have has such potential, use it to its fullest!
Keep in touch with my newsletter and you won't miss the monthly calendars.