My blog periodically contains affiliate links meaning that if you make a purchase, I might make a small commission at no extra charge to you. Purchases made through them are greatly appreciated.
Let's discuss shopping for plus size teens. Bodies come in all sizes. When you have a child who is plus size, you need to consider how to help her find clothes that make her feel good. Girls plus size junior clothing can be harder to find, but we can make the process much easier by identifying retailers that carry plus sizes and getting creative with instore and online shopping.
Things to remember when shopping for girls' plus size clothing
We live in a society that promotes harmful body ideals. Our teens are constantly on social media where girls are posting only the best filtered selfies. This is a hard new world to navigate when all you see is artificial perfection.
Bodies come in a wide variety of shapes and sizes. But the fashion industry makes clothes for a very narrow body type. Shopping for plus size teens is frustrating for parents and teens alike. The most accepting parents will find it difficult to help their kids not feel frustrated when stores fail to carry preteen & teen plus size clothing.
I remember as a teen desperately wanting a pair of Jordache jeans at the age of 13. Neither of my parents would buy them for me, so I saved up my own money to buy them. I have a vivid memory of going to a store in Far Rockaway where a store carried them. The white haired salesman looked at me condescendingly and said to me as I was buying them, "Well this is the biggest size we sell". So I was able to buy a size 10 in Juniors and came home and squeezed myself into them. I will never forget feeling GRATEFUL, that they fit. Today I wish I could tell that 13 year old that she looked good.
When shopping isn't fun
Going shopping – an adolescent rite of passage. When Shopping for plus size teens, clothes may not fit well, may be too tight in some places and big in others. Even worse, many retail stores don't carry plus size children's clothes in the store. Leaving your child with no choices at all. Parents and their kids can feel awful about themselves because there are so few options available.
In fact, shopping can be a major trigger for the beginning of struggles with body hate and dieting. Since dieting is a major risk factor for eating disorders, it's important to address shopping struggles.
This is why it's a good idea to think critically about clothes shopping before going shopping for your plus size teen. Education can help you and she understand the options and navigate the changing room with minimal struggles.
There is a big difference going into a store and trying everything on and nothing fits. Then going into a store that everything fits. We have all experienced this whether as a teen or as an adult. Think about this and the emotion that comes with it.
Children's & Teen Clothing Sizes
Children's clothing is based on age. This assumes a straight growth curve in which the child grows up and out at a standard rate. However, not all bodies grow this way. For example, an 8-year-old girl may need a size 12 to accommodate her waist, but a size 12 may be too long in length.
The hardest time for plus size girls is when they are in between children's and junior clothing sizes. For example, A 10-year-old girl may need a Junior size 2 to fit her waist, but the bust and length are all wrong. Junior sizes give too much space for breasts, not enough space for tummies, and the length is wrong for most children.
Junior Clothing Sizes
Kids' sizes for girls are 7-16 This suppose to be based on age. After this a girl then goes into the Junior's dept. A 13 year-old plus size teen is not going to be able to wear a Junior's size 2 or 4. She will need clothes that fit her body shape.
This mismatch happens right as girls bodies are changing for puberty, and their shapes are in transition. It's as if Junior sizes forget that tweens' bodies are growing unpredictably. Regular sizes assume a standard chest-waist-hip ratio that doesn't fit some of the population of pre teen girls.
Brand Sizing
Every brand uses its own sizing chart. This means that a woman may range up to four sizes depending on the clothing brand. This adds significant stress for people living in larger bodies, who already feel incredibly vulnerable in the changing room. Have you ever been a medium in one brand and maybe a Large in another?
A teen who carries more weight in her thighs may be unable to fit in clothing from one brand. However another teen who carries her weight in her breasts may fit that brand perfectly. This happens to regular-size and plus sizes alike. The variation between brands can be mind-boggling.
Shopping for jeans for plus size Teens
Great selection of jeans. They have all the categories such as jeggings, cropped, wide leg,boot, flare, you name it! With a little stretch in your denim for added comfort. I loved the selection they have for plus size in jeans for teens.
Jeans have to be one of the hardest things to fit a more of a full figured shape. American Eagle outfitters has some good choices for this. Take a look below for some choices.
They have the BEST selection of curvy jeans! This is the place to go if your teen carries more weight on her bottom. The selections are amazing, Variety of washes, finishes, styles and prices. Their Jeans have stretch and really give a comfort fit. Check out the link Here for American Eagle Outfitters. They also carry a variety of fun young quality key items and accessories.
---
Nordstrom Rack carries some great brands such as seven7, madewell, levis, and more. Because they are Nordstroms off price counterpart, you will find limited items, and quantities. However their selection is right on point with their parent company and has some really cool, on trend styles that will make your teen feel extra special. In your search you may find some real gems!
---
Carries a full selection of plus sizes as its own category. Pricing is reasonable. I cannot comment on quality or fit on this online store. However their assortment of trend right apparel for their plus size category looks good. Shop Rue 21 here to see what they have on line.
---
These picks are from the women's category, but they carry some youthful styles that translate well for teens.
I talked about this online store in my last blog on best online shopping for kids. You can read all about that here . This Australian store also carries a line of curve plus sizes. Pricing and styles are trend right!
---
For up to the minute trends, forever 21 carries it. Their Plus size category has some great fashion and basic choices. Great layering pieces to add to a total look!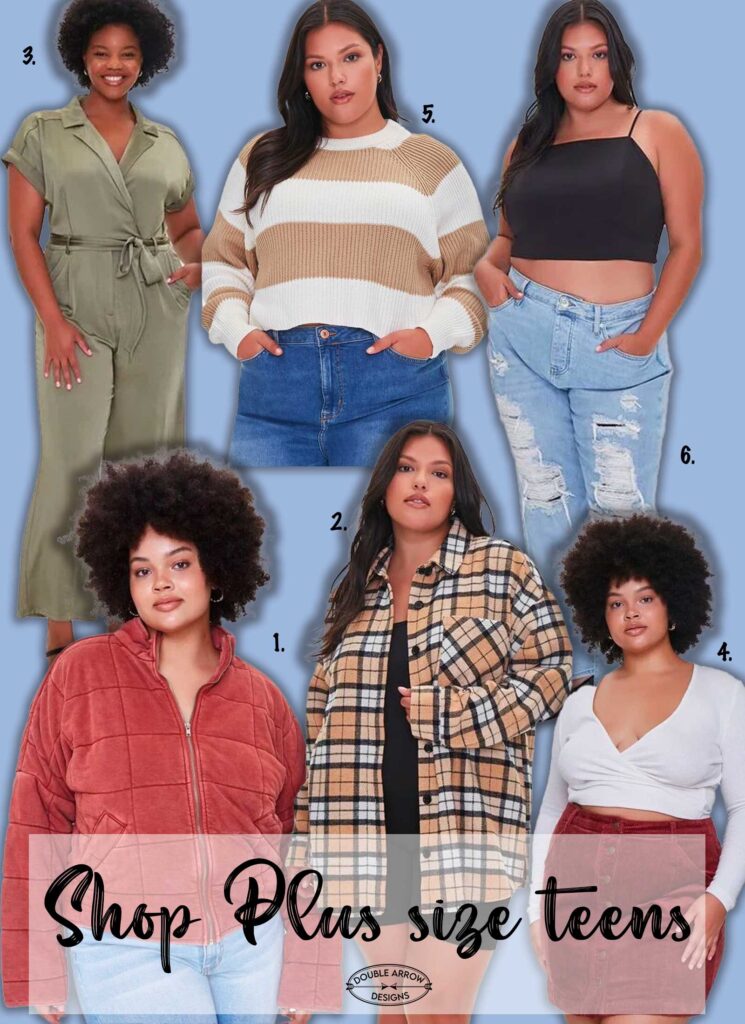 Aeropastale Carries a line of extended sizes. HOWEVER when searching online, only their jean section displayed plus size models. I was disappointed when I searched their other categories for extended sizes that regular size models were used. I am on the fence here.
Above I highlighted some retailers in shopping for plus size teen. I have also compiled a list below of additional ones to check out. Go online, search the internet. Look for the styles that fit your tee, or better yet let them search, find what they like and do an online " shopping trip" This experience could open a new chapter for your teens shopping experience.
The choices today are so much more than when I was a teen. I had one choice and one white haired old man telling me what I had access to. Teens have such better choices and awareness today, empower them to use it!
like this post? please consider sharing!
Related Posts
See below for some additional posts that you may find interesting!
Let me know what else you are looking for, write a comment below or email me! I always welcome suggestions.