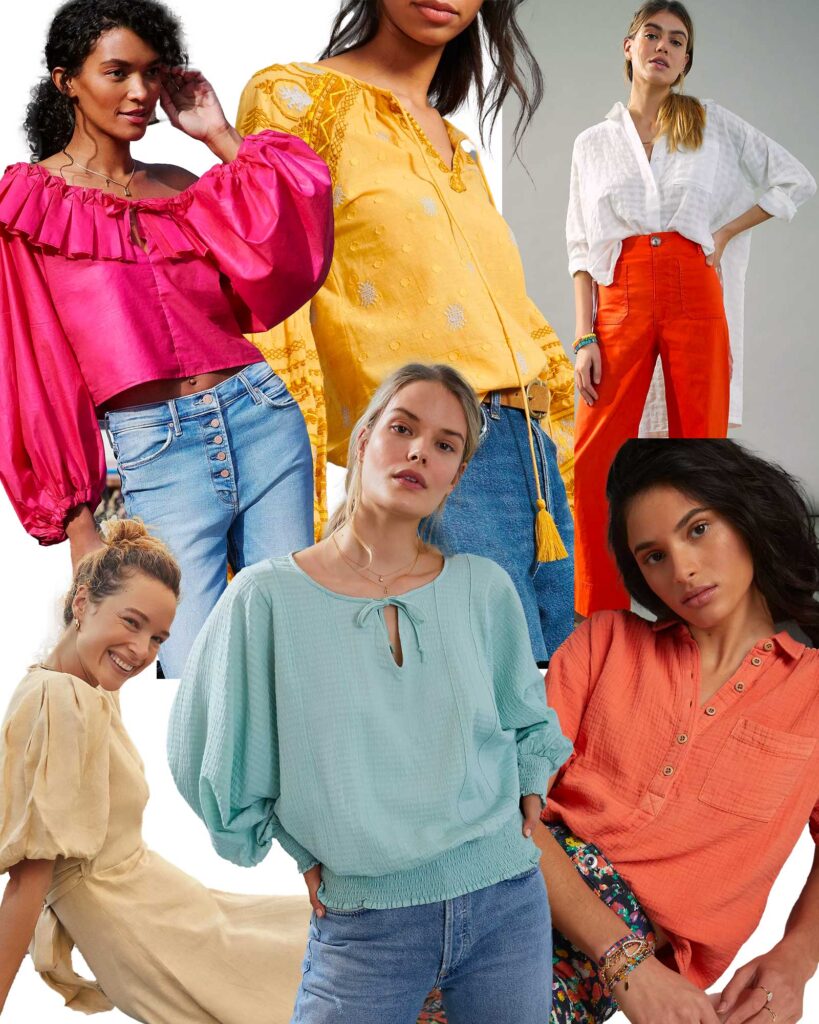 My blog periodically contains affiliate links meaning that if you make a purchase, I might make a small commission at no extra charge to you. Purchases made through them are greatly appreciated.
Ok, this is my favorite season, I cannot lie! I get so excited when I get to research spring 2021 color trend. We emerge out of the bleak winter and spring is always about renewal and hope. Thankfully this year will have some good things ahead. Color trend this spring is all about invoking this feeling.
This is the foundation of everything for me in design. So I always start with color. Spring 2021 color trend has a definitive color look this year. Not only am I finding this in women's this color trend, but kids fashion is mirroring these colors as well. You can look at the runway for color trend. However a lot of these styles and looks are beyond most people. Great to look at, but how does it apply to us?
After researching the runway for spring 2021 color trend. I compiled each color into ready to buy looks. I am going to break down each color into its own palette and give you actual apparel that you can wear everyday. Most color trend posts are all about what's on the runway. Well if you are me, I am not buying any runway looks at the moment. So as I see it, here are the most updated looks in color trends for Spring 2021.
Another resource to find Spring 2021 color is looking at the "color of the year" from Pantone. Their colors of the year are yellow and grey. PANTONE 17-5104 Ultimate Gray + PANTONE 13-0647 Illuminating. Pantone's Color of the Year reflects color trends in fashion, beauty, design and home decor, etc. Their message is one of hope as well. Their statement of these colors are: "A marriage of color conveying a message of strength and hopefulness that is both enduring and uplifting."
Spring color trend- Orange
This comes in many shades, from bright to burnt. Orange is a bright,fun color and so perfect for spring! I will be using this as a main color in my spring designing this season.
|| 1 || 2 || 3 || 4 || 5 || 6 || 7 ||
Color trend – gold
From tints of pale yellow that can be used as a neutral to shades ranging all the way to a marigold and all the colors inbetween.
|| 1 || 2 || 3 || 4 || 5 || 6 || 7 ||
Spring color trend -Coral
Coral is a pink orange that can sit in both these color buckets. Bright to corals to icy peaches. So fun for the spring!
|| 1 || 2 || 3 || 4 || 5 || 6 || 7 ||
Color trend- Khaki-
Ok I'm sneaking this in! The pieces below made for such a great mood board. Yes,this is what I do with my time. Maybe this isn't a color trend, more like an everyday staple since its neutral, however pairing these neutrals with a pop color for spring makes a huge statement. My favorite pairing at the moment is these neutrals with coral, try it out!
Color trend- Mint
Such a pop color for spring, bright and pretty! Look at all the ranges from light aquas to mint greens to richer teals.
|| 1 || 2 || 3 || 4 || 5 || 6 ||
Trend alert- Hot Pink
Bright pinks remind me of my 80's hey day! Check out how that neutral khaki works with the hot pink skirt- such a perfect pair.
|| 1 || 2 || 3 || 4 || 5 || 6 ||
MADEWELL– great spring 2021 colors
Another way to check out a seasons palette is by looking at some retailers palette they are using in basics. Madewell has a line of v neck tees that really follow the spring trend! Isn't it fun to find runway colors in basic tees? check the assortment below.
Additional trend colors for Spring 2021
Additional colors trending this spring are lavender and blue. All of the colors that I have shown are so bright and pretty. I am so inspired for the upcoming season and all it has in store for us. I am looking forward to designing spring and using these colors in my palette. Share below any great finds in this supercharged spring 2021 color trend.