My blog periodically contains affiliate links meaning that if you make a purchase, I might make a small commission at no extra charge to you. Purchases made through them are greatly appreciated.
Gift Ideas for Your Teens
I have compiled 9 great gift ideas for your teens based on past and present requests from mine. The list below is a good mix for both boy and girl teens. Happy shopping!
When my kids were young I remember filling up the base of our Christmas tree with multiple gifts. I think that my kids were more excited by just seeing how many gifts they received, then what they actually got.
What are the best gifts for teens?
Today they have become more specific on what they want, or what they like. They would rather receive one or two gifts on specific things. These items can also get a little bit more expensive, then the toys they received as kids. So below are 9 great gift ideas for your teens who are not so easy to shop for.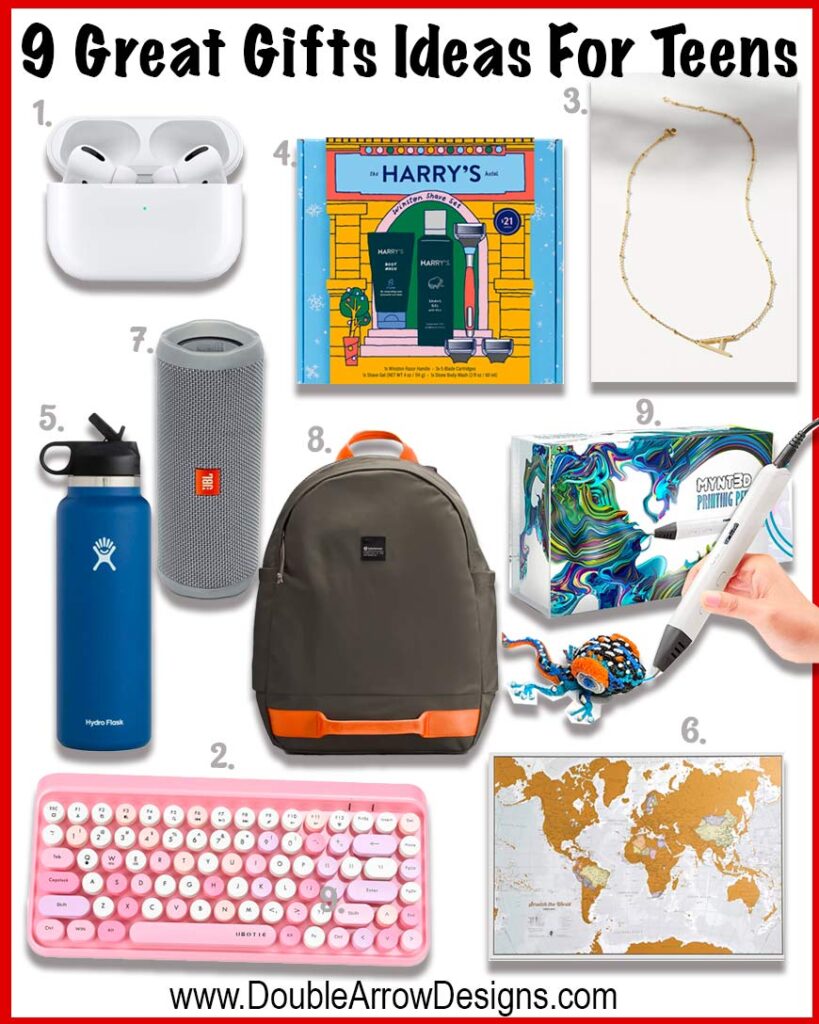 Holiday gift list printable- Free!
Keep yourself organized this season with all your gift buying with this free holiday gift list! Just subscribe below and download your free holiday gift list.
Gift ideas for teens
The gifts below can be a bog ticket item, or a few to make up gifts for under the tree. These 9 gift ideas for teens will help make your shopping a little easier.
First item, the Apple Airpods have now become a staple, I even splurged and bought myself a pair! If your teen doesn't have a pair yet, these will be greatly appreciated.
Monogram pendant has an elevated new look, featuring a smaller letter and gold-plated detailing for added elegance. 16″ length, just pick out your initial you want. Because who doesn't like a little bling under the tree?
LuLuLemon is a trending brand. This fun and stylish back pack can be used by both young men and women. It is water resistant and has all the pockets it needs, to hold a water bottle, laptop and more. So check out the full site at LuLuLemon for additional gift ideas.
For any teen boy, Harrys has a subscription based program on their website. My son loves his and it has helped get him into a more regimented grooming schedule. Not only do they have a monthly razor club, but Connor loves all the other facial and body products. Check out this fun Holiday box.
Straw Lid is leakproof and makes cold refreshment that much easier. Carry loop makes Straw Lid easy to transport and comfortable to carry, hook it onto a backpack. Color last powder coat is dishwasher safe, keeping your bottle slip-free and colorful. Comes in a variety of colors.
For the teen that loves to travel! Before 2020, Emma loved to travel, she has been to more countries then most by 18. This scratch the world Map has been a fun interactive piece of wall art that has tracked her progress. Perfect to hang on a bedroom or dorm wall.
This fun 3D pen is such a unique gift. Includes DesignPad double sided silicone shapes template and FreePad tracing and free drawing surface. I want one!
(COMPATIBLE WITH WINDOWS & MAC OS & IOS & ANDROID) You will find it is very convenient to type message or edict document by this portable keyboard on your cell phones or tablet pc. Comes in a variety of colors!
All-purpose Bluetooth speaker – Take the party everywhere with Flip 4, a portable Bluetooth speaker that delivers powerful stereo sound. With durable, waterproof fabric, this speaker features up to 12 hours of continuous, high-quality audio playtime. Your teen will be the life at the party!
RELATED POSTS
Check out additional gift guides that an help make gift buying easier!
Thanks for stopping by!
Susan