Gift ideas for college guys
The holiday season is right around the corner! There are always certain people in your life that you have a hard time buying that perfect gift for. Below is a list of 19 gift ideas for college guys that they will love! Being a mom of one I made this list so I can start early.
My blog periodically contains affiliate links meaning that if you make a purchase, I might make a small commission at no extra charge to you. Purchases made through them are greatly appreciated.
What do college students need most?
The number one answer would probably be cash! Most college guys would love this, especially during college break. But to me that takes the fun out of getting a fun gift for your college guy, or your college son.
What is a good gift for a college male?
Below I have compiled a list of 11 gift ideas for college guys. One special gift will go further than a bunch of smaller ones that may not have the same impact. My son has gotten into golf this past year. Yep you guessed right! So he will be receiving the GFORE golf sneakers below. Good thing he doesnt read my posts!
Last year he wanted the airpod pros. The engraved airpod pro case is a perfect accessory so he will always be able to know that they are his.
Connor's birthday is in February so his big gift were the UGG slippers which he was able to wear inside and out. Since they are durable and have really held up well this past year, I would rate these as a really good gift.
Large gift ideas
I have compiled a list of 11 gift ideas below that can be an ideal gift. So Check out below for more gifts that can be used as smaller gifts or as stocking stuffers.
Also I have created these holiday gift list and gift Idea printables for free! Go ahead and download them to keep your shopping organized!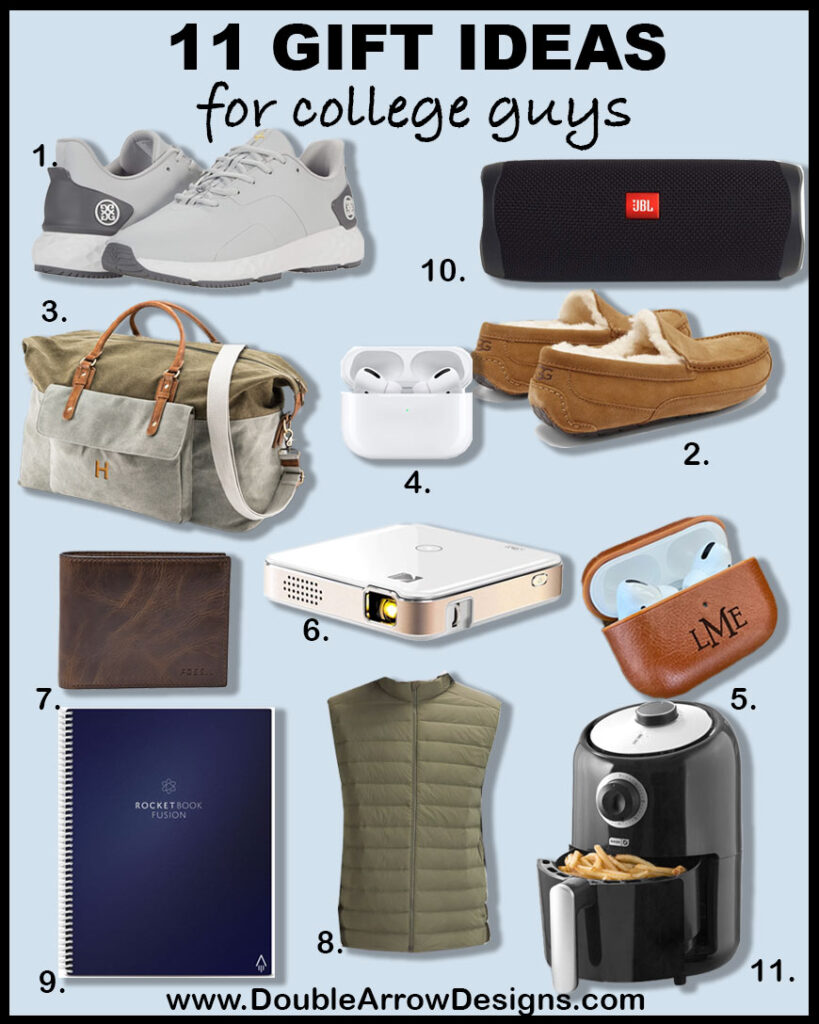 Gift ideas that he will love!
GFORE MG4+– These are not your dad's golf shoes! for any college student that loves the game of golf, these golf sneakers have a streetwear appeal. Because golf sneakers are going to be Connor's gift this year.
Wool lined, and are super warm. They're made from suede to a moccasin construction with gum rubber sole that ensures traction for indoor and outdoor wear. Also comes in a variety of colors. So super casual and can be worn with jeans.
Personalize this bag so he can come home on a weekend or pack it to visit friends on other college campuses. This rugged overnight bag will be perfect for ay short visits. Made from a rugged canvas, so he will have this for years to come.
If your college guy doesn't already have these, they are a must have for any college dorm living. Noise canceling so they can concentrate on what they want to listen to.
If they already have airpods then this personalized with keychain Airpod pro cute case custom your logo or design. This rugged leather case will be so unique in a room full of college guys!
This machine uses HDMI or Micro USB cables to hook up to a laptop, phone or other storage device, then project the image onto a wall at a size of up to 150 inches. This is a great idea to watch videos, sports games or anything that they have video on.
A wallet shaped from rich leather and built with RFID-blocking technology to protect your personal info. This way your college guy's information is safe. Now with this protection, stick an airtag in it so he will be totally set.
Keep your college guy stylish but warm in this LuLuLemon down vest. This cozy vest will be appreciated this coming year. Since This has become a beloved brand at the moment for men, Check out LuLuLemon for other great products. Because Their Commision pants are versatile for a dressier occasion or more casual, these are also a great staple in your college guys warddrobe. Complete the look with a vest and the Commision pants!
Send your handwritten notes to popular cloud services like Google drive, Dropbox, Evernote, box, OneNote, Slack, iCloud, email and more using the free Rocketbook application for iOS and Android. So easy to pack in a backpack and take notes in class.
This portable and waterproof speaker can go just about anywhere with your college guy. Perfect for a dorm room for an instant sound system, or bring to a party to listen to his favorite playlist. Pair with another speaker and you will have a sound system that will rock any party. Since this speaker comes with a hardshell case to store it will be well protected.
Easy way to heat up food like pizza and wings! Because a compact air fryer is perfect for college houses and apartments. So super easy to cleanup and fits easily on any kitchen countertop.
Smaller gift ideas for a college guy
All of the gift ideas are pretty substantial, so if you need some additional ideas that won't break the bank or they can also be used as stocking stuffers.
Buy one or a set. Tracks your keys, and other personal belongings, like a wallet. Great to keep on a back pack when traveling just for that extra security.
One Item Purchased = One Item Donated, this is what Bomba is about. So keep it simple with classic colors of the most comfortable socks in the history of feet. Because everyday socks are the unsung heroes of your college guy's sock drawer.
This cozy beanie will keep your college guy warm from dorm to class. This textured waffle knit can easily be machine washed.
A trio of bar soaps that thoroughly cleanses skin and facilitates the exfoliation of dead surface cells. Not for facial use, but perfect for body after a long day of classes or sports.
This low-profile wireless charger compatible with iPhone's and Androids is a space-saver, making it the perfect gift for dorm-bound grads. Because you can't have enough chargers!
Multipurpose Trimmer – Perfect for facial hair detailing with the detailer & rotary heads; great for light hair removal such as nose, ear, brow, sideburn, toes. So you can Pack it up and travel anywhere.
Closeable Press-In Lid slides shut to tame splashes and trap temps, then slides open wide enough for easy drinking and reusable straws.
Because this is the next best thing to cash! My kids love having these cards so that they can use for extra treats outside their college food hall.
Sending a gift care package?
I created these fun Holiday care package labels in case you want to send a holiday care package before he comes home from college. So check out the post below.
RELATED POSTS
Found this post useful? Then check out some related posts below that you may enjoy!
Thanks for stopping by!
Susan
This post is about gift ideas for college guys