These open when letters are a great way to send someone you love off with a gift that keeps on giving for awhile. Perfect for a college student, friend or family member, moving away, or for a long distant relationship. They cover everything! What to put in open when letters can be a lot of fun and really personal and unique to the gift giver and receiver. I have a complete list below!
Open When Letters
My blog periodically contains affiliate links meaning that if you make a purchase, I might make a small commission at no extra charge to you. Purchases made through them are greatly appreciated.
What are open when letters and how do they work?
These fun open when letters work as small gifts that can be given as a package to the recipient. You add your open when label on the outside, then fill the envelope with a corresponding gift. The first open when envelope is the open now, so that the recipient knows the rules!
This is a great gift that depending on how many open when envelopes you give can last weeks, if not months.
Get your free Open when rules and blank templates to get you started. You can also check out my Double Arrow Etsy store for the complete Open when series, have fun!
What do you put inside the open when letters?
You fill your open when letters with items and momentums that are personal and fun! A letter, photographs, or any of the below lists of great ideas. Take a look and find the perfect contents for each of your open when letters.
Packaging your open when letters
This is really up to you! there are lots of ways to do this it just depends on what you want. Here are some suggestions for packaging
Can use craft envelopes for all your open when labels then tie it up in a bow
Use colorful envelopes for a more colorful stack
Different size envelopes depending on the gifts you want tp add inside.
Can use small gift bags and put open when labels on outside, then package this all up in a box or basket.
Or any other variation! This is totally up to you and how you would like to present your open when letters.
Corresponding gifts for each open when letter
A few ideas for the following open when letters. Below are some suggestions for gifts that work with some of the open when letter titles.
What do you write in open when letters?
When filling up these open when envelopes handwritten letters are such a great sentimental touch. An encouraging note may be just what a person needs. Perfect when opening an "open when you need a confidence boost" letter.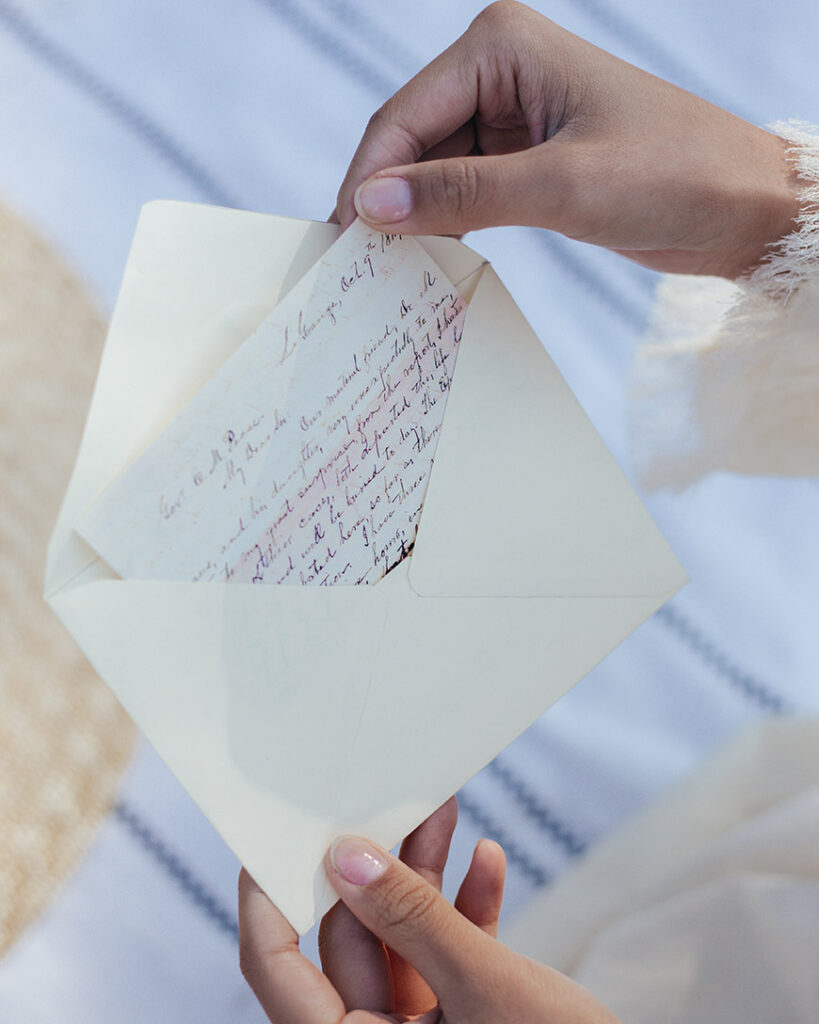 What do you put in open when letters for college students?
Open when envelopes have become a staple for college students. Check out 15 Open When Letters For College Students for ideas as well as below for many additional ones.
Open when you need a confidence boost
Handwritten words of encouragement
A small mirror to reflect themselves with a note " you got this!"
Photos that they can have on hand to remind them of family and friends
Open when you need some sleep
Book on meditation
Herbal tea packet
Open when you are sick
Open when you need a laugh
Book of dad jokes– we can all use a laugh even if it's a bad joke.
Funny photos– Good reminder of fun times.
Open when you need to make a decision
Wise quote– type out a bunch and stick in one of the envelopes.
Coin that they can flip- put a penny in one with a note to flip it.
Crazy 8 ball– This mini one can do the trick
Open when you are stressed
Stress ball– keep on hand when studying for a test
Fidget toy– Help to deal with Anxiety
Book on meditation– Learn to relax and stay in the moment
Bubble wrap! who can resist popping bubble wrap as a kid?
Open when you are bored
Open when you celebrate a birthday
Open when you need inspiration
Tickets to an upcoming exhibit- pick something and then surprise them with a visit!
Printable monthly quotes– Check out these inspirational calendars so easy to make.
What to put on your open when letters
You can make any open when letter you want! Below are some of my open when labels that I have created. Scroll down further for a list of all the open when printables by theme I have made. Just download, print and add to any envelope or gift bag.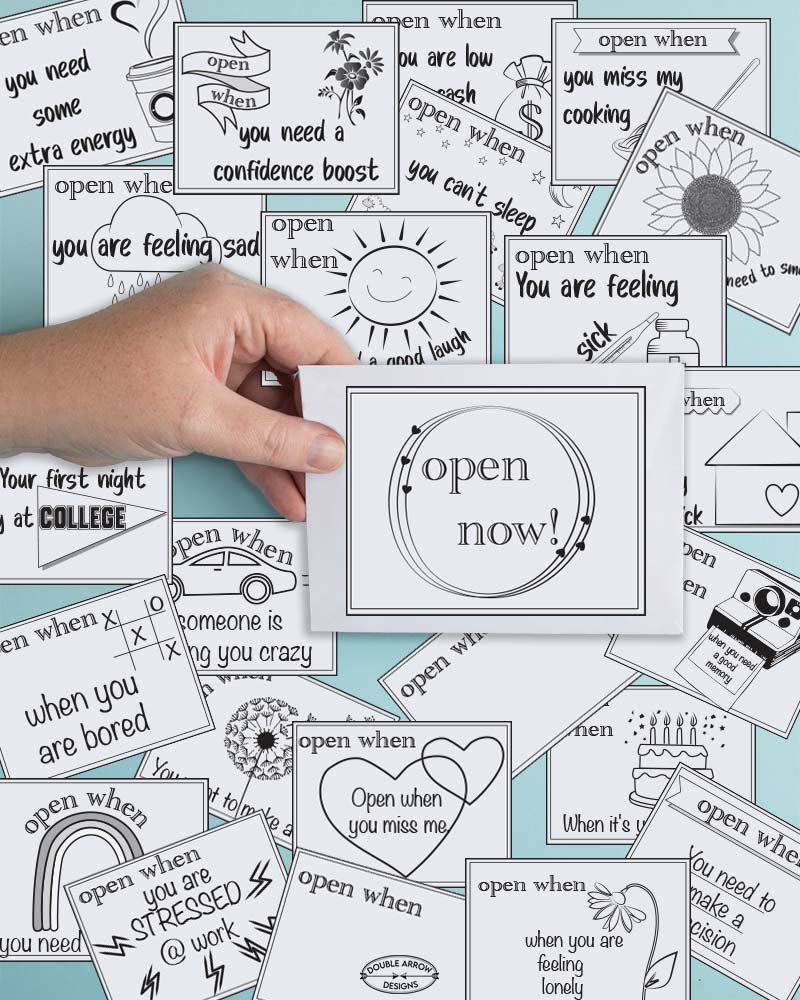 Gift cards
Yes this is always a great go to, but remember to add the gift cards that most represent the person you are giving this to.
Walmart
Gas gift card
Gift card to a local pizza place
Small gifts that work well for open when letters
Since I am packing these all in envelopes I need envelope sized gifts. I have compiled a list below of some items I will be adding to my sons open when letters for college students.
Scratch off game cards– Fun and you never know!
CASH- You can never go wrong giving a college student some of this!
Sleep mask– a great gift for open when you can't sleep
You can purchase small gifts as shown below that will fit well in envelopes. Put them all in a small box ad present or mail to the one receiving these! Such a fun and thoughtful gift to give. No two open when letters will ever be the same since these are all so personal.
Printables gifts for open when letters
So many ideas that you can either make, print or buy to add to your open when letters.
Letters of encouragement
Printed photos
Inspirational quotes
Printed jokes
Quizzes or games that you can print
Recipes– My son will have to cook twice a month in the house he is moving into. A recipe will be very helpful!
Birthday card– if their birthday falls during their away time
Calendar– then mark off special dates and events
Tickets for open when letters
you student is feeling lonely or homesick? print a coupon or an actual open ended ticket some sugestions are:
Train ticket– find the schedule then either print a mock ticket with open ended date.
Plane ticket– More expensive option but maybe this is where you find a deal!
One car pick up from you– This is a get out of jail free card for most students- a lifeline at times.
Bus ticket– depending on where they are.
Gas card – if they have their own car or car pool with someone else.
Uber ride– If too far from home, maybe this would be close enough to a relatives, or friends for a visit.
Subscriptions and apps
In this day and age we can easily gift someone with a digital subscription. If they are already on your Netflix, Amazon prime and HBO subscriptions you can always add the following as one:
Audible
One of their choices
Spotify
Netflix
Hulu
Additional ideas for open when letters
Additional ideas that can work either in an evelope or in a small envelope are:
Books– I am actually giving my son Connor "The Alchemist" it is one of my favorite. It is a fable about following your dreams.
Jewelry– Cute pair of earrings or an inspirational bracelet.
Airpods– this is a more pricey item but can be put in a birthday envelope or an achievement one.
Colored pencils– for anyone who loves to doodle.
pocket size Journal– Check out my Printable Journal where you can download and add to your Open When
Chargers– Because if your student is like mine, they are always losing these!
Stickers– put a sheet in one of the open when envelopes so they can use
Food items for open when envelopes
Self care items for open when
Who doesn't like a little pampering? These small pampering gifts below re perfect to add to an open when feeling tired, burnt out, low energy, stressed, etc. You can decide the perfect open when envelope for these self care products below.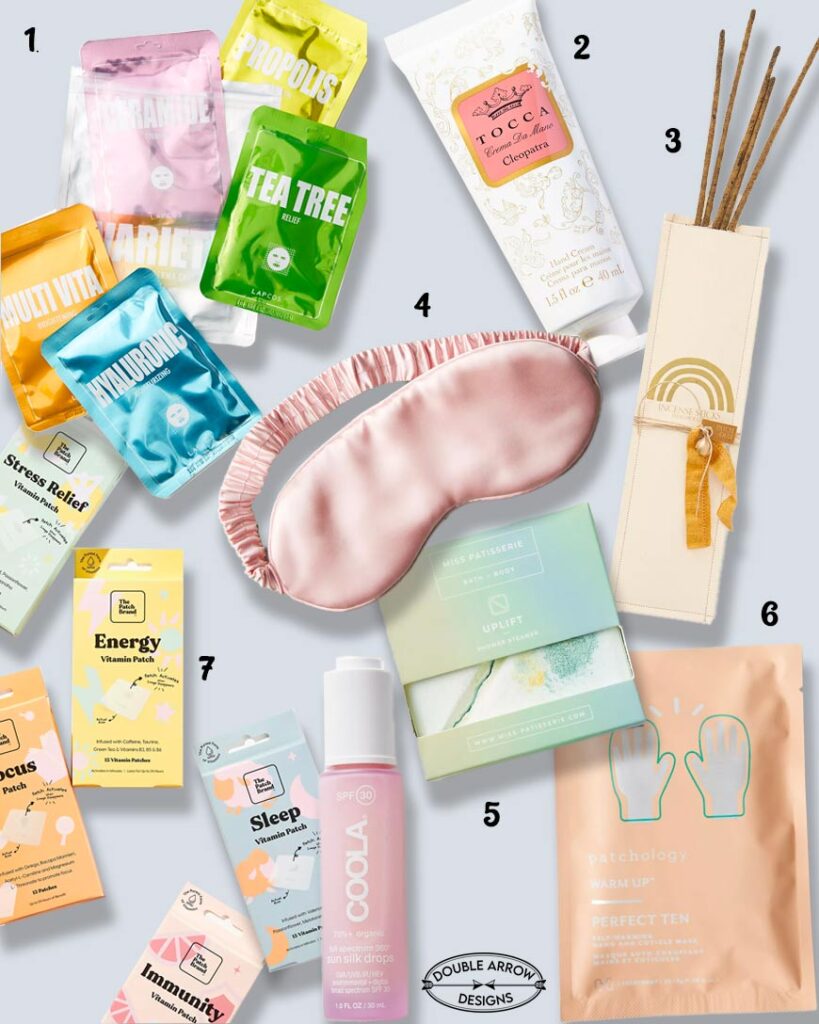 Open when letters
I created 3 series of open when letters that you can easily get on my Etsy store as a quick digital download for the open when college series, the other ones are free downloads!
All you need to do is download these labels, then stick them on envelopes then fill them with corresponding gifts. Depends on what you plan to add so you can even use manilla envelopes, or a gift bags. I love the idea of envelopes to keep it as simple and compact as possible for the one receiving it.
Thanks for stopping by!
Susan
This post is all about what to put in open when letters