In this post I share open when letters for college students. I originally created these for my daughter, Emma who was a college freshman. These fun and sentimental open when letters are a great support for any college student who has to adjust to college life.
My blog periodically contains affiliate links meaning that if you make a purchase, I might make a small commission at no extra charge to you. Purchases made through them are greatly appreciated.
I created these open when letters for college students when I saw the need for little things like, a word of encouragement, an extra special coffee, a train ticket home, or overall letters that can make any college student feel like they have home at their fingertips. This past year has been especially difficult, so any extra surprise is always welcomed. Part of the magic of these open when envelopes is the special momentums that these can be filled with. Each stack of "Open When" letters will be unique depending on the content.
Open when for college student for a son
Update since I last created these, my son was accepted into a graduate program and will be going away for the next two years to Boston. We will miss him terribly, but I think he will miss us even more. So I am going to make his own open when packet before he leaves this June.
Open When printables – Message on each
Open now – which explains the envelopes
It's your first night away at college
Need a good laugh
Can't sleep
You are stressed
You're feeling homesick
Low on cash
You are feeling sick
Miss my cooking
you need to smile
Feeling sad
You are up late studying
Need some extra energy
Extra encouragement is needed
Need a confidence boost
There are even a few blanks to write your own messages and open when ideas. Many people have taken these labels and colored them up with markers to make them more colorful as well.
First Open when for college student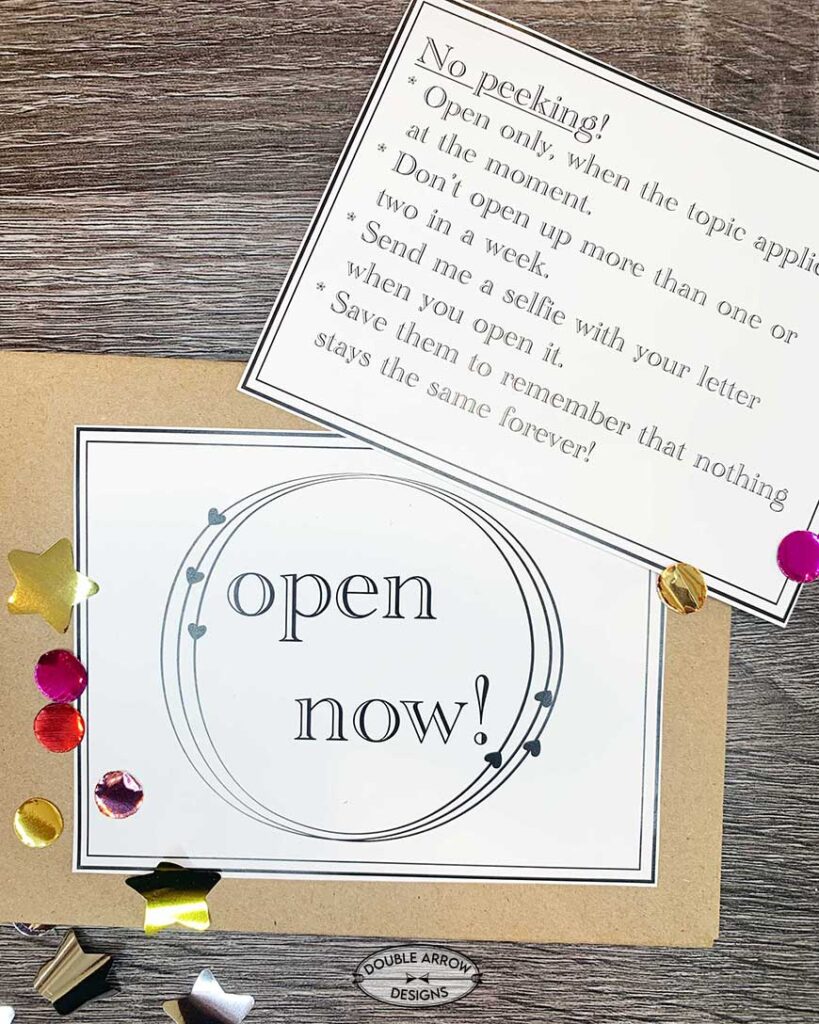 This letter should be the first one opened so they know what to expect:
No peeking!
Open only, when the topic applies at the moment.
Don't open up more than one or two in a week.
Send me a selfie with your letter when you open it.
Save them to remember that nothing stays the same forever!
Items to put in your letters
Funny stories: to brighten their day, or remind them to not take themselves too seriously.
Trinkets: stickers, confetti, lifesavers, fun erasers, pens, etc. Anything small enough to fit in an envelope.
Handwritten notes: sometimes just your words are all they need to read.
Quotes: This can be perfect when some motivation is needed.
Giftcards: small gift cards, to a favorite coffee shop, cafe, or bookstore.
Old photos: can be a great reminder of fun days and funny moments.
Some of my open when letters include
First night away at college -A handwritten note of all the great accomplishments of the past year and all the wonderful things to look forward to.
Can't sleep– A packet of herbal tea and a suggestion of a meditation link from You Tube
Miss my cooking– Since my daughter has a full kitchen, a recipe printout of one of my favorite dishes that she can recreate on her own. If no kitchen is available for others a gift card to a fun cafe for a special lunch or dinner to break up the cafeteria food.
You're feeling homesick– A voucher to buy a train ticket home for an upcoming planned weekend.
Low on cash– This is a no brainer! A little cash in an envelope is always appreciated! I have a bet one of the first envelopes to be opened.
Need some extra energy– The image on the open when label says it all! A starbucks gift card will always be redeemed.
Feeling sad– I printed out a bunch of fun photos of family and fun events so she has great memories on hand to look at and remember that everything is just a moment in time.
Need a confidence boost– Here I placed an inspirational quote to keep her going!
You are feeling sick – a packet of tylenol, a packet of herbal tea, small packet of tissues.
Need a good laugh– We all have funny family stories, this is the perfect moment to write down the event and share a long lost memory that is sure to give a laugh! I can't share that one here, Emma would be too embarrassed!
I love a Printable! You can check out my other printables here, I have lots of great ideas, and free printables. Take a look and feel free to download and use them for your personal use and gift making.
How to Create Open when letters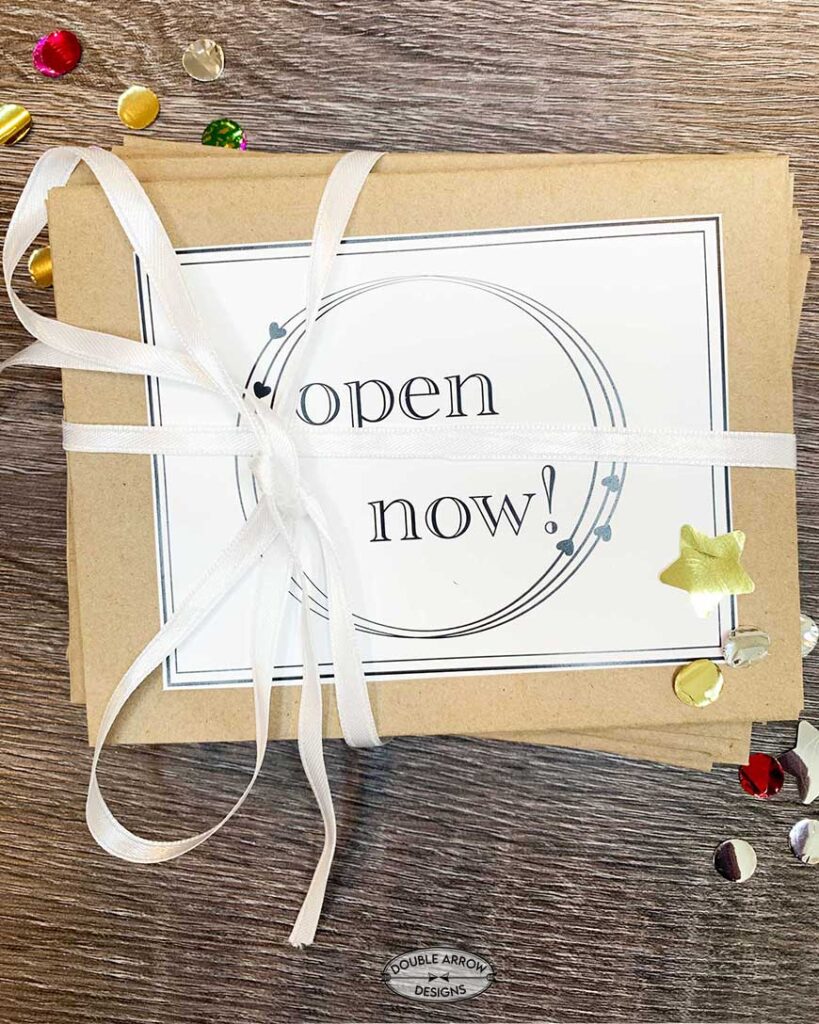 Below, I am giving away free the rules and 6 blank open when labels. Cut them out, and use either double stick tape or glue stick to adhere them into the center of either store bought envelopes, check these from Amazon here or use the envelope template below to create your own. These open when labels are sized for 4 3/8″x 5 3/4″ envelopes.
DOWNLOAD BELOW- Your free blank Open When labels
Yep! I am sharing my free printables that can be used to create your own "Open When" packet to send to your own college student that may just need this extra support and love while they are away. Add your own twist on these fun free open when printables. Share in the comments any fun ideas that may add more fun to these.
Subscribe below and then hit the open when blank button below to download your template!
For the Full set of Open when labels see below for my Etsy Store and Double Arrow Designs.
Open when labels on Etsy
Yep! you can grab the complete set of my open when labels below on my Etsy Store. Each one was created with a graphic that I designed to reflect each envelopes purpose. Once tied up in a bundle they all have a unified, yet individual look for fun each time one of these "open when" envelopes are opened. I sprinkled with a good helping of confetti to keep these festive and appealing.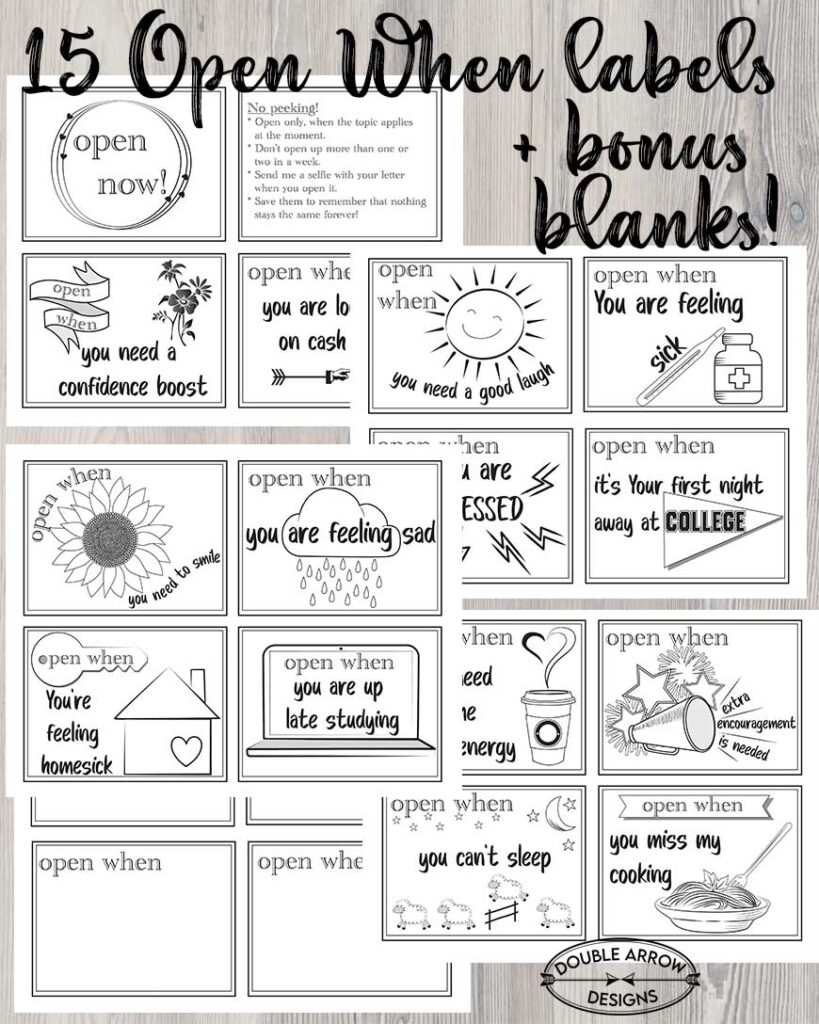 Check out other Open when series
FREE TEMPLATE FOR ENVELOPE-click download button below
You can easily buy these craft envelopes here on Amazon, or if you are like me, make your own! Below Is a printable 4 3/8″ x 5 3/4″ envelope template that you can print and cut out as is, or use as a template and make your own envelope using any letter size construction, craft, or novelty paper.
Print out the envelope template. Crease all dotted lines. Fold both small side tabs in then fold longer bottom tab up. Use either double stick tape, or glue stick and attach the sides of the larger tabs to the side tabs. ( See image above). Fold top tab over, for envelope flap. Once you fill your open when envelopes you can seal them with some glue stick, double stick tape, regular tape, or if you are really fancy, a wax seal!
Open when letters make a perfect gift to either send your college student off with, or an unexpected surprise that they can receive in their college dorm mailbox. You can print these out on fun construction paper, craft paper or regular paper and add your own personal touch. They fit perfectly in a standard letter envelope or you can make your own, using the template that I created.
Supplies & fun stuff for Open when envelopes
|| 1 || 2 || 3 || 4 || 5 || 6 || 7 || 8 ||
Create your own Open When Letters
So many amazing ideas out there! below are some ideas for your open when letters for college students, but there are so many more open when letter ideas, below is a list of some additional ideas. All you need to do is create your own open when printable and place them on an envelope! The ideas are endless.
First Exam
First day of classes
Last day of classes
Before final exams
Miss Me
Need a pep talk
You are not home for a holiday
You need a hug
Just because
Share your open when letters for college students creations in the comments. Always love to see how people utilize what I make and what they create on their own. These can also be made for other life events as well. Like a friend moving, for a boyfriend or a girlfriend, even a parent for a fun interactive gift.