Adding legs to furniture
I added legs to a few DIY furniture projects. See below for How I added legs to each piece, transforming them into updated looks. This is an easy project that can be done fairly simple.
My blog periodically contains affiliate links meaning that if you make a purchase, I might make a small commission at no extra charge to you. Purchases made through them are greatly appreciated.
Adding height to furniture
What pieces of furniture can you add height to?
Most any! I had the bottom piece of an old china cabinet, the bottom had no feet. By adding feet to this cabinet I got instant height, and brought it up off the floor making it easier to clean underneath and also raising the cabinets. See full post on this project Repurposed China Cabinet for all the details!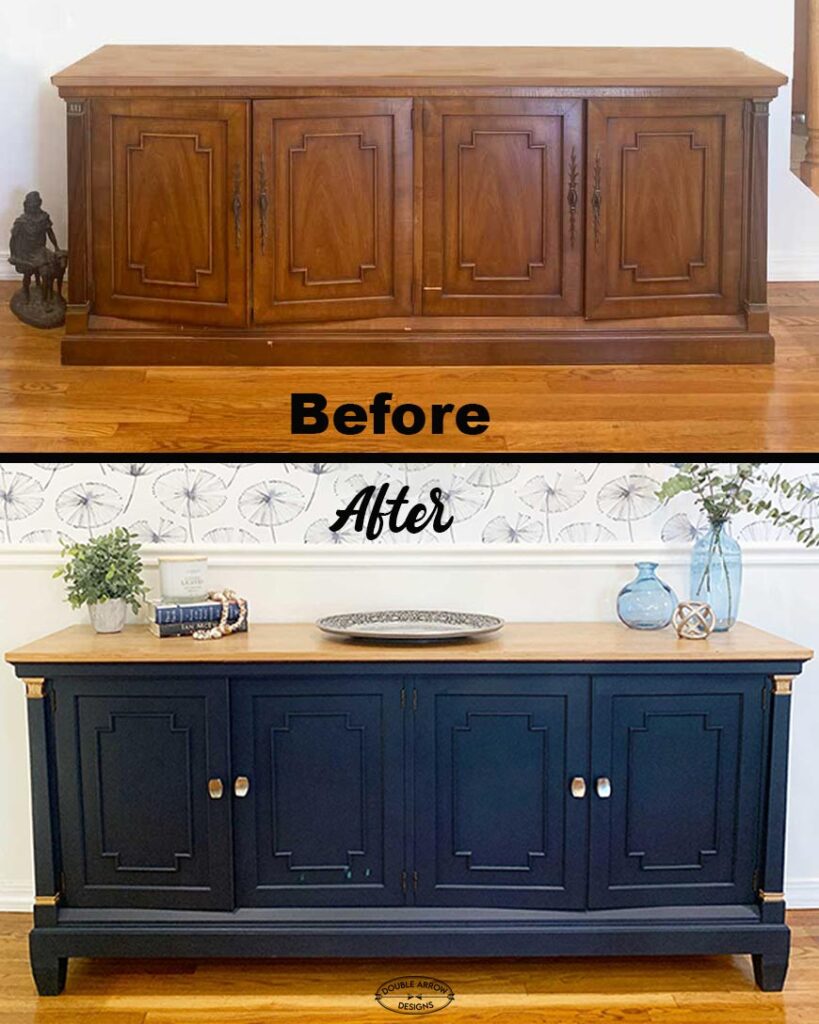 Dresser Legs
I had this project from a client. it was this old wood dresser. We decided to update it with some paint, acrylic knobs and feet. Check out the transformation below. These were easy screw in acrylic furniture legs. Check out the full post Old Dresser Makeover that you will love!
I matched these acrylic legs with Acrylic knobs. So take a look at this post where I researched acrylic knobs to coordinate in 24 Acrylic Knobs And Pulls That Will Transform any Furniture.
Screw in Legs- Adding legs to furniture
Below are a selection of screw on furniture legs that can easily be installed. Because most of these come with hardware that is needed, you wont need to figure out additional hardware.
Deux Wood Furniture Leg (Set of 4)– This comes in 3″, 6″ and 8″ furniture leg heights- depending on the height you want.
Hairpin Table Leg (Set of 4)– these come in both brass and chrome and have multiple sizes to choose from
Acrylic Dresser Legs– These are a 5″ dresser leg with a gold accent.
Georgianna Hairpin Table Leg (Set of 4)- These black legs are a statement to any dresser,cabinet redo project.
Contemporary metal furniture leg– comes in three heights.
Mid Century Ash Wood– Furniture Legs With Gold Caps- Set of 4, 8 Inches
Sofa Feet Cabinet Modern Clear– Similar to what I used in above dresser project.
Picking the right leg for your furniture redo
So you want to add a leg, but you don't know where to start! I always recommend going on pinterest and researching here. This is an amazing resource. Then follow the below steps to help you decide what legs are best. Take in consideration the following points to make the right decision.
Research– different projects on Pinterest.
Style- Look at the style of your piece, for example if it is rounded and ornate, go with a sofer more rounded leg to marry to the rest of your piece.
Height– Pick correct height!- I measured the height I wanted on my cabinet to make it counter height for a buffet. I chose table height legs when I did the old door table- see below for that fun project!
Replacement– Replacing existing legs. Make sure that when you are doing this that the replacement legs can adapt to existing legs. You may have to modify screw holes if placement isn't the same.
Weight of furniture piece. Research what weight your new legs can support. You may have to add a middle brace to help distribute the weight better. Or pick legs that are sturdy enough to carry the weight.
How to install furniture Legs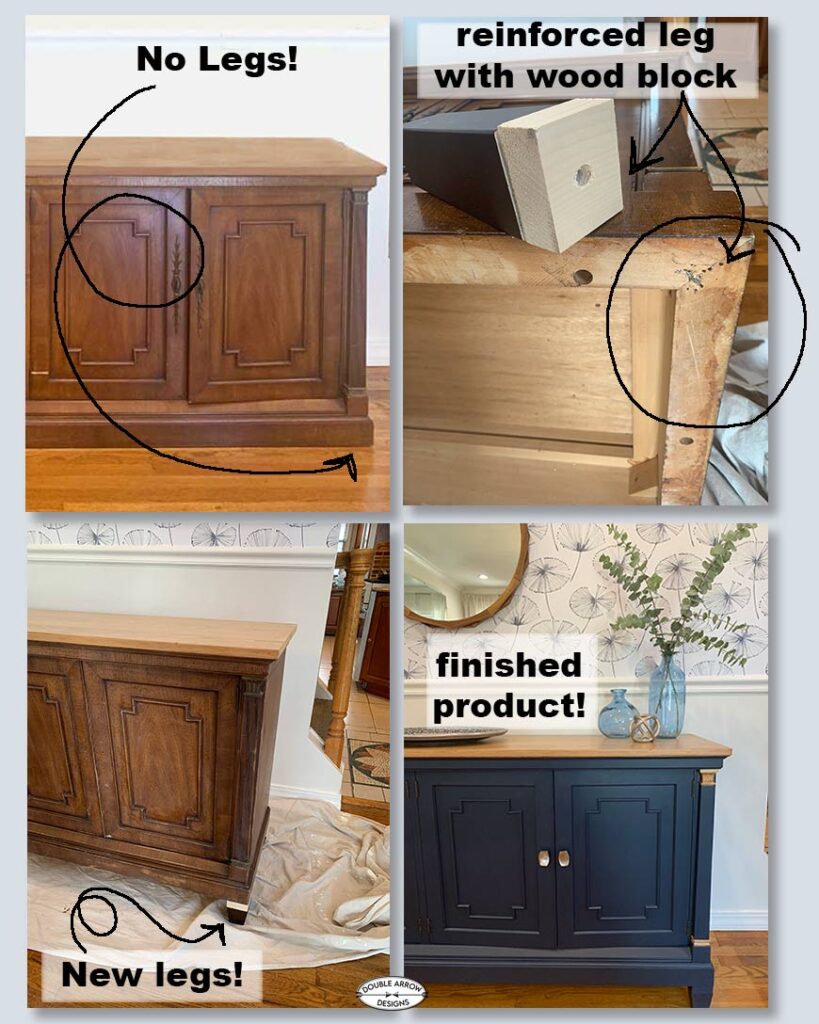 First thing is to look at the bottom of your piece and decide if there is enough space to screw your leg in. In the case of my china cabinet, I did not. Because there was metal hardware that would not let me just screw in my leg.
I bought a 2×4 piece of wood, cut them down into blocks measuring the same dimensions to the top of my legs.
Pre drilled hole to align with middle of leg, (SEE IMAGE WHERE I MADE SURE IT WOULD SCREW IN CORRECTLY) where screw would screw into.
Attached block to bottom of cabinet, on the three sides that I could add nail into.
Then I screwed legs into added block which covered the metal piece that originally prohibited me from screwing leg directly into bottom of cabinet.
Once this was complete I used wood filler to fill in any spaces between the wood block and my furniture foot
Once dry I sanded and then painted it the color I was using for my cabinet.
I always add felt furniture pads to bottom of all furniture legs! this helps to protect your flooring underneath your furniture.
I used 3″ furniture legs with a 1″ block which gave me a total of a 4″ furniture leg that was added to my cabinet. VOILÀ now I had a seamless look from bottom of cabinet to the furniture legs!
Not all prjects will need this extra step. This will all depend on the bottom of your dresser, cabinet or furniture piece. Before purchasing your legs take a look and decide what you will need.
Wood leg that was added to the above project.
I bought these on amazon. They come in multiple sizes. I chose these wood legs for a few reasons:
They went with the clean lines of my cabinet. So this worked perfectly.
Correct height was offered to make my cabinet. So that this was perfect a buffet height for my dining room
Solid wood and sturdy that would hold the weight of my cabinet. BEcause this is a very important point to make sure when adding legs to any furniture.
These legs came with hardware needed for easy install… Well it would have been easy if I didn't have that metal clip in the way!
They also come in additional heights see below. Because I needed a certain height I went with the above 3″ furniture legs.
diy table legs metal
In this ast project that I worked on with my neighbor was repurposing an old door, epoxying the top and then adding metal legs to this. You can see the full post Old Door Dining Table-check this out! I used the below metal framed furniture legs below. These had the height needed , that once adding the door table top was the standard table height. This is very important so that chairs will be correct height with table.
Acrylic furniture legs
These are the legs that I added to the above dresser project. Acrylic furniture legs are really trending at the moment for a modern sleek look that pairs so nicely with a painted wood furniture project.
RELATED POSTS
Take a look at some additional DIY furniture projects that i worked on that may interest you!
Let me know if this was helpful! Visit or join my mailing list for updated projects in future.
Thanks for checking in!
Susan