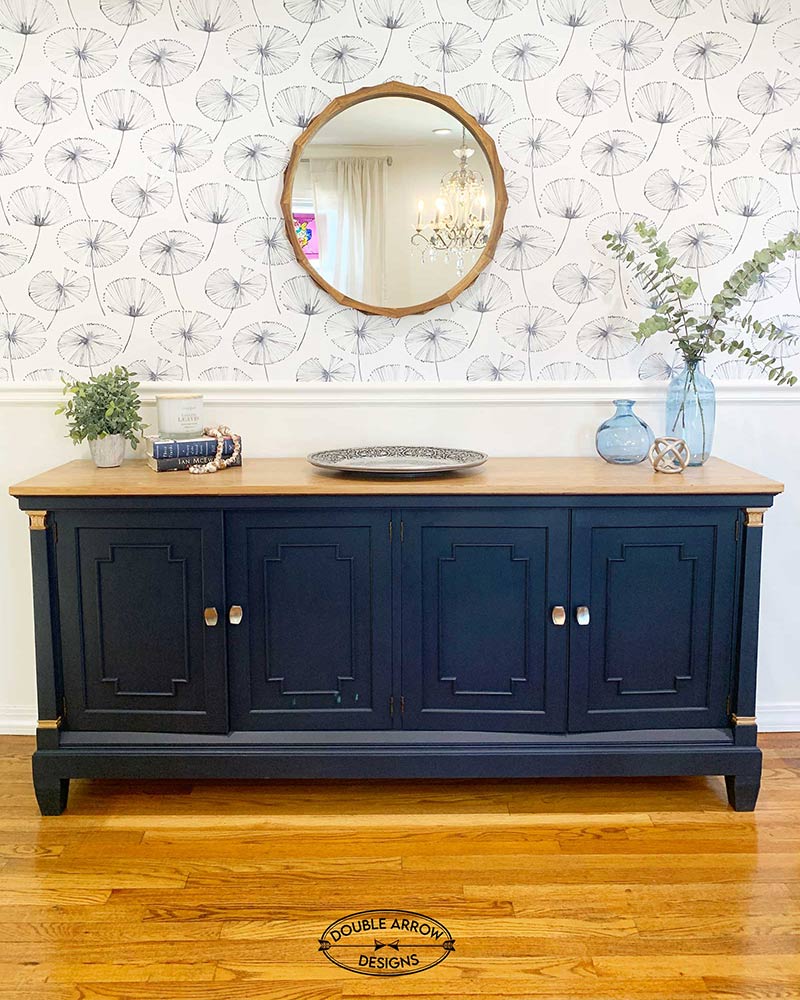 My blog periodically contains affiliate links meaning that if you make a purchase, I might make a small commission at no extra charge to you. Purchases made through them are greatly appreciated.
In this post I show you how my repurposed china cabinet, (without the top part) turned out! A few weeks ago I was inspired to redo my dining room. You can see my initial ideas here in my Repurposing A Dining Room- Room Revamp! where I take all my ideas down. In this post you can see the actual outcome to my repurposed china cabinet portion of the living room redo.
Why I removed the china cabinet from the base
It was dark and outdated! I would be losing a ton of storage but will be minimizing my glassware and overall stuff that I just don't use anymore. However I will be gaining a whole buffet top that I can use when I have company. The new dynamics between the new buffet console table and the wallpapered wall will revise this into a more modern space.
How I repurposed the china cabinet base
I break down each component to this china cabinet to detail each section and repurpose this china cabinet into a new modern functional piece. so this is my plan:
Remove the old dark varnish and stain off the cabinet base table top.
Paint the rest of the outside of the china cabinet and doors with Fusion Mineral paint in Midnight blue
Raised this china cabinet off the floor by adding 3″ wooden legs That had to be screwed into a 1″ block at base of cabinet making the total height 4″ higher to 34″.
Use the same peel and stick wallpaper I used for the top part of the wall behind this china cabinet base on the two inner drawer faces.
Replace the door knobs with brushed nickel concave knobs.
Repurposing the china cabinet base table top
Once I remove the top I wanted to remove the old dark stain. I did this by using a paint and varnish stripper. I used Klean Strip Green paint and varnish stripper. Once this sits for a half hour, I used a metal putty knife and peeled the old varnish off. In the past I have bleached the wood, you can see this process in my post on How to Refinish A Secretary desk, but I love how the wood looks on it's own so will skip that step here!
Strip the table top to the original wood- I used a varnish and paint remover
Once this is stripped you will be left with spots of stubborn varnish- I used an electrical sander to remove the rest of the varnish
Once complete use a fine grit sanding block to smooth out any rough wood.
Use a damp cloth and wipe down (several times) the unfinished wood surface
Minwax Polycrylic in clear matte- I used a sponge brush to avoid brush strokes and applied 3 coats, letting each coat dry fully before applying the next coat.
Prepping China cabinet for painting
The finished painted piece's success will always be in the prep work. In my post How to Refinish A Secretary desk, I explain how important this is.
Vacuum any dust, especially underneath the furniture piece.
Use warm water and soap, wipe down all surfaces.
If you are going to sand, do step above after sanding.
Fill in any chipped areas with wood filler to make all surfaces even
Lightly re sand these areas for a smooth surface.
Painting the China cabinet base
There is a pretty trend going on right now with painted furniture and that's the color blue. I loved the idea of painting this piece a dark color which would make a nice contrast to the light wood buffet top. I chose to use Fusion Mineral paint in Midnight Blue for this project. It matched my wallpaper perfectly!
I love Purdy paint brushes, and use regular paint brushes as shown above for small detailed areas.
Lightly sand entire piece, this will give the paint a way to adhere to the surface by sanding down any gloss.
Use wood filler to fill in any chips or missing veneer
An alternative is using a deglosser. I have used both, but going to sand this specific project so that I can go over the wood filler areas and make it all even.
Use a high quality brush! I always use Purdy, they are more expensive but if you wash properly and take care of them they can last for years.
Brush on one coat, let dry and add another. Fusion Mineral paint says it is "foundation to finish"
Adding legs to my cabinet
Because this piece had a large china cabinet on top it sat on the floor without legs. Now that I removed this china cabinet top I wanted to add some additional height. The cabinet base on its own is 30″, so I bought 3 inch Sofa Legs Wood Furniture Legs Pack of 4 Pyramid Couch Legs, so the total finished height will be 34″.
I needed to add an additional 1″ block (shown in first image) because the base of the cabinet had metal discs inside the wood and I couldn't screw the legs directly into this so I added the blocks and then screwed the legs into the blocks and then sanded, filled with wood glue and painted!
How I attached the legs:
My first order of business is to have this piece flipped onto its side so I have clear access to where I will screw the legs in. Thankfully I had muscle around to help me! My son, connor and my neighbors son. This is one heavy piece! I used a drill bit and pre drilled holes then screwed in the hardware that came with the legs into my 1″ block, then screwed the legs in! Once this was done we flipped my piece onto its new legs.
Adding peel and stick to the inside drawers
To add a fun detail, I am taking the peel and stick wallpaper I used on the wall behind this piece and using it on the inside door panels. This will add a fun coordinating element when the cabinet doors are opened!
Check out my post on 9 Peel And Stick Wallpaper Ideas, for some fun ways to use this and lots of fun selections, so take a look!
Replacing the door knobs
This is the finishing touch for the project! It's like adding jewelry! I chose these brushed nickel concave rectangular Bravo knobs from Anthropologie because they accented the lines of this china cabinet base really well. The metal in my dining room is mostly silver so this will accent nicely for this room.
Painted metal accents
On each corner of my china cabinet base are decorative metal accents. I didn't want to do silver for these because I thought this would be too bright and break up the blue color on the columns. So I used rub n buff antique gold. Love how it picked up the warm tones of the finished wood top.
This product is amazing to shine up any old metal, ot omes in a variety of metal finishes. I used Qtips and rubbed it onto the metal then wiped any excess off.
Supplies used for this project.
See below for all the materials and supplies I used on my Repurposed China Cabinet project.
Accessorizing my china cabinet
Now that I finished my china cabinet it's time to accessorize it! Originally I was going to do floating shelves. to house some of my glasses and vases. But I found this amazing wood frame mirror that looked perfect as the focal point above my china cabinet base. By using a silver platter under the mirror gives your yes a place to go. On either side I placed items in groups of three, with one side adding height. Loved how the overall look came out!
Similar accessories I used for my repurposed china cabinet
Check out these fun accessories to get the look!
Completed look of my Repurposed China Cabinet
Take a look at this transformation! I am so thrilled with the finished results of the repurposed china cabinet and how the entire Dining room wall turned out! Just in time for the holidays!
CHINA CABINET FOR NON DIY'ers
Not everyone has the time or desire to do a makeover like this, but would love to have a functional eclectic piece that is a wow factor for their Dining room or Living room. Take look below for some fun pieces below: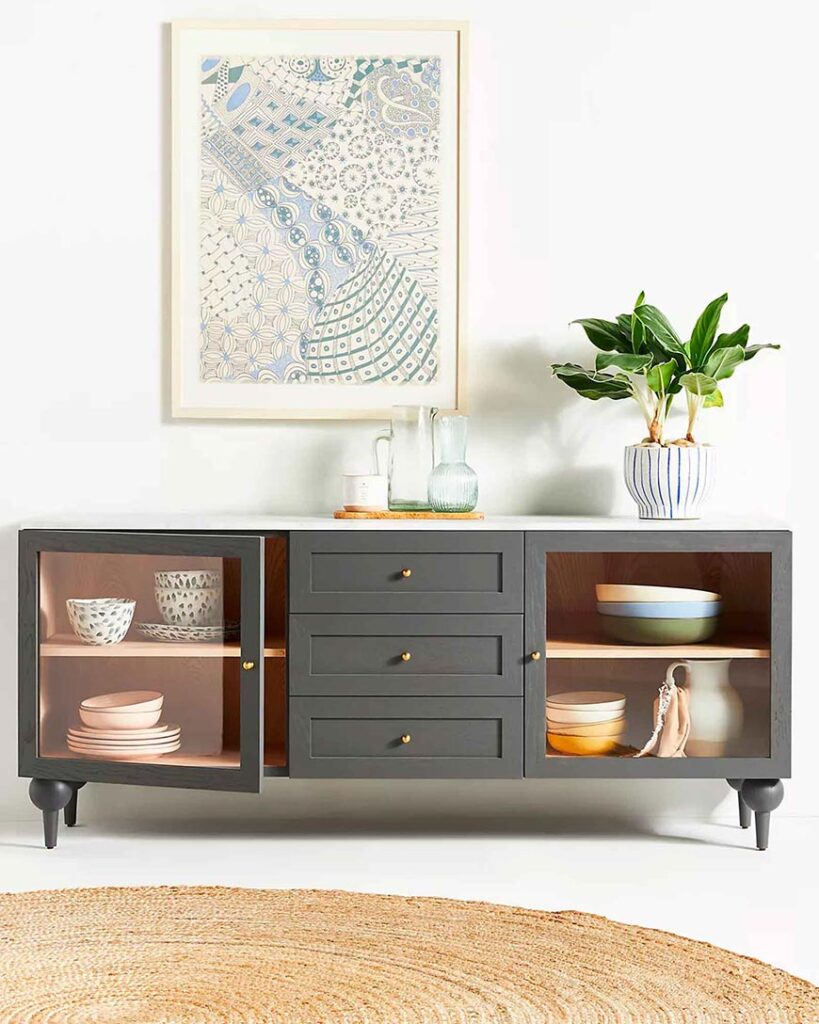 RELATED POSTS
I am always DIYing something! check out some fun posts where I repurposed a piece of furniture.