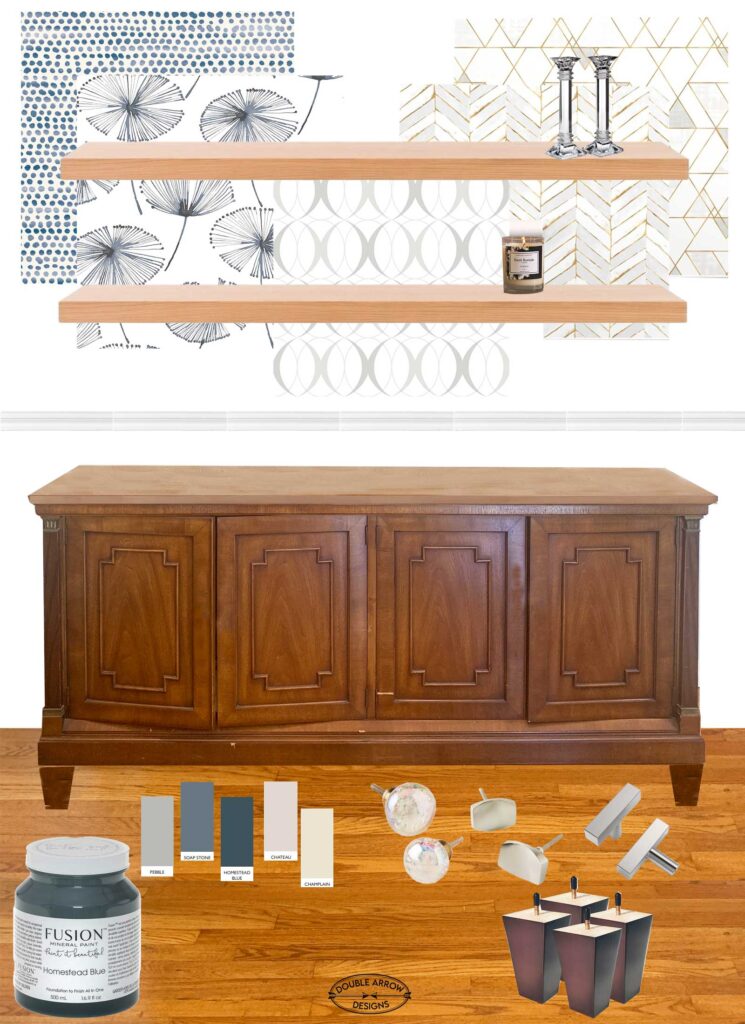 My blog periodically contains affiliate links meaning that if you make a purchase, I might make a small commission at no extra charge to you. Purchases made through them are greatly appreciated.
My dining room is outdated. I inherited my Grandmother's furniture and now its finally time to bring in my own look. In this post I am going to give you you the step by step ideas on repurposing a dining room and how I plan on revamping my own outdated space.
Ideas for repurposing a Dining Room
Many people are ditching their formal fdiningrooms and making them a more useable space. Some ideas for a repurposed dining room are:
Repurposing a dining room into a reading room
Changing this space from a dining room to an office
Repurposing from a formal Dining room to a more casual multi purpose space
I know that my own Dining Room organically became my home office when Covid hit. I loved the large table and the sunlight coming in from the back door. This space once repurposed will not only be a more casual dining room space, but also double as my work space.
Plan for refinishing my china cabinet
First thing I will take care of is my outdated china cabinet. Many people have been separating this piece and making two pieces out of them. For my dining room I am going to refurbish the bottom piece, and discard the top piece. Many people use the top part of a cabinet and put legs on them for repurpose use for this.
What my vision is for the bottom cabinet
Since I will be removing the top china cabinet piece, the bottom piece will now be able to be more functional as a buffet top.these are the steps I plan on using to revamp my china cabinet:
Remove the top piece
Sand down and bleach the top of the cabinet piece for a lighter wood look.
Paint the dark wood to a more modern color either a dark grey or light neutral.
Replace the outdated door handles.
Put the cabinet up on legs to take it off the floor. I am going to use a 6″ leg to make the total height to 36″
knob ideas for my china cabinet base
Check out this post I did on Dresser Refresh With Novelty Knobs, for additional options!
Wall behind the china cabinet
Since I will be left with a blank wall I have decided to use a peel and stick wallpaper to transform this back wall into a focal point before adding shelves on top of it. Check out some of my choices below:
Floating Shelves
Since I will be losing a good deal of storage from my China cabinet I decided that I will add two floating shelves the length of my cabinet. So this way I can still house and display key pieces. I will be minimizing my China and just bought these China storage containers to put them away in.
I will be buying white oak planks and using hardware to mount them on my wall.
Replacing my old dining room table and chair set
Once I refinish my China cabinet and redo the wall and shelves, I will be tackling the rest of my Dining Room, which currently is a sea of brown wood!
Dining Room table
The current dining room table and chair set was also inherited from my Grandmother. It has seen better days. I have lost the extender leaf in hurricane Sandy so I no longer can make the table bigger. The edges of the table have been damaged ivor the years as well.
Dining Room chairs
These six cane backed chairs have see their day. I have already re upholstered them years ago, however they have now just become very outdated looking. The high backs also make the room look smaller and cluttered with too much furniture. My next set will be of a sleeker, more modern chair.
Other furniture in my Dining Room
We also have a Piano that sits on the one interior dining room wall. My daughter, Emma occasionally plays it when she is home from college, but otherwise it just sits here. We have been trying to sell it on Facebook marketplace and Craigslist, but it hasn't sold. So until it does it will remain in the room.
Dining Room bar cart
I love my bar cart! I scored this a year ago on Craigslist and absolutely love it. Chrome and acrylic and perfect to house our bar. You can check out this post I did awhile ago on How To Repurpose A Sewing Machine Base. I repurposed this into a bar cart. Super fun and at the end there are additional bar cart options to look at.
Related posts
If you enjoyed reading this post, you may enjoy some additional ones below.