My blog periodically contains affiliate links meaning that if you make a purchase, I might make a small commission at no extra charge to you. Purchases made through them are greatly appreciated.
In this post I share how to refinish a secretary desk and update it to a one of a kind relevant piece for today's lifestyle. This painted secretary desk is now a functional piece in my clients home.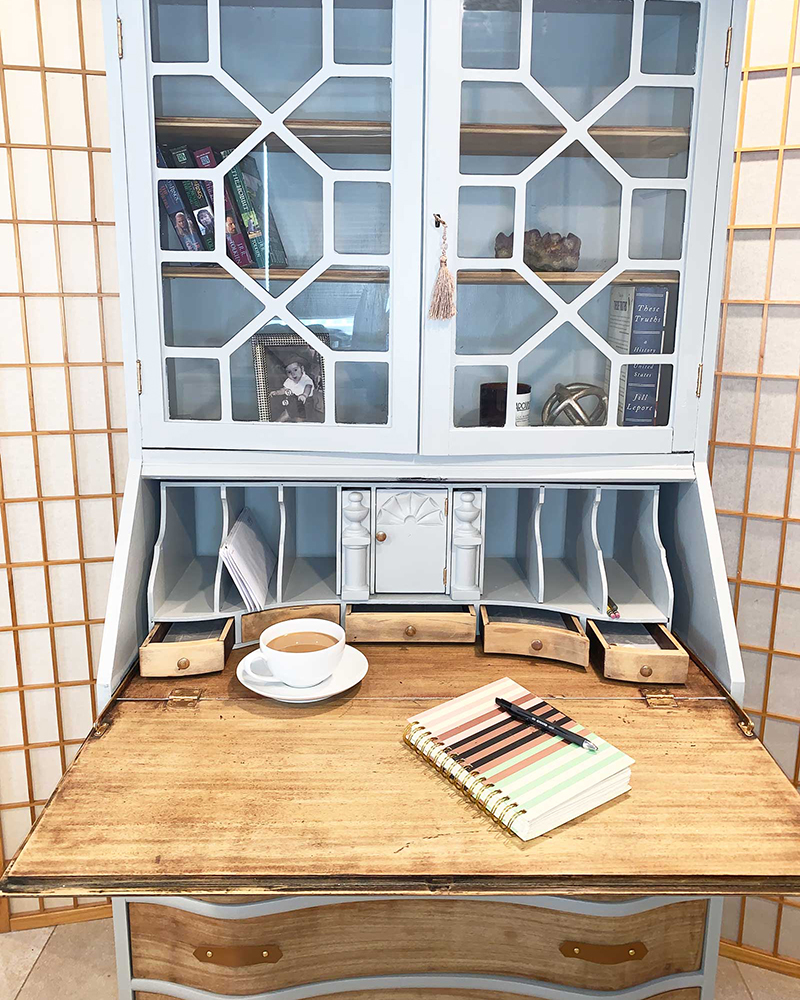 When I saw this secretary's desk for sale I had to have it. Taylor, my niece was so excited by this piece as well, she understood that we could transform this piece into a one of a kind beauty. This secretary desk had so much potential! It is a fairly compact piece. its 78″ high and only 34″ wide. It was old, but in good condition and even had the original skeleton key that locked the cabinet and the desktop. This is a perfect piece to fit in a small area in a living space, functional as a display, work and storage piece, it packs a punch for versatility and use. This secretary desk we were about to refinish has three main functional sections.
The top portion has three shelves with glass doors, perfect to house glassware, china or books, or a combination of any of these items.
The middle section showcases a perfect workspace. Once you fold the leaf down it reveals its wooden cubby that houses slots and drawers that can hold papers, bills, jewelry, etc. Once the leaf is folded back up, all is concealed.
The bottom section of this piece has 4 drawers. Plenty of room for folded clothes, blankets, sheets, storage, etc.
Preparation before any renovations
Before starting any project it is so important to fully clean your furniture piece. First vacuum up any dust or dirt, I did this for the secretary desk. Make sure to get underneath your furniture piece as well. Then I used Meyers cleaner with warm water and a sponge and cleaned from top to bottom… I did this twice! Before anything else gets done this is the best practice. Like I have said before in this past post, painted dust is not a pretty sight. Paint cannot conceal a surface that was not properly prepared. As much as I want to get started, I have learned from all of my painted furniture projects that preparation is key to any successful furniture redo.
Color scheme for renovating this secretary desk
If you have been reading along on my posts on painted furniture, you know I always start with a color scheme in mind. You can check out a past painted project here. Because this piece has been stained and has darkened over the years, the overall color was very dark and outdated. Taylor and I decided before we refinished this secretary desk, that it needed to be a much lighter, neutral piece. This was helpful in showcasing some of the secretary desk's natural wood beauty.
Our final decision on how we would refinish this secretary desk was to paint most of the piece using Benjamin Moore paint in the color Coventry Gray. Then for the wood areas we would bleach the wood. For the natural wood areas Taylor and I chose all the drawer faces, the small draw faces on the cubby portion inside the desk, the desk leaf and the two suspended shelves in the upper cabinet. Which would carry the natural wood element throughout the secretary's desk three sections.
How to bleach wood that has been stained
Please note when bleaching! Make sure that you wear safety goggles, gloves and that you are working in a well ventilated area (outside is best). Bleach is a very caustic agent and must be handled with care.
Part of the appeal to refinish a secretary desk was to give it a two tone look with paint and wood. This has been a big trend recently and we love the depth that it gives a refinished piece of furniture. Because the wood areas had been stained, we needed to sand this down to get to the unstained portion of the wood. Now if anyone knows me especially, sanding is a labor intensive job, and one I like to avoid at all costs! Thank goodness I have Taylor who has been working with me on all creative projects. We spent a day sanding all the areas down to its natural wood. Once we did this all the wood had a red tone to it. So we decided to bleach the wood to make it a lighter, more natural, modern look. The process is pretty simple.
Steps for bleaching wood
You can use a stain stripper, like Citrus Paint & Varnish Remover Gel or in our case we sanded the wood, removing all stain and finish. Using a stripper is best to help cut down on the sanding.
Once the unfinished wood has been cleaned, wiped down it must sit for 24 hours if you have wiped down with water. Your wood must be dry.
We wrapped all the metal hardware with painters tape that was supporting the desk leaf, Bleach when in contact with metal will corrode. So please make sure that all metal is either removed or covered.
Then with a brush, we applied household bleach in a one direction motion following the grain.
Let bleach sit for around 4 hours to do its work. You will see the wood lighten as soon as the bleach starts to dry.
Once the wood is at the desired color. Make a mixture of half white vinegar and half water. Use a clean brush and brush on this mixture. This neutralizes the bleach and stops the chemical reaction.
Let wood completely dry.
The surface of the bleached wood will have a rough feel to it. So use a fine 150 grit sandpaper block and lightly hand sand the surface smooth. Always follow in the direction of the wood grain.
To seal this newly bleached wood I used a clear wax. We applied this with a lint free microfiber rag in circular motions then wiped in the direction of the wood grain any excess wax. We applied two coats on all the bleached wood areas. Loved the final result of this for the refinished secretary desk drawers.
Painted secretary desk
Now that the wood areas are complete , it's time to paint and refinish a secretary desk. Because we do not want to sand anymore we have to prime all the wood before starting to paint. The wood is dark and there is a good possibility for stains to come through from the tannins in the wood. First prep is using Bin primer from Zinzer. Your primer coat doesn't have to be pretty but it has to coat all surfaces. Bin Primer is a shellac based primer. You need to work relatively fast because it can dry quickly. In order to clean your brushes properly use 1 part ammonia to 2 parts water. I soaked them in this solution then washed my brushes out with warm water and soap.
Once this is dry, I am ready to apply my first coat of paint. Once my first coat has completely dried I will add a second coat. For My topcoat I use my minwax polycrylic matte coat to unify the finished look between the natural wood and painted areas.
New back panel for the secretary's desk
When I brought this secretary's desk into my work room, I noticed that the back panel was warped and brittle. By removing this old panel it helped to Refinish this secretary desk in a better way. First, we removed the middle cubby piece with all its draws to clean and paint. Second we were able to work around the desk much easier. This panel is an easy replacement. We measured the pieces then went to Lowes and Brian, my husband bought what we needed to replace it with. A 1/4″ pressboard panel, so much nicer! we painted this the same color as the body of the desk to give it a whole unified look.
It's all about the details!
This to me is the the reward from all the labor intensive work in bleaching and painting the entire secretary's desk. There are four areas of details we focused on:
Renewing all the existing hardware to its former glory. For all the hardware we used Rub and Buff in an antique gold finish for all the hinges, and small drawer knobs to bring out all the metal finishes. It gives it a renewed fresh luster.
Inside the small little drawers I created a dandelion motif with dragonflies that would compliment the larger stencil on the side of the desk. I printed this out, then decoupaged into the drawers by cutting the paper to size then using Mod Podge to incorporate it into the drawer bottoms.
We removed all the old colonial drawer pulls and now ready to replace them with a more modern updated pull. My client and I sat and found these beautiful leather pulls on Etsy and thought they were a prefect eclectic look for this piece, plus the metal hardware matched the overall metal finish.
On this piece I decided to add was a hand drawn stencil. This would reveal itself on the side of the refinished secretary's desk side. You can purchase this digital file on my Double Arrow Designs Etsy store for the exact stencil file. For me the dandelion image with the petals floating away that are intertwined with dragonflies reminded me of all the freedom and beauty life has to offer, as long as we are open to see this.
Lastly, we wanted to make sure that the skeleton key that came with this secretary's desk was fully functional and well showcased. So we added this beautiful tassel (you can make one as well!) to hang from it so that when it sits in the lock it can remain a decorative element.
Finishing touches on the refinished Secretary desk
Once everything is complete my last step is to always add felt tabs to the bottom of the legs. This helps to protect your floors from any scrapes and also helps when you want to shift or move a piece more easily from one area to another.
Refinish a Secretary desk has it's final reveal!
A lot of thought, work and perseverance went into this project, but the final results are amazing! The transformation is beautiful. Taylor and I absolutely loved doing these projects. Each piece we come across has its own transformation waiting to happen.
Supplies used to refinish a Secretary desk
Below are the products or similar products that were used to refinish the secretary desk.
|| 1 || 2 || 3 || 4 || 5 || 6 || 7 || 8 || 9 || 10 || 11 ||
For the non DIY secretary desk person
As always there are added options to similar pieces below. Some pretty options!
Share with me your questions, or furniture redo projects you are either working on or would like me to check out for custom work.
Related posts
Check out these additional posts below on other DIY furniture projects I have done.