No Sew Halloween Toga Costumes
My blog periodically contains affiliate links meaning that if you make a purchase, I might make a small commission at no extra charge to you. Purchases made through them are greatly appreciated.
Toga halloween costume
Easy, quick steps for making no sew Halloween toga costumes for a bunch of girls! With a little ingenuity and creativity. We did not need to sew any of these two piece toga costumes. Toga Costume DIY In 5 easy steps. 5 easy steps for each toga diy piece. We turned them around with some sheets, ribbon, scissors, some safety pins, and some vision. See below on how to transform a sheet into cute toga outfits. Check out the toga outfits below.
Halloween toga costume DIY
A stylish take on the classic toga. These Halloween Toga costumes feature a two piece toga outfit. I was pleasantly surprised to see their guy friends show up already in their Toga costumes on the night of their party. Guy Togas are a lot less creative. (I think their moms helped them with this!)
How to make a two piece toga costume
Easy toga costume steps below. My daughter, Emma asked me to design these no sew halloween toga outfit ideas for all her friends. I was not about to break out the sewing machine, this would have taken way too long for so many girls. Being a Children's wear designer, you can read about that here. I took my talent and skill and figured out a method to do these relatively easy and quick.
Making halloween toga costumes is a perfect example on how to design apparel without having to use a sewing machine. These toga girls were transformed into greek goddesses with these two piece toga party costumes. In the end it was a big success!
How to make a No Sew Halloween Toga Costumes
Each girl had their own style that they wanted for their no sew halloween diy toga costumes. We decided that even though each girl wanted a two piece toga outfit, we would construct all the toga skirts the same using a variety of skirt lengths. Then did a variation for each toga top. But ultimately they would would make cute no sew halloween toga costumes for them all!
We had originally done these toga party costumes for a summer Toga party that they had gone to. We were able to repurpose these for Halloween party.
Toga costume using a sheet
What size bed sheet for toga? Below I used an inexpensive twin top sheet to make this toga costume DIY. I used the finished edge for the bottom of the skirt to give the skirt on this two piece toga outfit an instant hem.
I placed the sheet on my cutting board, used a big plastic ruler and fabric cutter to cut the desired stripes I needed for each toga outfit piece.
To add the fringe I measured an additional 5 inches or so, folded it over, iron for a good crease then with a scissor cut the fringe.
How to make a toga skirt
I used a 10″ length for most of the girls (most wanted short skirts). I determined this by taking a measuring tape from waist to length they wanted (remember to add around 2 extra inches because when you wrap the skirt it will gather at top and naturally become shorter) you can always change this measurement depending on height of the individual.
Determine length of skirt. We started with using 10″, however you can adjust this measurement to the desired length for the toga skirt.
Wrap 10″ length around back and overlap slightly in front of persons waist to determine width, then cut desired overall width.
Make sure you used finished edge of piece for the "hem" of your skirt of you have this available.
Before cutting the width, leave extra at the top to form "ties" (see diagrams below)
Make a slit on either side to thread the ties through and pull for a snug half knot, once snug finish knot in front. (Fringe edge of toga skirt for an extra detail!)
You can achieve a perfect wrap toga skirt every time with a cute side knot. You can then fringe, add trim, add ribbon, etc. This stayed very secure on all the girls using this method. It was tested out with all the dancing that they did. These toga party costumes, even though they were no sew had a nice finished look. For extra modesty you can add a bike short or bikini bottom underneath. Use safety pins tp secure any pieces that you feel may come apart as well.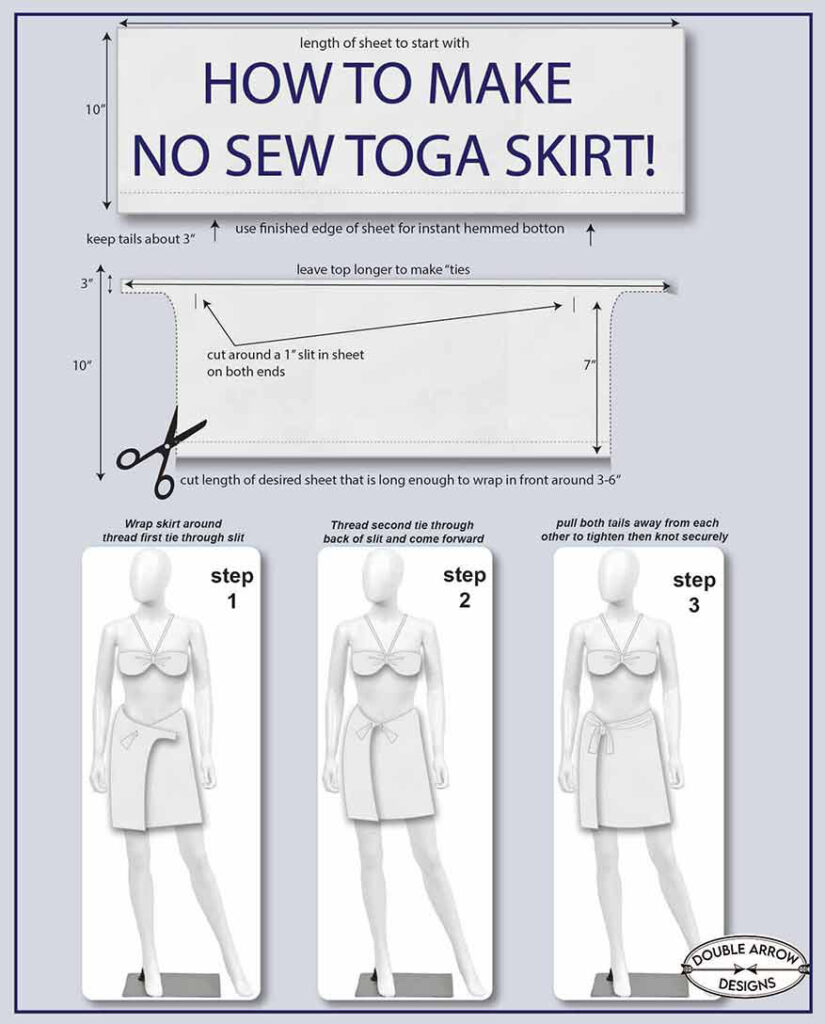 How to make a Toga top with fringe
Cut a piece of sheet full length. We made the height 12″ with a 2 1/2″ fold over.
Press with a hot iron at the fold over to create a crisp crease. you can also add a few small safety pins if you want.
Cut vertical strips around 1″ each to create fringe with the fold over.
Make a slit on either side at back to thread the ties through then pull snugly at half knot, then finish knot in in back to secure. Same concept as skirt
We used the same detail from the toga skirt by leaving extra length and fringed the bottom with 1″ vertical cuts on her skirt for a complete fringed look!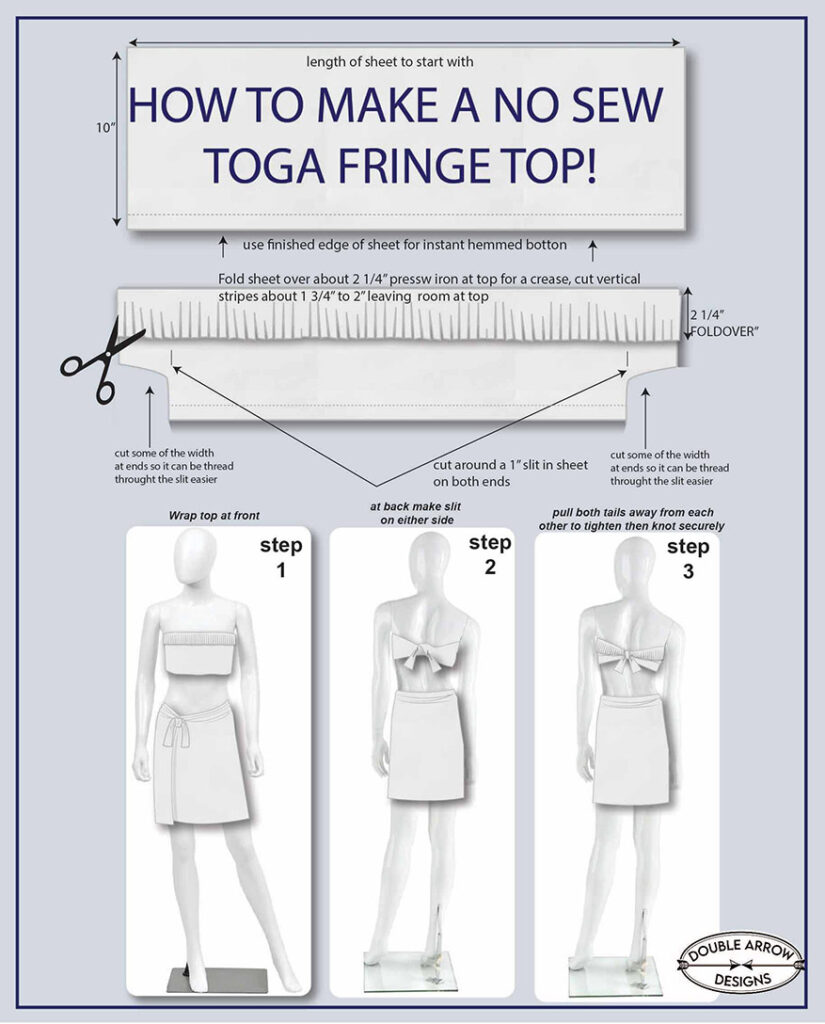 Work on a flat surface to spread your sheet out. Use a tape measure and ruler to mark off desired measurements. Important to use a sharp fabric scissor or rotary cutter and mat, so that you can cut clean crisp pieces and strips from your sheet.
This self healing matt paired with the rotary cutter and ruler, makes it super easy when making your toga costume. If you are a DIY'r like me these tools will become invaluable.
This rotary cutter makes cutting straight lines super easy.
Using this acrylic ruler with the matt is super helpful since it has a lip on one side that helps to make straight lines.
Scissor sharpening hack – Take a piece of Aluminum foil fold a few times into a square. Cut this with your scissors repeatedly to help sharpen the blade. I used this method when I cut the yarn for my pom poms, read about that here, when I made a pom pom mobile. This helped in sharpening my scissors.
---
Cinched bandeau toga top with straps.
Check out these easy diagrams, for step by step instructions! Pin or save these diagrams for the toga top and toga skirt for easy how to make a two piece toga. So simple!
Cut a straight piece and double it, cinched center with a ribbon (you can also use a strip of a finished edge of a sheet).
We looped the ribbon (or you can use a strip of finished edge of the sheet) around the center, made a knot at center to cinch front
Bring straps up over the shoulders and tied it securely to the back strap. (important! do not tie around neck this will not keep top secure)
We used the same method from the toga skirt. Made two slits at back of band and threaded ends through, pulled snugly at half knot and then finished knot securely at back.
You can take three strips of sheet and braid a length. this can be used for straps, or pinned at edge of top for a braided detailed look.
Supplies for No Sew Halloween Toga Costumes
Here is a list of all recommended supplies and materials I used to make these easy toga costumes. These supplies helped to make these toga costumes easier and quicker, especially since I had multiple to make in one day.
You can also buy the mat, rotary cutter and ruler in a 3 piece set. These tools are used for all my diy apparel projects and comes in handy!
---
Accessories for your No Sew Halloween Toga Costumes
Add gold accessories to complete the look! Accessories can really finish off these two piece togas. Below are some great options. One of the best accessory was the gold temporary tattoos (Shown on one of Emma's friends, second to right in photo)
Toga party costume
We achieved no sew halloween toga costumes for all the girls. We did this all in one afternoon! All the girls came supplied with an inexpensive pair of full size sheets to make their toga diy. I supplied a fun lunch and we all supplied the laughs and ideas. In some cases I was able to cut three or more pieces from one single flat sheet for these diy togas. I have left over pillowcases in white that are perfect to use as extras on any bed. So much fun seeing their visions come to life!
Variations on toga outfits
You can use the instructions above or use them as a guide, or come up with your own designs! We had so much fun coming up w each toga outfit figuring out what would work for each person. These toga halloween costumes are not serious and are very forgiving since we did no sew halloween costumes. It's easy to tie a knot tighter or adjust a length simpy from cutting. Most important just have fun making these!
Toga outfit ideas
Not everyone is into diy toga making, so below are some ready made togas that aren't diy. There are some cute toga outfit ideas that you can also be inspired by to design your own halloween toga costumes.
Hope that you found this post helpful for how to make a two piece toga for halloween. These are such easy toga costumes that can be made quickly, especially since they are no sew!
Share your No Sew Halloween Toga Costumes
I always love to see peoples creations! leave me a comment below and a photo of your toga diy costumes and share what you have created!
RELATED DIY POSTS!
Like my Toga party DIY post? check out my related diy posts below for some fun additional apparel DIY projects that I have created. Keep checking back or subscribe because I add new diy projects weekly to Double Arrow Designs!