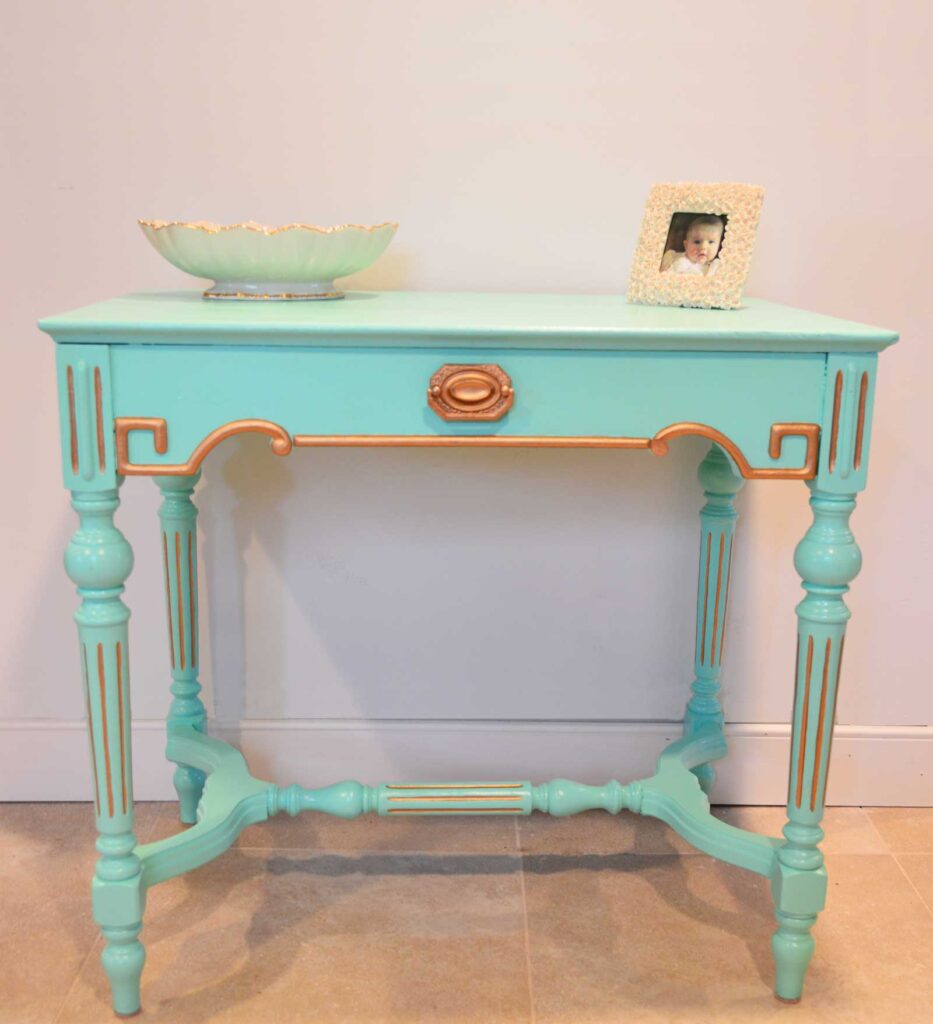 My blog periodically contains affiliate links meaning that if you make a purchase, I might make a small commission at no extra charge to you. Purchases made through them are greatly appreciated.
A few years ago we came across an old wood table. This needed some love! In this post I show how I did this diy furniture makeover you will love! See below how I transformed this into a stunning eye catching piece.
There are so many great pieces of furniture just waiting to be transformed. Many pieces can be in your own home, on craig's list, or at a garage sale. All you need is an eye for possibilities. Diy furniture makeover you will love are easier than you think.
Take a look on my furniture category here, where I transformed an upholstered stool, or where I did a diy furniture redo on this dresser. This is definitely my passion and I love the endless possibilities for these diy furniture makeovers.
Table before it got its makover
Wow! yep! this is the piece of furniture that I started with before it got its makeover. My first step is always to figure out my color scheme. Because of the lines on this, we wanted to accent the molding. The idea of an aqua and gold metallic combo was the perfect match!
Prep work
First steps in getting table ready for its repurposing, was to clean it. With all of our projects, we gave the wood a deep clean using warm soap and water to take off any residue and dust that had collected over the years. This is such an important first step, when painting, keep in mind that paint cannot cover up dust or grease, it will ruin your paint job if you do not prepare your wood first.
Color scheme and vision
We needed to update this wood table to make it relevant for today's design standards. The idea was to use the wood molding as a decorative element for this piece. With a little gold paint as an accent and gold hardware this furniture makeover was an instant success.
Steps to diy painted furniture makeover
clean entire piece, lightly sand if necessary
Make sure a tarp is placed under piece to protect floor
Use Rust-Oleum Zinsser Bulls Eye 1-2-3 Primer . Paint 2 coats, let fully dry between coats and after last coat
Choose your color of choice. I like regular house paint for all my projects. Testers are the best because there is usually enough paint in these containers for a paint project. I usually use Benjamin Moore
Use good paint brushes I use purdy brand, they are a little more expensive, however if you clean them properly you will have them for years.
Paint one coat, let dry then paint an second coat.
Once second coat of paint is dry I wait about 24 hours and add a finishing protective coat of Minwax Polycrylic Protective Finish. This will help the paint not chip.
In this case, I added a metallic gold accent to my moldings. I used Rust-Oleum 253537 Metallic Accents Paint, Quart, Soft Gold
I added a decorative gold pull with backplate. check out this similar one here from Amazon.
My final touch is adding Felt tabs to all the bottom of the legs. This helps to protect your flooring under your new painted furniture transformation
Final use for this furniture makeover
We ended up selling this piece to a woman in Brooklyn. She gifted this to her daughter and it made for a beautiful vanity piece!
Furniture makeovers that are already complete
Lots of people love the look of a painted diy furniture redo, but do not have the patience, or time to do a project like this. I always like to add resources to my non Diy readers for completed furniture pieces that have been transformed. My go to place of course is Etsy. I have compiled a few pieces below.
What diy Furniture makeover do you have in mind?
Let me know what project you have in mind, I always love to collaborate to help transform these diy furniture pieces!