Furniture Pulls and Knobs
Whether you are refinishing, painting or upcycling a dresser, or swapping out or replacing the furniture pulls and knobs, this can change the whole look of any piece!
My blog periodically contains affiliate links meaning that if you make a purchase, I might make a small commission at no extra charge to you. Purchases made through them are greatly appreciated.
Choosing the right furniture pull or knobs for your project
Adding a pull or knob to a piece of furniture can change the whole look or feel of a piece. So adding the right knob or pull can be super important for your furniture piece. It's like adding the finishing touches, like a piece of jewelry can do to a great outfit!
There are so many novelty knobs that can give your dresser, without a whole project like I did. This inexpensive option is so easy to do yourself. This can transform an everyday dresser, piece of furniture, or cabinets into a wow statement.
Check out my How To Paint A Metallic Dresser, where I finished this project off with crystal knobs for the perfect accessory to this piece.
Knobs vs pulls
There are so many choices out there that adding this accessory can get a little overwhelming. First it is important to know which you would like to add to your furniture piece. Knobs or pulls.
Knobs- These usually run less than pulls, and can be used for both drawers and cabinets. They are slightly easier to install than pulls since you only need one screw to secure the knob to the surface
Pulls- It is much more comfortable to open a drawer using a pull. This allows the whole hand to grab instead of only your fingertips. Install using two screws to secure to your surface.
Important steps when replacing pulls or knobs on furniture
Replacing the hardware can be a quick and easy way to upgrade the look of any furniture piece. It's extremely easy to change out your old hardware. However keep in mind the following steps so that you can replace your pulls and knobs easily.
Use a screwdriver and carefully remove the screw from the backside of the drawer or cabinet. If they have a nut and washer, loosen this and slide the hardware out.
Count the number of drawer pulls/knobs you need to replace
Decide on the look you are going for. Pinterest is a great resource for inspiration.
When replacing pulls make sure that they are the correct measurement from the existing pull.
How to know what size drawer pulls to purchase?
When refinishing a furniture piece and replacing the pulls. Measure from hole to hole to determine the distance. This way when buying replacement ones, you buy the appropriate size for easy installation. This is what I did on How to Refinish A Secretary desk where I took off the old hardware and replaced with leather pulls from Etsy. It took me awhile to find the right size for this.
Replacing knobs with pulls
If you decide that your new hardware is going from a one hole knob to a two hole pull then you need to do some prep work.
Measure your screw distance on the new pull. Then measure out the distance using the original hole as your center point to determine new pull placement. For example if there is 3″ from screw to screw, Measure 1.5″ on either side of the center hole for the total measurement of 3 inches.
Use a wood filler to fill in the old hole. Sand to smooth. This will make the hole "disappear" especially if you are painting the surface.
What are the most popular cabinet pulls and knobs?
Take a look at each retailer I created below for a range of the most updated pulls and knobs being used today. Ranging in metallic finishes such as brass, gold, silver. Natural materials such as stone and wicker. Novelty finished using enamel, ceramic. Lots to choose from, each knob or pull you decide on will give your furniture piece that custom look.
Do knobs have to match?
When using a knob or a pull on one specific piece, using one style of knob is recommended.
If you decide to use a variety it's important that they coordinate with one another. For example similar, or coordinating designs, within a ceramic pull.
Mixing a knob and a pull, again I would find ones that come in one design, but are offered in both a knob and a pull.
Keep to one metal.
Unique knobs for dressers
Each category below has some fun unique knob and pull design options. Yes you can go to Lowes, or even Home depot for an inexpensive run of the mill design. But why do that when there are so many unique knobs for dressers out in the market?
Below I have created a page just from Anthropologie with my top picks. They have a selection of novelty knobs and pulls that looks like pieces of jewelry. So pretty to adorn a piece of furniture with these beauties!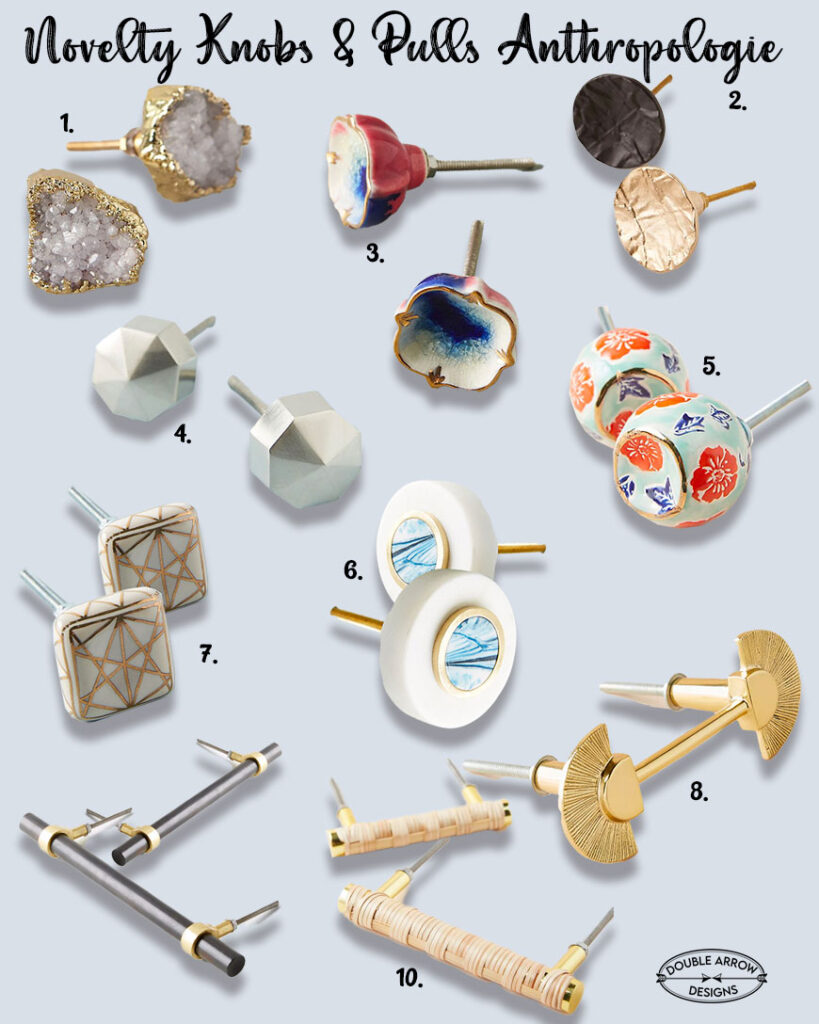 These novelty knobs from wayfair have a little more an artisan feel to them. They convey a more rustic artsy look. What's nice about these is that most already come in a multi pack which is useful for a multi draw project.
Etsy draw knobs
Etsy has some really interesting knobs. Take a look at some trending ones below. I bought my leather pulls for my secretary desk from Etsy. #5 to be exact. These pulls came in a range of measurements so I was able to get the size I needed.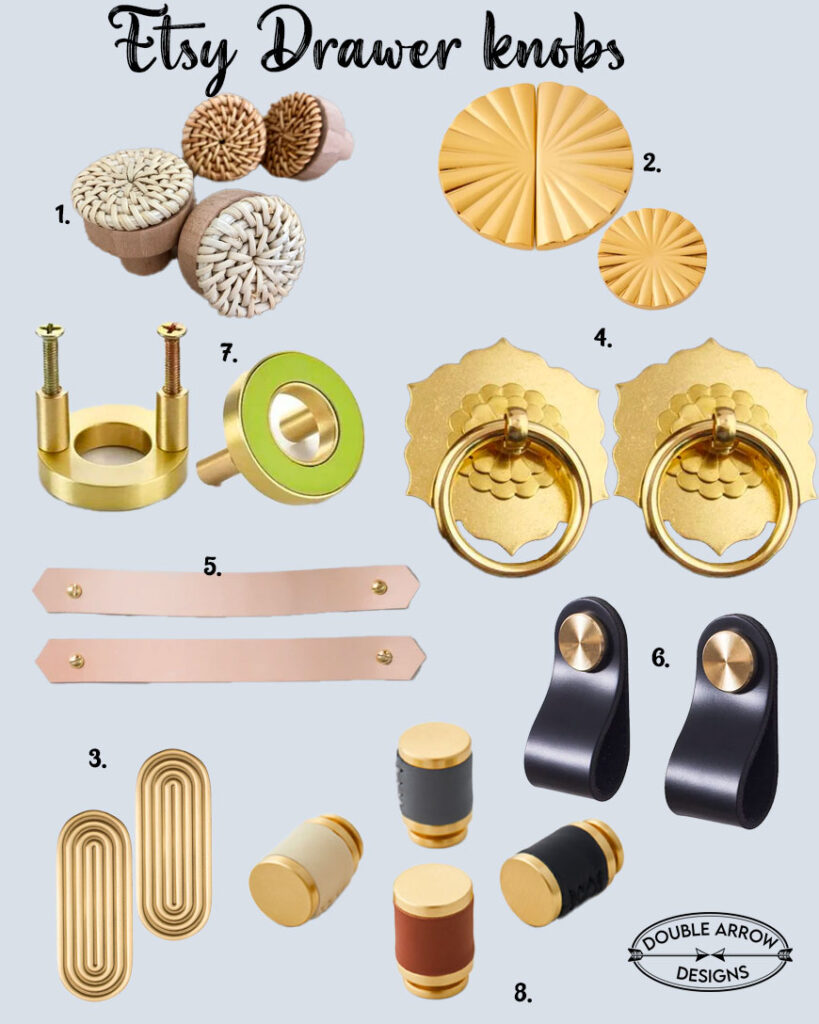 Gold cabinet knobs and pulls
Metallic gold and brass has been on the uptrend for furniture knobs. It lends itself to a warm nastalic feel that can make a piece look elevated. I put together some updated gold and bronze knobs and pulls below!
Drawer knobs Amazon
Cannot forget Amazon! Great selection and if you have Prime your knobs or pulls can be delivered very quickly.
Related posts using updated pulls and knobs
Check out these furniture projects I did below for some of the pull and knob choices I used. For a complete list of all my projects go to www.doublearrowdesigns.com and check out everything!
Share your project using novelty pulls or knobs. Always love to see what others have created. I add new projects weekly. So check back regularly for these fun DIY projects that I create. Thank you for your interest in Double Arrow Designs!