DIY Clothing Ideas
In this post I gathered all my best DIY clothing ideas so that you can have them all here! All of these DIY clothing projects have been done over a span of two years and I continue to add to these projects.
My blog periodically contains affiliate links meaning that if you make a purchase, I might make a small commission at no extra charge to you. Purchases made through them are greatly appreciated.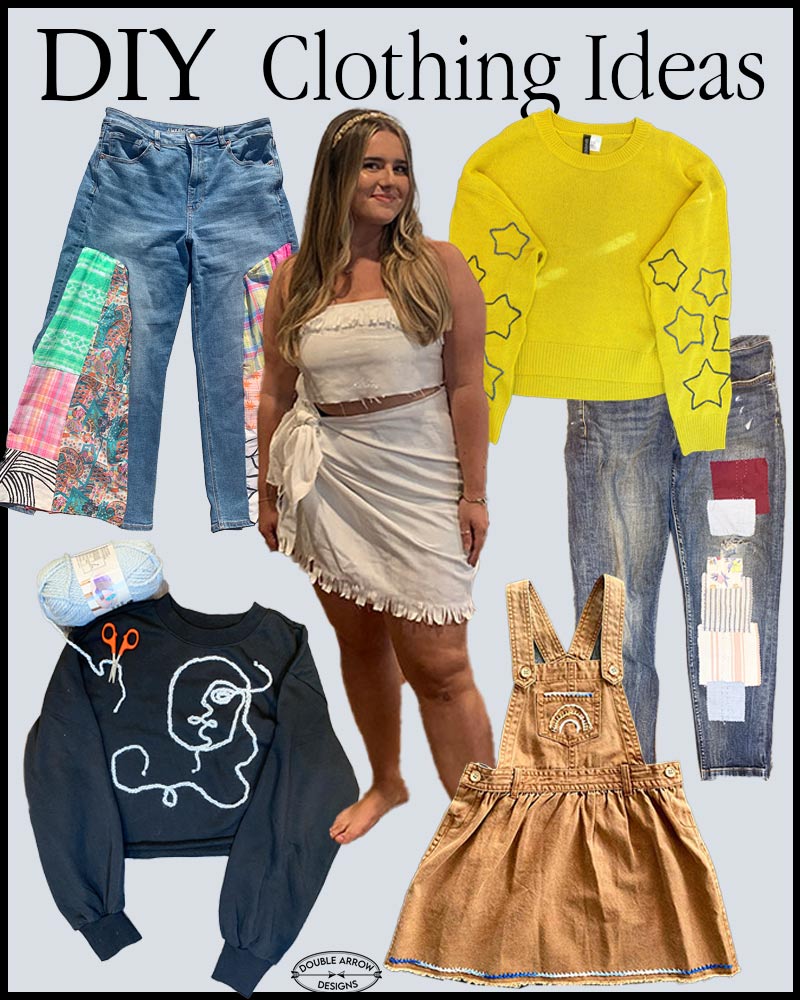 In this post Emma and I took a pair of her straight leg jeans and transformed them into these fun wide leg boho jeans. This was a DIY clothing ideas that was taken from a pair of Free people jeans which cost over 200 bucks, we did ours for a lot less!
Such a transformation. Take a look at the whole post for all the steps and details. I listed below all the materials I used for this DIY apparel project.
Now this is an all time winner! These no sew Togas is one of the top DIY clothing ideas that were made in an afternoon and came out super stylish. This was so popular that this is one of my most popular posts. This easy diy clothing hack out of sheets is a game changer!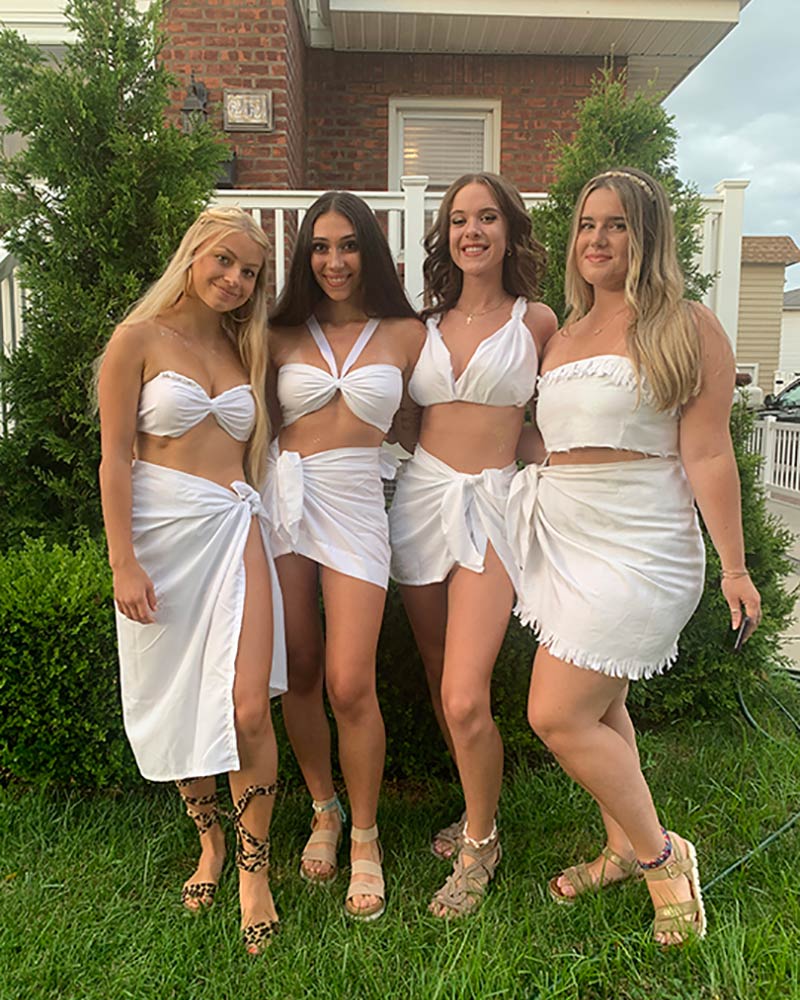 Each one of these toga outfits were designed to fit each one of these ladies styles! They were a super hit at their toga party! I added some accessories, see below that really finishes off these diy togas. If you go to the full post How To Make Cute Togas In Quick Easy Steps! I have full diagrams on how to construct these, take a look!
One of my first posts was in adding embroidery to kids clothing. This is one of those quick DIY clothing ideas and an easy way to diy apparel for a refresh.
This was an easy diy clothing hack that made plain kids clothes into boutique style ones! Check out the full post for all the materials that I used and for the techniques used on these DIY clothing project.
My sister came to me with a favorite pair of jeans that the holes had become really big. We added these cool swatches then added some fun embroidery detail and wow! They came out great! REad this full post for all the techniques that I used in creating this look.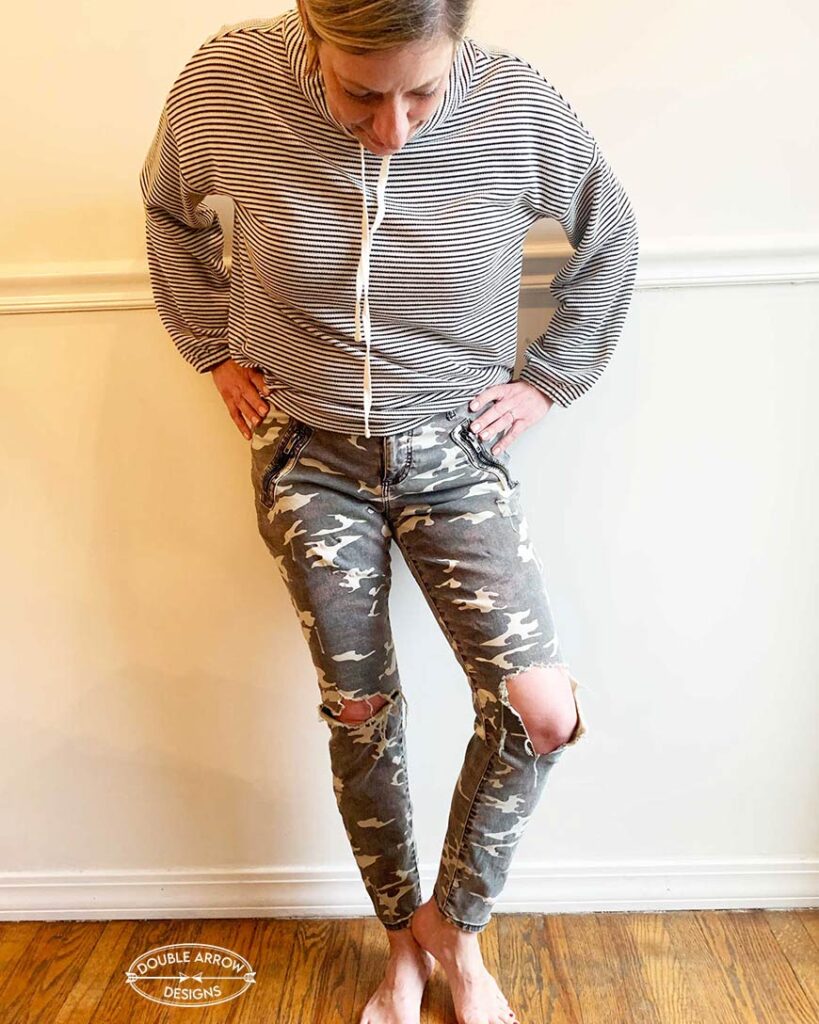 Take a look at this post for all the details and finished look! Below are all the supplies that I used in creating this DIY apparel look.
This is similar to the above post however I utilized more of a patchwork look on this DIY clothing project. These were my favorite pair of jeans and I caught them on a knob and literally ripped them down one leg. To this day they are my everyday work pants when I am doing any DIY project!
I took a plain yellow sweater and added some personality with these chain stitch stars. Super easy way to add a quck detail to any sweater. This DIY clothing idea was super easy and quick to do!
In this post you can download the paper star templates that I used on this sweater. Also you can Check out my YouTube tutorial on how to do this easy chain stitch method.
We all can use this DIY clothing hack! No need to bring your pants to the tailor, this quick and easy way to hem a pair of pants will be a game changer. I show step by step how I hemmed these pants sing a blind stitch method that turned out perfect in thi DIY clothing hack.
I found this fun Zara yarn art top and wanted to create a similar look. We used a sweatshirt from H&M and I designed the face then chain stitched it onto the black sweatshirt. Instant apparel art!
I took some plain kids tees and turned them into a "bee utiful" set of tops that coordinated with one another! I used art that I created with my cameo for the stencil and then the allover bee I made a stamp. Check out the full process on this post.
Below are the materials I used to create these graphic tees.
Supplies used for this DIY clothing idea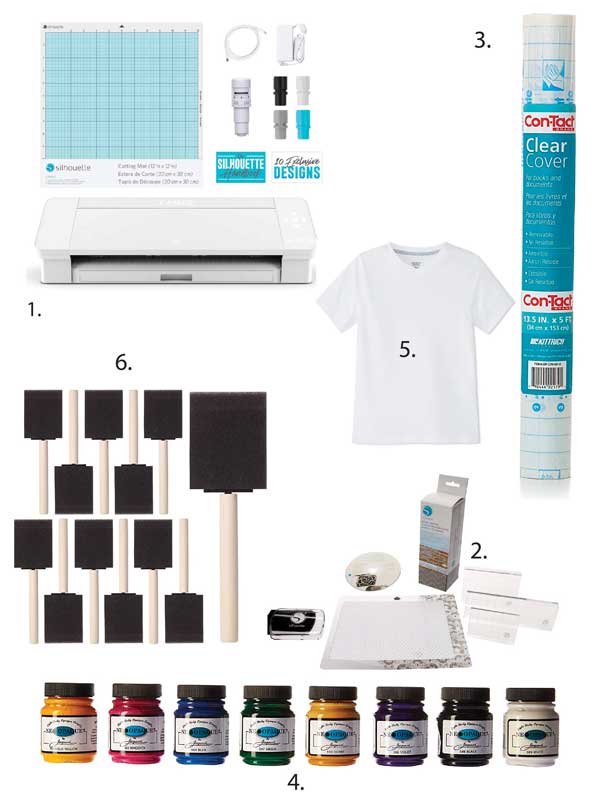 SHARE YOUR DIY CLOTHES IDEAS!
Let me know what you are up to and what projects you are working on! Always love to see how creative someone is on DIY clothing projects.