My blog periodically contains affiliate links meaning that if you make a purchase, I might make a small commission at no extra charge to you. Purchases made through them are greatly appreciated.
Disco Ball Mirror
Getting Emma ready for her first off campus apartment! Certain must haves for a 20 year old is this disco ball mirror. In this post I will show you step by step on how to make a fun disco mirror that will brighten up any interior!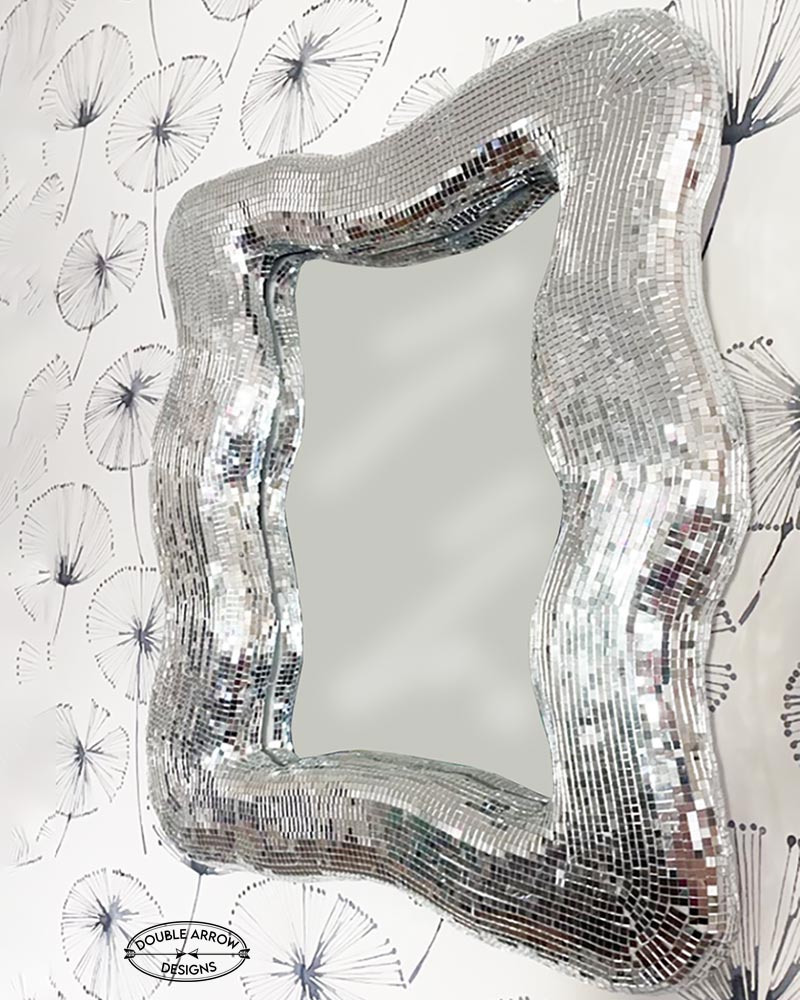 Disco mirror
These fun eclectic disco ball mirrors add a whole new dimension to any space. You can make any freeform shape you want or keep very linear. We loved the idea of a wavy surface so that the light will catch the mosaic mirror tiles from every angle.
Disco ball tiles
When making your disco ball mirror you have to keep in mind what disco ball tiles to use. These mirror tiles sheets come in a variety of sizes. We chose to use the smaller mirror tiles for crafts that we bought on amazon so that it would wrap easier around the sheets of the carved styrofoam sheets we used.
Disco mirror DIY
We saw these Disco Mirrors being sold on Etsy, however on Emma's first apartment budget, we needed to make a diy disco mirror so that we could continue furnish her whole apartment.
Supplies for a disco ball mirror
Supplies that we used for making this DIY disco mirror are the following:
Mirror tile sheets for crafts, come in 2 sizes. We used the smaller size 5×5 mm so that we could manipulate around the curves. They come with an adhesive backing. Using an xacto or sheetrock knife to score and pull off backing. We used double rows, singles, a few at a time. So it will all depended on the specific surface we were covering on our mirror.
I found them to be the cheapest and easier to just stack them. However you can find these in a thicker version and not glue them together.
This was the least expensive I found on Amazon we found our mirror at the Family Dollar for $10. You can also find one used, or use one you have in your home for a whole refresh.
Steps in making this disco mirror
Below are the steps we followed in making our specific disco ball mirror. You can try other variations, this is just what worked for us.
Choose your Mirror, whether it is an existing one or new. We bought our 16×20 mirror at Family Dollar for $10.00. Having the frame was helpful so that we could build the styrofoam frame on top of this.
We then bought these styrofoam sheets at Michaels craft store , because they were not as thick as we wanted we layered three together to give us the height needed to carve a rounded styrofoam frame
We then measured how wide we wanted our frame on all sides. Keep in mind that the frame will become less wide when carving so take this into account!
We taped the glued sheets on the frame, turned it over and put books on the back to weight it and let it sit for a day- well it was more like a week by the time we got back to our project!
With a pencil we drew the shape we wanted the overall frame to have
Using a sheetrock blade we cut the shape out. Make sure that you replace your blade frequently because the foa will dull blades quickly. when you. do not get a sharp edge use a new blade
Once the desired shape is achieved we started to carve the foam. using a slanted direction and carving at a 45 degree angle to give it the curved edges we were looking for. Again make sure that you use a sharp blade for an even surface on your styrofoam. This is important so that the mirror tiles will have a smooth surface to stick to.
Start sticking your disco mirror tiles down! Because we had a curved surface we did this in stripes of 2 at a time so that the mirror tiles curved with the shape of the foam.
A few white spaces- yes we ended up with these because we had a curved surface and square mirror tiles. We left them because unless you are looking for them the reflection of the mirror tiles helped to hide this. Note* You can paint the styrofoam metallic silver so that you will avoid any white areas.
Completed disco ball mirror
This will not be on my wall as shown! So we will be bringing this down to Emma's apartment where her boho style will be a great backdrop for this disco ball mirror.
Disco ball acessories for the non DIY'ers
No time or desire to DIY this disco mirror? No worries! Because you can buy one on Etsy. See below for some listings where you can purchase one already made.
Check out this fun Disco mirror on Etsy which has similar curves to the one that we created. Created by The Disco Kind. This specific mirror measures 39 centimeters by 39 centimeters.
ArtbyCazlyn also sells a similar disco mirror. You can purchase this also on Etsy. The size of this is 8″ by 12″ with a 3″ depth. Super cute!
If you are looking for related disco fun then check out this cool melting disco ball is a great conversation starter for any living space. Each creation is handcrafted and is, therefore, a unique item.
These mushrooms are made of Styrofoam and feature mirrored glass tiles that are individually glued in the shape of mushrooms. They are shipped in two pieces, some assembly is required.
TikTok of Disco ball mirror
This was such a successful project! Check out the TiTok video below where we documented our process in this quick video. Hope you enjoy!
Cost breakdown for this Disco Mirror
As fun as this project was, it's always good to see what the total cost of our project was. Below is the breakdown- please note that I am only showing cost of items we bought for this project. Some supplies I already had so not adding to the cost of the tape, sheetrock knife or blades.
| | |
| --- | --- |
| Mirror $10.00 | |
| Mirror tiles $52.20 (4 boxes, 2 sheets in each box with some leftover) | |
| Styrofoam sheets. $26.08 (used 4 in total) | |
| epoxy glue $26.70 (we used 2) | |
| TOTAL $114.98 | |
Next disco mirror project
Because we had leftover styrofoam panels and mirror tile sheets, we are going to make a funky letter "E" for Emma. We will post when this project is completed.
RELATED POSTS
like these DIY projects? check below for some additional ones that you may like. You can also go to my home page on DoubleArrowDesigns for all my DIY and printable projects.
Thanks for stopping by!
Susan
This post is all about a disco ball mirror.