Student Care package Labels
As we are sending our college students for the first time or back to college, care packages are a terrific way to send your student meaningful and useful items they will need for the semester. So check out the below post for your free care package labels.
Below you can download these student care package labels for free! Add them to a USPS medium-size flat-rate box and you have a themed box ready to go!
My blog periodically contains affiliate links meaning that if you make a purchase, I might make a small commission at no extra charge to you. Purchases made through them are greatly appreciated.
What to put in a college student care package
Below is a list to help you get started on filling your care package with the items your college student will want and need! The list is endless but this should get you started.
Gift cards
Alarm key chain
Fruit snacks
Book on college success
Socks
Open when envelopes- check out my Etsy store for the complete printable
Fill with the desired amount, this will definitely be appreciated as your college student. Because they will need things throughout the semester.
Personal Safety Alarm for Women by Self Defense Keychain –135dB Siren, Strobe Light, and Key Chain in 3 Pop Colors. Key Chain to easily attach the alarm to bags, belts, jackets, keychain etc. just pull the pin and a loud 130dB sound and flashing(SOS) strobe light will you heard. Because your student can never be too safe.
Personalize these fruit snacks, sure to put a smile on your college student. Then add other snacks to go along with these.
Perfect Quotes for College Success: Inspiration, advice, and tips for anyone going to college. Because no one ever has enough inspirational quotes around them.
Socks! no one ever has enough. Because These are unisex socks, they work for everyone. These are a great care package item.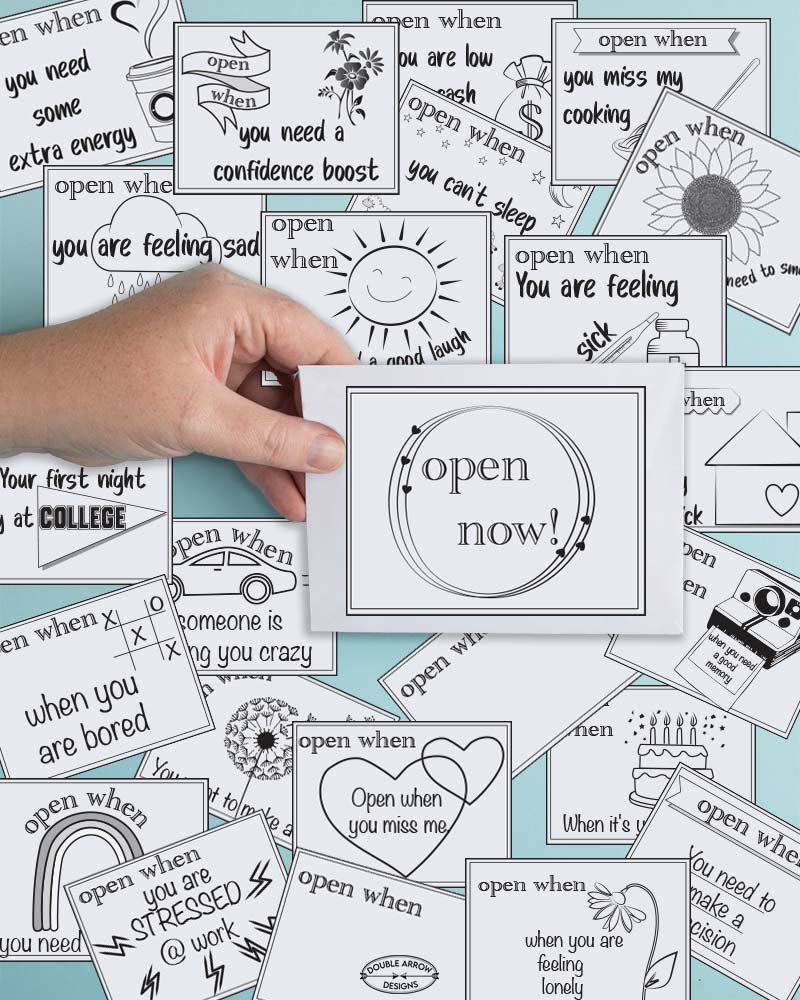 I created these for my daughter when she was a freshman at college. These were a big hit! You can add to your college student care package or make separately and give to your college student when you drop them off.
How to assemble Student care package Labels
Once you have downloaded your free student care package labels you are set to assemble. First print the labels, then cut them out. Use a glue stick or tape to adhere them to the four flaps of the box. Because there is an extra print, you can use it to place it on the bottom of the box to finish this off.
What boxes to use for care package
Go to your local USPS location and pick up a box for free! All labels can be sized down. My printable Halloween labels have been sized for USPS flat rate boxes, however, you can also use an amazon box that you may have, just print out the labels and size to what you need.
USPS flat rate box sizes:
Large flaps are 11 3/4 – 12″x6″
Medium size ( this is more a rectangle box) flaps: 10 3/4″x 4 1/4″, 8 1/4″x 4 1/4″
Small 8.5″x5.5″
Items that cannot be shipped in these care package boxes
I know! we all know the list, but I was surprised when I looked that nail polish and perfume were on this list for ground transportation only. So take a moment to look at it. The link is here for that information for USPS shipping restrictions.
Pricing for flat rate USPS boxes for care packages
Again you can find all this information on the USPS website here at usps.com. However, with one flat rate, lots can be packed into these boxes.
You can pack up to 70 pounds! Now that's a lot of care package treats. So this way you can ship one box with everything.
Shop ready-made care packages
No time to make your own? Not everyone wants to DIY a care package, so below are some great alternatives that can be sent to your college student. Etsy had some really fun ready-made college student care packages, so take a look!
Free Student care package labels!
Just click below for your free student care package labels. So don't worry I won't be emailing you with annoying junk! This helps me understand what products are useful to my readers.
Related Posts
Like what you found here? Check out some additional related posts that you may find useful!
Thanks for stopping by!
Susan
This post is all about student care package labels.