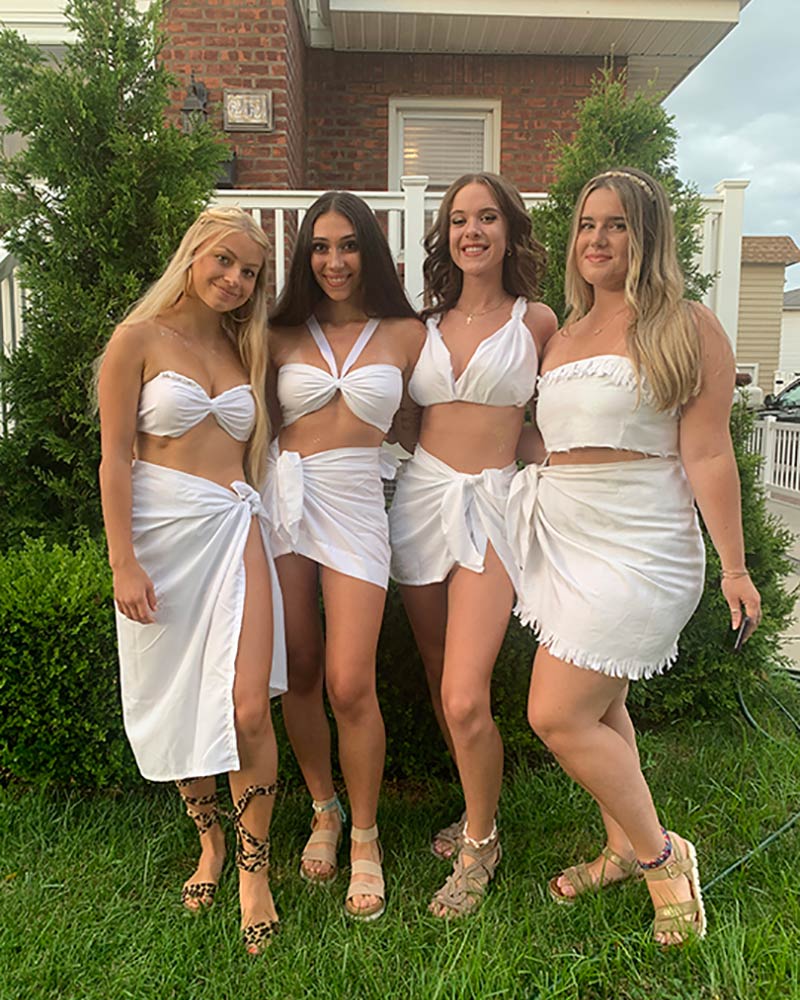 Note: My blog periodically contains affiliate links meaning that if you make a purchase, I might make a small commission at no extra charge to you. Purchases made through them are greatly appreciated.
How to make easy no sew toga costumes
Easy, quick steps for making cute togas for a bunch of girls! With a little ingenuity and creativity. We did not need to sew any of these pieces. We turned them around with some sheets, ribbon, scissors, some safety pins, and some vision.
Great idea not only for a party, but for Halloween Costumes.
Creating two piece togas
Each girl had their own style that they wanted for the outdoor toga themed Grad party that they all were invited to. We decided that even though each girl wanted a two piece toga set, we would construct all the skirts the same and then did a variation for each toga top. But ultimately they would would make cute togas for them all!
Creating cute toga skirts
I used a 10″ length for most of the girls (most wanted short skirts). I determined this by taking a measuring tape from waist to length they wanted (remember to add around 2 extra inches because when you wrap the skirt it will gather at top and naturally become shorter) you can always change this measurement depending on height of the individual.
Determine length of skirt.
Wrap 10″ length around back and overlap slightly in front to determine width, then cut desired overall width.
leave extra at the width of the top for the "ties" (see diagrams below)
Make a slit on either side to thread the ties through then knot in front!.
You can achieve a perfect wrap skirt every time with a cute side knot. you can then fringe, add trim, add ribbon, etc.
Easy to follow toga skirt instructions
TOGA TOP DESIGNS
Straight Bandeau top with fringe
Cut a piece of sheet full length. We made the height 12″ with a 2 1/2″ fold over.
Press with a hot iron at the fold over to create a crisp crease. you can also add a few small safety pins if you want.
Cut vertical strips to create fringe with the fold over.
We use the same concept for the toga skirt by leaving extra length and fringed the bottom of her skirt for a complete fringed look!
Cinched bandeau top with straps.
Cut a straight piece and double it, cinched center with a ribbon ( you can also use a strip of a finished edge of a sheet).
We looped the ribbon around the center, made a knot and brought it up over the shoulders and tied it securely to the back strap.
we used the same method from skirt. Made two slits and threaded ends through and knotted securely at back.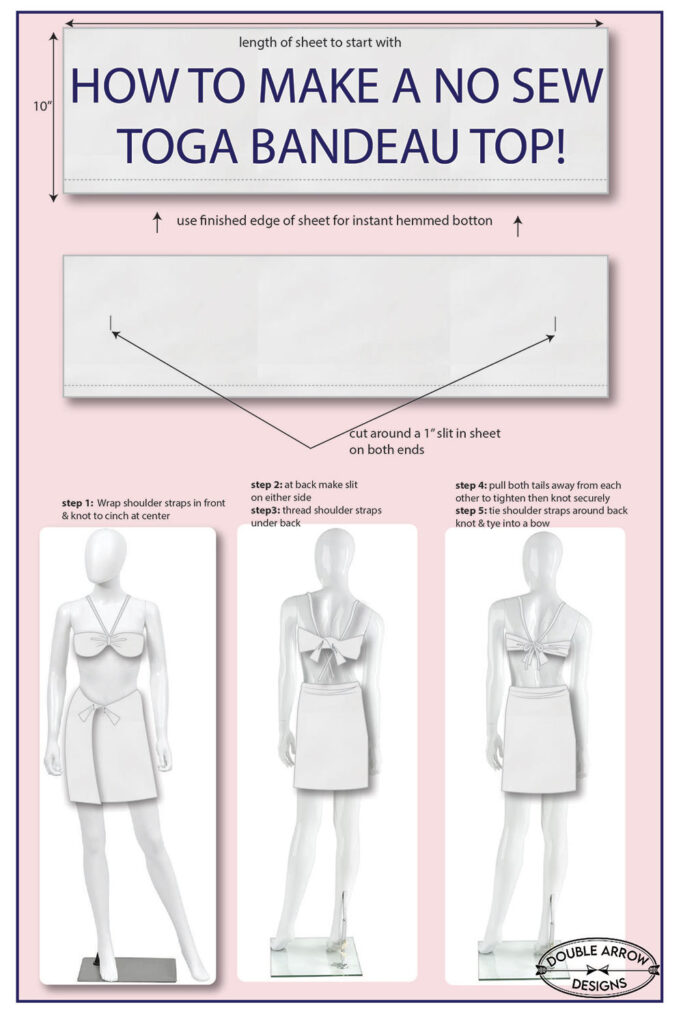 Supplies for No Sew Toga Costumes
Here is a list of all recommended supplies and materials I used to make these easy toga costumes. These supplies helped to make these toga costumes easier and quicker, especially since I had multiple to make in one day.
Check out these fun Toga outfits!
We really had so much fun designing and creating these no sew two piece toga outfits. They were perfect and held up for the entire party!
Now in order for the looks to be complete, we needed to accessorize! Below are some really cute gold accessories
Don't forget the shoes!