My blog periodically contains affiliate links meaning that if you make a purchase, I might make a small commission at no extra charge to you. Purchases made through them are greatly appreciated.
My neighbor acquired these old solid wood vintage doors. Since he needs to furnish his new Airbnb cabin in Tennessee that he just bought he decided that this old door would be a perfect dining table! Come check out the process below as I help him with a design detail to turn this ordinary door into a one of a kind old door Dining table.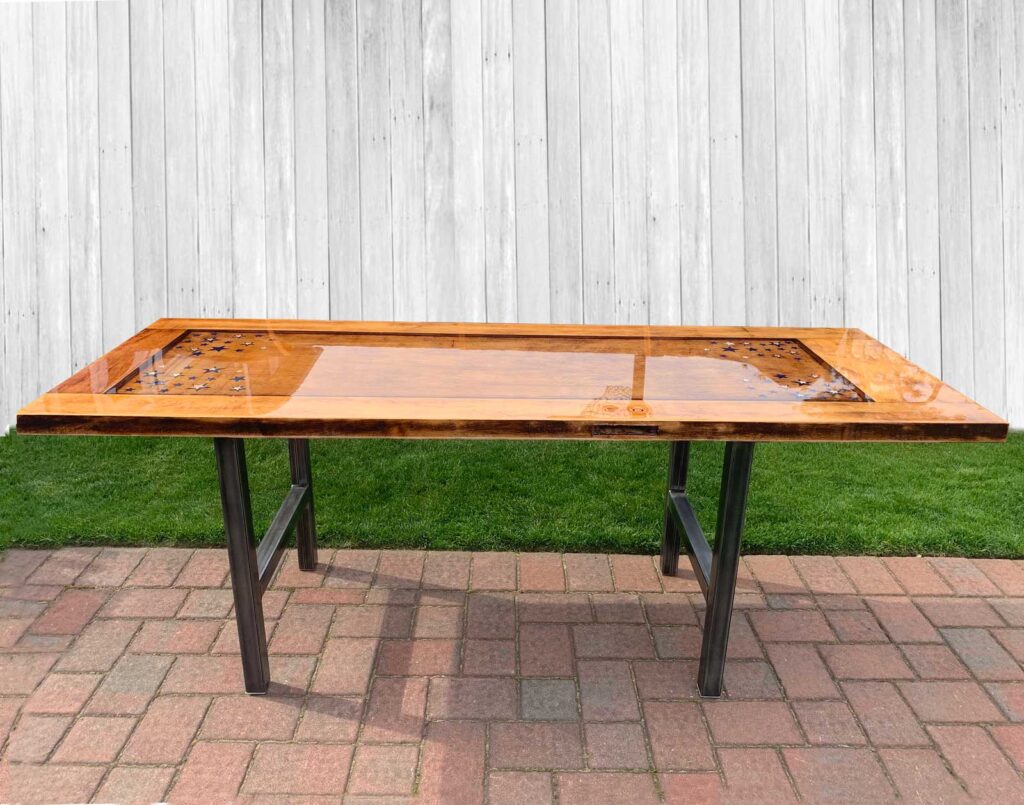 These old oak doors were gifted to my neighbor Brian. Like me he can see the beauty in something and re imagine what it can be. We talked about this project because her knew I would envision a design element for this project. Take a look below because this is exactly what I did!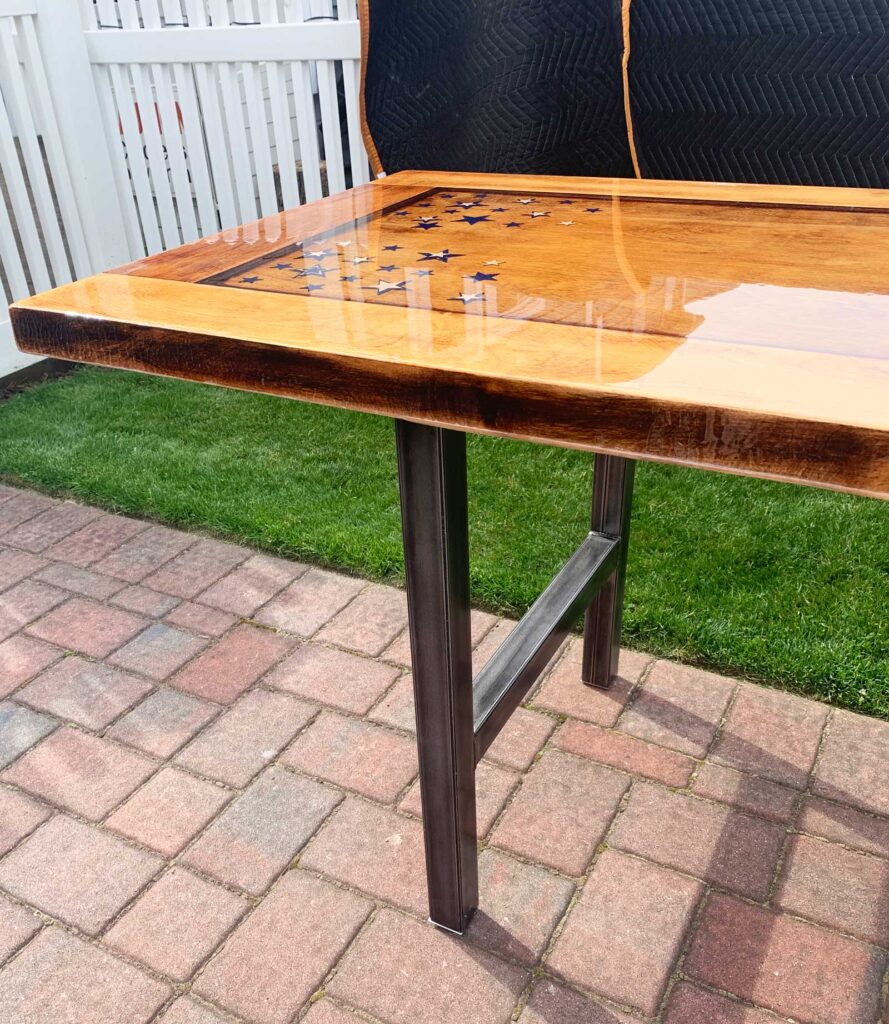 Original Old Door
Brian had three of these old oak doors sitting under a tarp, ready to be repurposed. It was covered in an old dark stain and painted brown. Some of the old hardware was still attached to these old doors. The measurement of this door was 84″ by 30″ perfect to repurpose this old door into a dining table!
Stripping the wood on the door
The first thing that he did was to remove from one side the old stain and paint on the old door. He only needed to do this on the side that would be the table top, and he left the underside alone.
After removing the hardware on top he was left with two small holes on the top side. I will come back to that solution later. With a Makita belt sander, he used a 60 grit sand paper, then moved onto a Craftsman sander using 120 grit. he spent time methodically stripping the door of its old surface. What lay underneath was this beautiful oak wood surface, so perfect for a wood dining table. Because this was an old door the center had a recessed panel.
Design Element for door turned table
Now that we had this unfinished door it was time to discuss the look and feel he wanted for this repurposed dining table. His house that he just bought in Tennessee would be converted into a "cabin like" interior. With Pallet wood walls. He wanted a very "Americana" feel that would sit well in his new cabin.
We decided to use these cool unfinished wooden stars from Amazon that he had from a previous project. They came in 3 sizes. Because we had this cool recessed center panel, I laid them out in each recessed corner to get an idea of a layout. My idea was to pool them in the corners and spread them out. Giving an abstract nod to an American feel without being literal, which will give this a timeless look.
Because the natural wood against the natural wood wasn't so interesting, and a contrast look was in order. We used Rustoleum paint in a gloss navy blue, we spray painted most of the stars on an old pallet surface and let dry overnight. The next day we placed the painted stars in the layout and layered some painted with some unpainted and painted stars to give it some dimension. Using Gorilla wood glue we used just a dab to secure all the wooden stars down so they wouldn't move when pouring the epoxy.
Tips when gluing down objects
When gluing down objects to be embedded in epoxy, brush on a thin layer of the gorilla glue then fasten down. This will make the object's surface fully adhere so that aor does not get trapped underneath with just a dab of glue. We ended up with some bubbles by not doing this. It didn't ruin our project but gave us a lesson for when we do our next old door dining table project.
Additional details before pouring epoxy
When Brian took off the old hardware he was left with two holes. He cut a wooden dowel in a similar circumference of the holes, then leveled it to the surface. (you can see them in the photo below on the left) He left the old metal hardware on the underside of the table to keep the old world charm of this old door turned dining table.
When the wood was removed of all paint and stain, the light wood was left. You can use a water based stain with epoxy, to restain the color of your choice, but remember that the epoxy will turn your wood a darker color as you can see. So this is why we decided not to stain the wood before we poured the epoxy. The richness of the wood under the epoxy was beautiful! The results were amazing. Not only did it darken the look of the wood but it also accentuated the grain as well.
Resources on learning to work with epoxy
Since neither of us had worked with epoxy before, we did a little research in order to educate ourselves on the overall process. I love YouTube because you have a videos at your fingertips to see. You can see my own YouTube video when I videoed the process of my Telephone Chair-DIY. However, below is the video we watched to educate ourselves on this process. It was so helpful!
Best practices for working with epoxy
Before we started there were a few things that we prepped for this project.
Lay a tarp underneath your project. This will help protect floor from epoxy drips, and help with clean up.
Make sure that your surface is level, otherwise the epoxy will pool to one side.Use a leveling ruler to determine that you surface is level.
Using clear packing tape, tape all the underside edges. This helps when the epoxy covers the sides you an easily remove this and have clean edges.
Wipe down your surface of any dust or debri! Remember that the epoxy will magnify the grain but also magnify any floating objects.
When using 2 part epoxy you must read the instructions to ensure a correct pour onto your surfaces.
After each pour, use a blow torch, the heat will remove any air bubbles, adn literally make your epoxy layer look like glass.
Keep temperature in room mid 70's the warmer it is the better your epoxy base will mix into your curing solution.
Wear rubber gloves! this is serious stuff and you do not want to have to spend time trying to get this off your skin.
When finished with your mixing bucket, wipe out as much excess as possible, then use rubbing Alcohol to break down the epoxy on the plastic surface. Next best solution is mineral spirits. (I used both because I ran out of rubbing alcohol) Then you can use soap and water to remove the cleaning solution, wipe down and dry so your bucket is ready to be used again.
Once epoxy is poured on surface use a blow torch above the surface, it will remove air bubbles immediately!
How much epoxy will you need?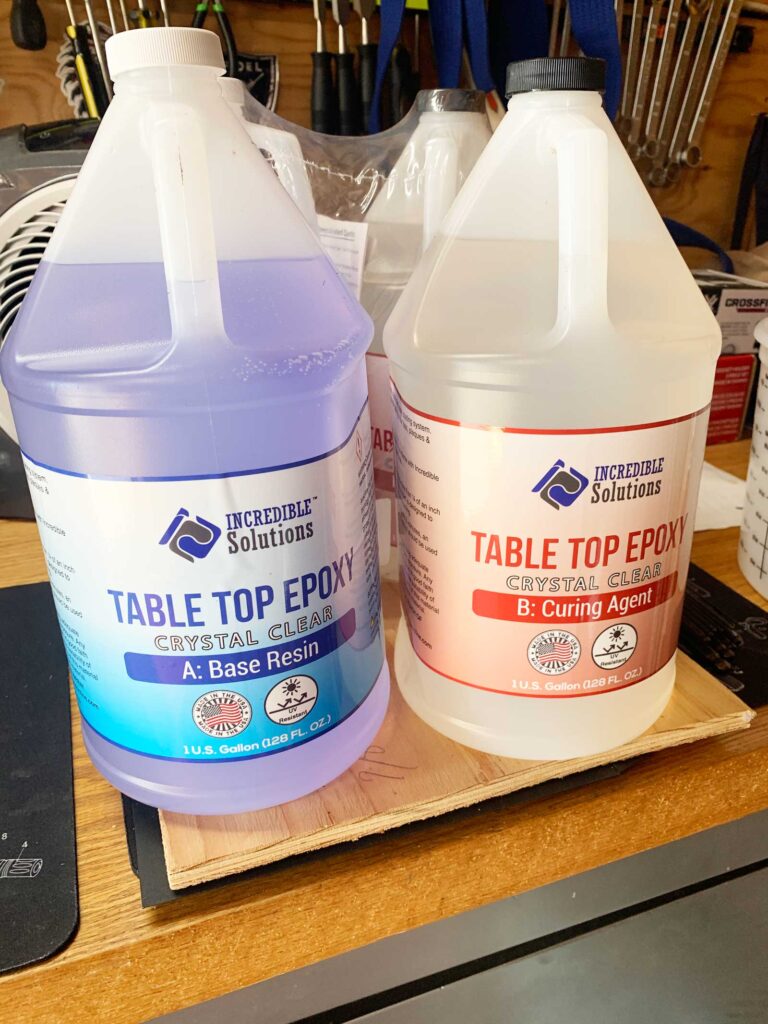 Good question! we used an epoxy calculator which gave us the ability to enter the measurements of our surface. This table used 4 gallons of epoxy. You want to do this before hand for two reasons.
Each pour shouldn't be more than 1/4″ thick, we waited about 4 hours so that the surface was tacky, then poured the next layer. The tackiness enables the next pour to bond to the layer underneath.You do not want to run out of epoxy because of the next reason
If you decide not to pour the next layer within this above time frame, and wait a day or two. You will need to lightly sand the cured surface before you pour the next layer. Since it is fully dry the light sand will give the dried surface some tooth for the next layer to bond to. This adds an additional step which can be voided if you have enough epoxy to begin with.
Pro tip! Make sure that you measure, legs, table top and any supporting braces together. Tables are a unified height and if it is too tall a standard height chair will not work well.
Finishing touches to an old door turned dining room table
When the epoxy is fully cured ( instructions say about 7 days) we were ready to put the legs on. Brian bought these bench table Legs Set of 2 Furniture Legs 30″ high from Amazon .
A brace was added underneath to fill in the gap of the recessed panel. Brian had to make sure that this was not too thick in order for the table to be the correct height for standard chairs.
Table leg options
Brian purchased these metal legs for his dining table. Below are some other fun versions of metal legs. I love the mix of the woo with the metal, for a mixed media look. Also these hairpin legs have been trending for table tops, not only for kitchen, and dining tables , but also coffee & side tables.Make sure when ordering the legs that you measure your table for the correct height that you need.
Completed old door into a dining table
Wow! that's all I can say! For a first time ever working with epoxy I think it came out great. This table turned out to be a perfect epoxy table for the Stoneybrook Valley Ranch.
The key takeaways for this project are the following:
Always prep your surface first. Make sure it is free of dust and dirt.
Be patient on your layers of epoxy pours. Pour the layer, let it cure before doing another layer. Instructions on the epoxy bottle will give you the times for this.
Clean out your buckets properly so that there is no left over epoxy residue which can compromise your next batch. Use Rubbing alcohol for this.
Make sure the temperature is warm enough.
All in all this old door turned dining room table looks amazing. The stars that were added onto the recessed panel look like they are floating under the epoxy. This gave the table the overall "Americana" look without having to be literal with an American flag. Brian will purchase second hand chairs to add charm to this table.
Overview of supplies for old door turn dining table
Below are the supplies and tools we used for our old door dining table makeover. This will depend on your project.
Supplies used
Please note that the instructions given for our epoxy table is from my own experience using epoxy for the first time, results will vary depending on your own project. However I hope that my experience has inspired you to create your own epoxy dining table from an old door.
Share below your projects I always love to see what other people are working on. There are so many options and variations that no two projects will ever be the exact same. Take a look at double arrow designs furniture DIY projects at double arrow designs for some other cool ideas and projects that I have done. Join my mailing list to keep updated on my ongoing projects!
RELATED POSTS
Check out some of these additional projects that I have worked on if the above one interests you!
Thanks for stopping by!
Susan