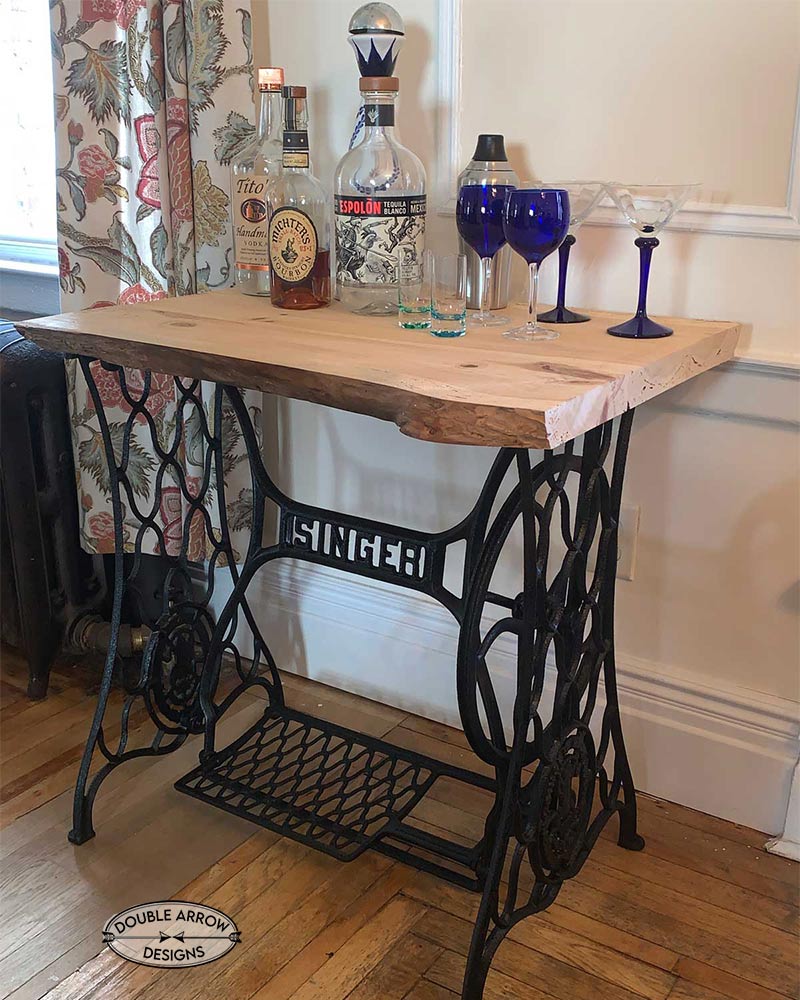 My blog periodically contains affiliate links meaning that if you make a purchase, I might make a small commission at no extra charge to you. Purchases made through them are greatly appreciated.
Repurposing A Sewing Base
I had the opportunity to repurpose a singer sewing machine base. My brother in law came across an old discarded singer metal base a few years ago. He asked my sister Nicole and I to refinish this for him. This was at the end of the period where Nicole and I were winding down on our partnership of Double Arrow Designs. You can read that story here. So this discarded unfinished singer sewing base remained in my yard for another few years.
Repurposing Other Metal Items
Fast forward to this year. I have reclaimed Double Arrow Designs on my own and have expanded my design posts to incorporate not only furniture, but homegoods and apparel. While I did this post on how to paint wrought iron furniture bed frame, my eye kept going to this singer sewing base. It was really amazing because my sister was in from San Francisco visiting and had the opportunity to help me with these projects. I had finished a similar project when I refinished this Easy steps to Repurposed Patio Furniture post. It was really amazing to have her around for these projects!
Steps I Took To Repurpose A Sewing Machine Base
See below for all the steps I took to Repurpose A Sewing Machine Base. So not all results will be the same, depending on your specific base, color choice and table top.
Because this has been out in the elements, I needed to first sand down any rust, or flaking paint I used Metal bristle brushes to get into the ornate areas.
For heavier Rust areas you can use a power drill and add a wire brush attachment.
Spread a large tarp in an open area. Because Spray paint goes everywhere if you aren't careful! This protects the area that you are spraying.
I used Rustoleum 2x paint and primer in black satin finish for my painted sewing base. Therefore the black base with the wood top gave this piece a strong presence.
Place piece upside down to and spray light coats to avoid dripping. This ensures an even coat on all surfaces of your sewing base.
Once Dry flip piece onto correct side and continue spraying in even coats, walk around the piece to see it from every angle and continue to spray. Because you will be surprised on the spots you may have missed.
Continue spraying your piece until fully covered. Be prepared for using a full can of paint, MAybe two depending on your project.
Once completely dry. Add felt tabs on bottom of feet to avoid scratching floors. I put these on all my finished furniture pieces. This makes your piece easier to move around until you fin that perfect spot for it!
Finishing The Sewing Base With A Table Top
Add top and secure firmly to base. My Brother In Law's, son milled a piece of wood to a custom size to fit this piece.
Seal wood with a polyurethane This table top was done in a satin finish. For this wood table top, after brushing on one coat, a second coat was applied. 24 hours after the first coat, lightly sand with a fine grit sanding block, then apply the second coat.
Accessorize and enjoy! This has become a focal point in my Sister's house a perfect bar cart for Friday Happy hour!
Where to Find Old Sewing Machine Bases
These have become a hot commodity because of the upcycle potential for these bases. Best places to find these sewing machine bases are:
Facebook Market Place
Craigs List
Yard Sales
Flea Markets
Sometime you may just have to buy the whole sewing machine with the base, in order to Repurpose A Sewing Machine Base. All you will have to do is remove the old sewing machine and you will have the base you are looking for!
Options For Tops For Sewing Machine Base:
Once you have completed refinishing your sewing machine base, it's time to find the right table top for this. Below are some ideas that I have seen. Each table top option will give you a totally different look to your base.
Reclaimed pallet cut & sized
Vintage wooden box
Marble slab cut to size
Old table top resized
Check out my Pinterest page here. I have saved variations of this on my Pinterest board "repurposed Furniture" Take a look for some really fun creative ideas!
Accessorize your Singer sewing machine bar cart!
Every Bar cart needs it's tools!
Perfect to decant a bottle of wine, and will look great on your bar cart.
Helps to protect your surfaces from water rings.
Fun lights to add character to your bar area
Need Ice? Bucket set on bar cart adds instant access.
Fun cut glass whisky glasses can be used for multiple cocktails. Adds an old world element.
Martini Glasses with Heavy Base can be used not only for martinis!
Bar Carts that are Non DIY
Not everyone has the time, energy and resources to Repurpose A Sewing Machine Base. I try and always add a selection of non choices. Check below for these fun bar cart choices!
Related Posts
Check out additional DIY posts that I have done on some furniture projects. Each one is so different.
These are just a few! Check out Double Arrow Designs Furniture for the all my posts! Not only are there additional posts on furniture, but on projects for the home and DIY apparel projects. I hope you enjoy!
Let me know in the comments below for any of your favorite DIY furniture projects. I love to hear about them!