My blog periodically contains affiliate links meaning that if you make a purchase, I might make a small commission at no extra charge to you. Purchases made through them are greatly appreciated.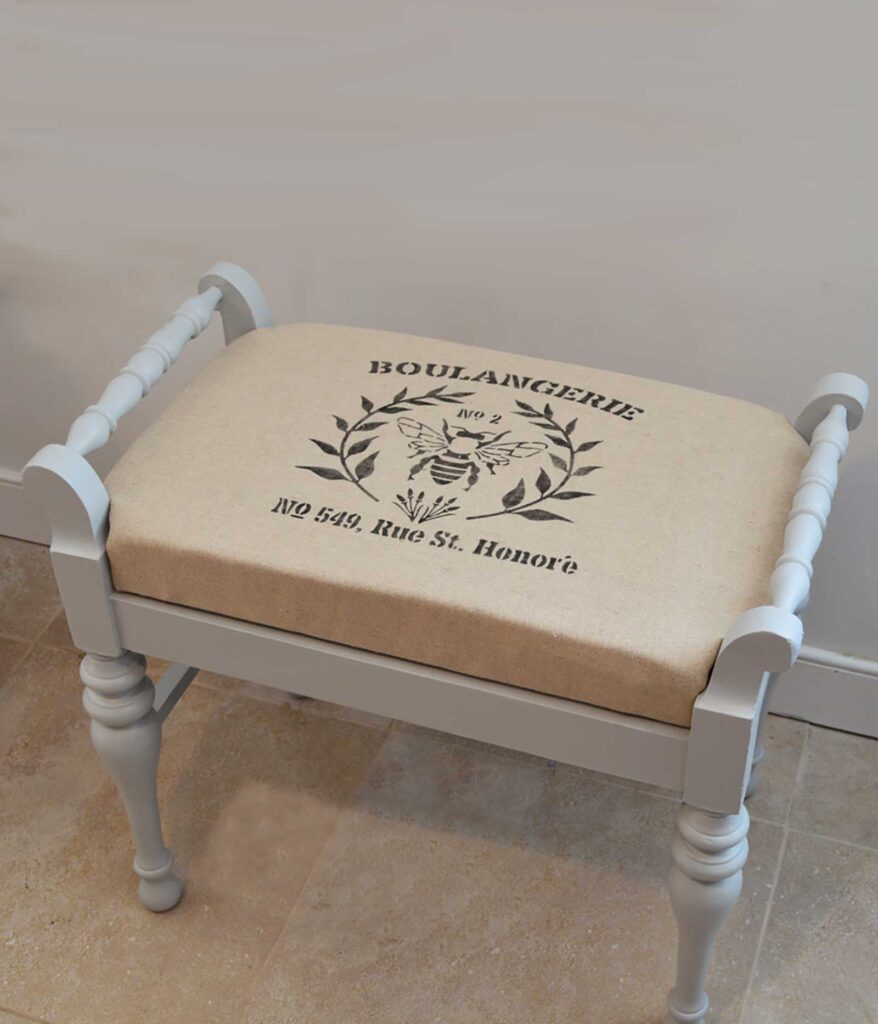 In this post I will share my process on how to repurpose an upholstered bench. I love taking Items like this and seeing the potential in them! This specific project came out amazing.
Prep work
First steps to repurpose an upholstered bench is to strip the old upholstery. We wore gloves and masks to protect our hands and any dust from the old upholstery. The good weather was on our side and did all of the prep work outside. We first removed the seat. Then we removed all the upholster staples and discarded the fabric and the disintegrating foam cushion. With all of our projects, we gave the wood a deep clean using warm soap and water to take off any residue and dust that had collected over the years.
Cleaning any piece is always the first step!
Color scheme and vision
We needed to update this 1950's bench to make it relevant for today's design standards. The idea of a french theme inspired us! (I write about how I find my inspiration as a designer, you can read that here in my last post)The dark wood, and the tattered upholster had seen better days. Drastic measures needed to be taken.
We decided that it needed a light neutral makeover with a pop of contrast for our repurpose an upholstered bench project (this is where the graphic and choice of color for the graphic came into play) This was accomplished by painting the dark wood in a light grey. Then purchasing canvas in a neutral stone color. I then created a stencil with a french themed graphic and using this to paint with black fabric paint, the main focal point of our piece.
Painting the wood frame
When I get ready to paint wood furniture, the one thing I try to avoid at all costs is sanding. This can be a tedious and difficult job. Especially if the furniture has many rounded edges like this piece had. In this case I used a water based primer. So Sanding isn't necessary with the primer. Because this is real wood and either the wood grain or the varnish can seep through paint, I use a kill stain primer. Apply 1-2 coats depending on the piece. This primer will block stains coming from the wood.
Once this is dry, usually a few hours I will then apply two coats of paint to my surface. One coat is never enough and a second coat always finishes it off completely. Many people use chalk paint. I tried this on a few projects and this seemed like an expensive and unnecessary paint. So I use regular Benjamin Moore paint.
The testers are perfect for three reasons. one, there is more than enough to coat a piece like this twice. Two, the testers cost less and Three, all the testers come in an eggshell finish. We used Benjamin gray Owl for this piece. Once this is dry. I recommend 24 hours. I then seal the painted pieces by using minwax clear coat in a matte clear finish. This adds a durable finish.
Upholstered Cushion
After we had discarded all the old fabric and foam, we were left with a wooden seat panel. We made sure that all the nails and staples were removed. Using the seat panel as our stencil and cut out upholstery foam to size. Use a sharpie to mark, and then either cut with a scissor or a sheetrock blade. We had purchased a canvas fabric that once we stenciled (see below for that process) placed face down on a clean surface, placed the foam cushion and the wood panel on top.
Best practice is to cut excess fabric , but keep in mind that you will need some length to cover the foam, wood panel and have enough to staple on wood panel. Using a staple gun (The best method I found for this is to start with each side with one staple in center. and repeating this on all sides.) This ensures that the tension on your fabric is equal on all sides. Then adding additional staples on all sides to securely tack fabric down. Lastly the Corners can be a little more tricky, Sometime you will need to cut excess fabric ad fold underneath at corners to give you a seamless look. You can see this whole process when I upholstered my patio set here.
Stenciled seat cushion
As a designer and graphic artist I was able to create this graphic for the cushion. You can purchase this exact design on my Etsy store. Using our Cameo machine, and cutting out the stencil using contact paper, then placing on your fabric. Before upholstering the cushion, I laid the fabric over the frame so I could better position my graphic for this seat cushion. Then using black fabric paint and a foam brush, I carefully dabbed the paint on the stenciled fabric.
Once complete, wait for paint to not be completely wet then pull off stencil. Once paint is fully dry, use an iron on the correct setting for your fabric and iron on top of stencil. This helps to set the paint into the fabric. You can also add a fabric spray to help protect the fabric against stains.
Finishing touches
The newly upholstered seat can now be screwed back onto its base. There were 4 existing holes with screws that I made sure that I did not cover with the new fabric. This anchors the seat onto the base and now both the cushion and base are secured to one another. For the bottom of each leg, add felt tabs with a little wood glue. Therefore this helps to protect your floor from any scratches and can help level your piece.
Where to find old benches
Great places to start when looking for furniture pieces to redo are the following places:
Craigs List– My original go to place
Facebook Marketplace– I have found some gems here!
Bulk pick up days in neighborhoods– Yes! lots of free furniture that gets discarded
Years ago, my sister and I came across this forlorn looking upholstered bench. When Double Arrow Designs was created years ago this was how we spent our weekends, every weekend. We loved finding pieces that were in this condition, because we knew we would transform them. We did everytime we refinished, or repurposed a piece. You can read about how we got started here. It had seen much better days! Luckily it came across our path and we decided to repurpose this upholstered bench.
Where to sell repurposed furniture
Etsy store
Craigs List
Facebook Marketplace
Word of mouth
Once we finished this, it sold quickly on our Etsy store. Luckily for us, a woman in Brooklyn purchased this and I was able to hand deliver it. When we had to ship our pieces, the shipping boxes had to be custom made because of the shapes and sizes of our pieces which made it difficult at times. Our projects after this mainly consisted of local custom projects that kept us very busy.
Now a days I do either custom work or sell on Facebook marketplace, or Craigslist to avoid having to ship these items. Buyers can see your approximate location for easy pick up.
Recap on repurpose an upholstered bench project
This discarded piece became a functional bench. We paid minimal for this and sold it in its refinished state after putting our time, energy and buying all the materials needed for this. I found that upholstered pieces sold the best.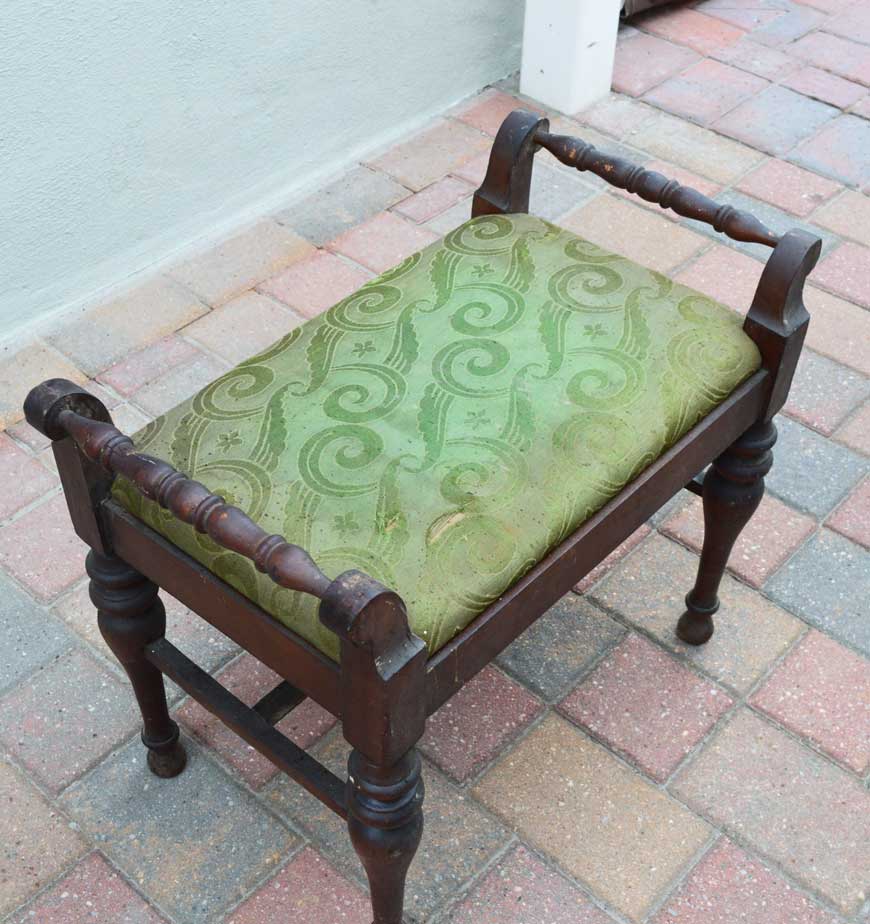 I love a before and after shot!! Gives the full effect of where this project started and how it was totally transformed. Looks like a totally different piece that is now an updated functional bench. This is a good reminder of why I continue with Double Arrow designs. These projects give me such satisfaction. The beauty is that there will never be two alike, each project becomes its own original.
Tools needed for your upholstered bench
Upholstery fabric– (this is not actual of what I used on my specific bench)
Benjamin Moore tester (I used gray Owl)
As always I like to put a section here for my Non DIY readers. Repurposing a piece of furniture does take time. Not everyone has the luxury of this, or even wants to tackle this. See below for my picks for upholstered benches that I found fun. Happy Shopping!
As with any projects I love to hear and see what others are doing. Let me know if my post was helpful. Please share in the comments your projects and photos! As always I am grateful for my readers and if you subscribe I promise not to send any annoying emails. When you subscribe it helps me to understand who my readers are and what they are looking for. This helps me when creating my future posts to help solve problems through my design projects.
Thank you! Susan
shop upholstered benches