Vintage Candles
In this post I share these beautiful candles in Vintage glassware that you will love. These beautiful soy candles are hand poured into one of a kind vintage glass vessels to complete these beautiful vintage candles.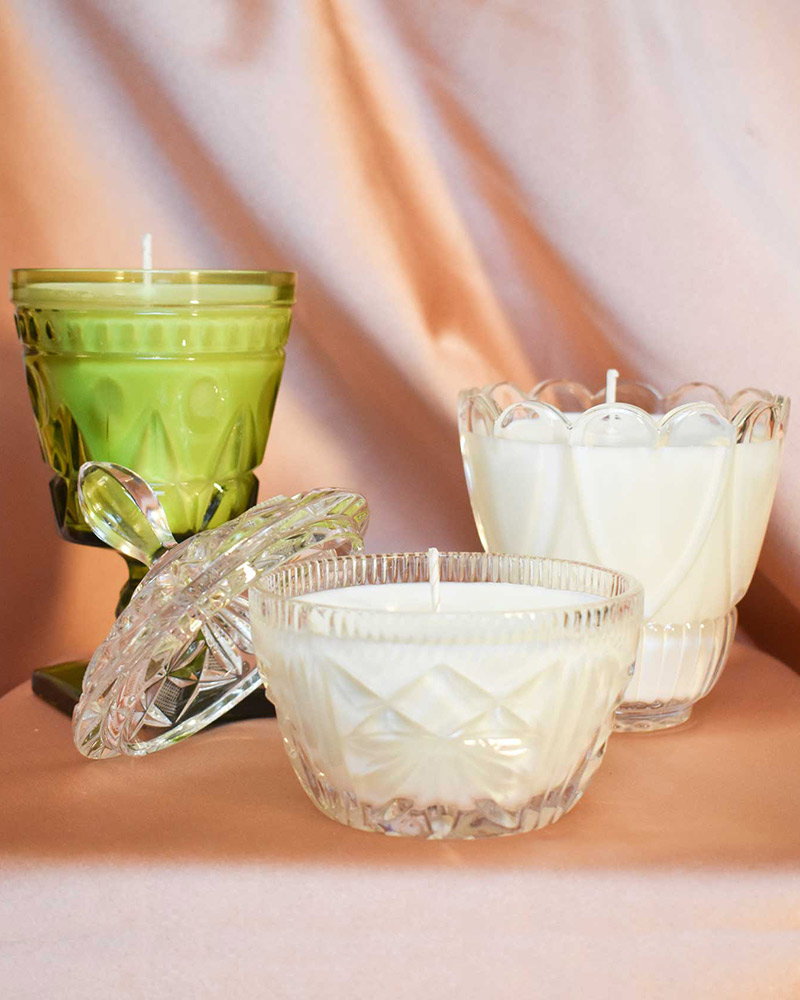 My blog periodically contains affiliate links meaning that if you make a purchase, I might make a small commission at no extra charge to you. Purchases made through them are greatly appreciated.
This month my niece, Taylor has partnered with me on all things creative. We started with our first project, you can read about that here. Our latest project is a big one and will be shared once complete! In the meantime, Taylor has been creating her own line of soy candles in these vintage glass containers. Her business is call The Vintage Burn and you can find her here on Instagram and on her Etsy store here.
Taylor was out antiquing with her boyfriend, Andrew and she came across a collection of colorful depression era glassware. She stood over these pieces with this vision that they would make the perfect holder for candles. She scooped them, bought her soy candle wax, a few fragrances and got to work. Within three days of launching her Etsy shop, she was completely sold out! She is excited to work on her next batch, be on the look out.
One of a kind vintage glass
Taylor has a keen eye in finding the most beautiful vintage glassware to use for her candles. By using these forgotten beautiful vintage glassware pieces, she is reusing vintage glassware to make a functional product that is relevant in today's world. Also important to her, is using a vegan base wax (soy) to pair with her glassware to make the most perfect one of a kind candles. By owning one of these candles you literally have a custom piece. How amazing is that?
The Vintage Burn Process
The idea of utilizing these vintage glassware into candles is the perfect example of the creative process. To imagine something's potential. This is a true creatives way of thinking. It's not about the actual product, but the thought process behind it that makes it a tangible reality. To own one of these vintage candles is to hold in your possession the end result of Taylor's creative process.
Fun accessories for your vintage candles
These candles in Vintage glassware are amazing! I cannot wait to see the new Inventory! Like this post? Please consider sharing.