We decided to add bedroom wallpaper feature wall in Emma's bedroom. We have this white dresser that has seen better days and a blank wall behind it. So our plan is to use peel and stick wallpaper on this one wall and refinish the white dresser to add some style into this space.
bedroom wallpaper feature wall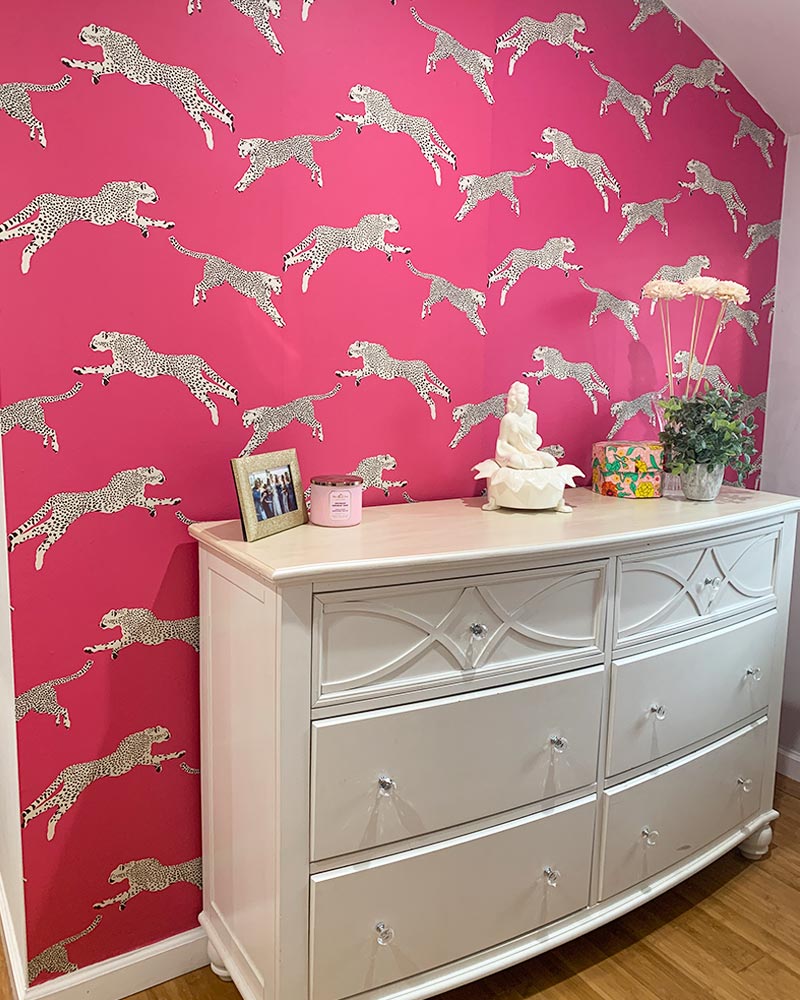 My blog periodically contains affiliate links meaning that if you make a purchase, I might make a small commission at no extra charge to you. Purchases made through them are greatly appreciated.
We recently redid Emma's room her first year at college because unfortunately her Freshman year was the fall of 2020 in the height of Covid. So she was sent home just three weeks into the semester. Check out the post we did on how to make a dorm room feel like home. We had a few more items that needed to be done and this was it!
Which wall should have feature wallpaper?
You should pick a wall that you will see when you enter the room for maximum impact. Don't pick a wallpaper that is too plain since you want to have that wow factor. Emma chose this paper called "Leeping Cheetahs" Bubblegum Leaping Cheetah. This is a Peel & Stick Wallpaper that can easily be installed, but I recommend that this is a two person job.
There are so many great choices these days for peel and stick wallpaper. Check out my post 9 Peel And Stick Wallpaper Ideas for some other fun ways to use peel and stick wallpaper. You arent just limited to bedroom wallpaper feature wall!
How to apply peel and stick wallpaper to a feature wall
Since we are only using wallpaper on one wall it is important to measure the height and the length to help determine how many rolls of wallpaper you will need. Measure the width then note the width of your wallpaper. for example. Emmas bedroom feature wall was 88″ and this specific roll was 22″ so now I know we needed 4 strips to cover. Also decide from which direction you will be applying the strips in. Since you may not use a full width of a strip on one side, decide which direction. So that if you have a narrow strip on the wall it can be used in a corner or the less visible side of the wall.
Next is to line up the pattern. This is called the repeat. (where the pattern repeats itself) first decide which direction you will hang your wallpaper , which will then tell you which side to line up your repeat.
There will be some waste of the wallpaper when lining up our repeat. I start from the top of each strip to make sure that I am starting each strip with the same pattern from the strip before. Having a large table is very helpful to unroll and cut your wallpaper using your self healing matt, ruler and either a rotary utter, and xacto or utility knife. Once each strip is cut I like to number them in pencil on the bck so that I know the order in which the wallpaper strips will be used.
7 easy steps
Measure wall and rolls to determine how much you will need
Lay out the strips and cut the length you will need for the wall, number each strip
When cutting the second strip line up the repeat in the order you will be hanging the wallpaper in
Peel back from each corner the paper, only peel a section so that you can start lining it up on the wall
One person starts to peel, while the other person adheres to the wall. Once the position is correct, use your smoother to smooth away any airbubbles.
Line up the next strip and repeat the process
Use the hard edhe of the smoother to press into the corners, ceiling or moldings, then cut excess paper.
Get this free how to guide for applying your peel and stick wallpaper!
Check out my TikTok Videos on all my DIY projects
Supplies used for this feature wall project
Even though using peel and stick wallpaper is easier than regular wallpaper, there are some supplies that I used when installing this as well as the supplies that I used for the dresser.
Wallpaper Smoothing Tool Kit This multi-function tool kit is including craft art knife with 10 replaceable blades, red and blue squeegee, vinyl cutter and sponge, which is perfect for peel and stick wallpaper
Self healing mat to cut wallpaper on the printed ruler and grids help you line up your paper for straight cutting.
This acrylic ruler with lip is what I use with my mat. it makes it super easy to line up the grid and use a blade to cut your wallpaper with. I highly suggest the at and ruler for all your projects!
Revamped dresser for the new bedroom feature wall
We took Emma's plain white dresser and decided to amp this up a bit to match the vibe of the new wallpaper. The top of the dresser was stained and marked. I used a fine grit sander block to smooth out the top. Then using Zinsser primer and a sponge brush applied two coats in one direction. Letting each coat dry thoroughly. The water based primer is perfect for this project.
Modern Masters makes this paint in a variety of colors. However we decided to use the metallic champagne color to coordinate with the other metals in Emma's bedroom color scheme.
The two paint brushes that I use for all my projects are purdy and foam brushes. Yes purdy brushes are more expensive, however if you clean the after every use and hang them to dry they will last you a long time. I use foam burshes when I am applying primer or minwax polycrylic seal.
An easy way to update a dresser after painting it is to change out the knobs. We decided to paint the knobs in pink to tie back to the background color of the wallpaper, however I have two posts just on knobs! check them out below for some fun ideas for your next project.
Before and after feature wall
Create your own bedroom feature wall
Before creating the actual bedroom wallpaper feature wall I gathered like items to see how it would look overall. Below are some bedroom items if you want to create a similar bedroom wllpaper feature wall in your home!
Related posts
check out some additional posts that you may find helpful!
Thanks for stopping by!
Susan
This post is all about a bedroom wallpaper feature wall