My blog periodically contains affiliate links meaning that if you make a purchase, I might make a small commission at no extra charge to you. Purchases made through them are greatly appreciated.
So if you have been following along, I am redoing my Dining room. Check out my previous post Repurposing A Dining Room- Room Revamp! On one of my walls I am adding floating shelves and will share floating shelf decor ideas. So many options! My floating shelf decor will be focused for my dining room. So let's get started on how to decorate floating shelves!
Floating shelf decor ideas
Why Floating shelves
These floating shelves will replace my old bulky china cabinet. I will still need storage and decor, so these will be perfect to decorate using floating shelves in my Dining room space.
So I used peel and stick wallpaper on one of my Dining room walls. This was a perfect backdrop for the natural wood floating shelves that will sit above my new repurposed china cabinet base. You can check that post here on peel and stick wallpaper ideas. Now I am ready to decorate my floating shelves!
Floating Shelves
Check out the below for some floating shelves that can easily be installed, then you will be ready to decorate your floating shelves with a variety of layouts that will be eye catching.
How to display items on your Floating shelves
Decorate Floating shelves not only with decorative items, but things you will use at times. Perfect to display when not in use! Below are some good go to ideas on how to decorate floating shelves.
Flating shelves will be my new china cabinet
Because I am replacing my china cabinet with these floating shelves I will be using it for the following items:
Crystal glassware
Serving bowls
Candlesticks
Vases
Clock
Frames
No floating shelf decor will be the same! how you decorate your floating shelves will be up to you and the purpose they serve. So have fun with it, they can be rearranged seasonally or annually for a fresh look.
Repeat elements
These shelves can be element themed as well. You can repeat your objects with multiple of pieces of artwork that work together, sprinkled in with smaller accessories such as books, and vases, or trinkets.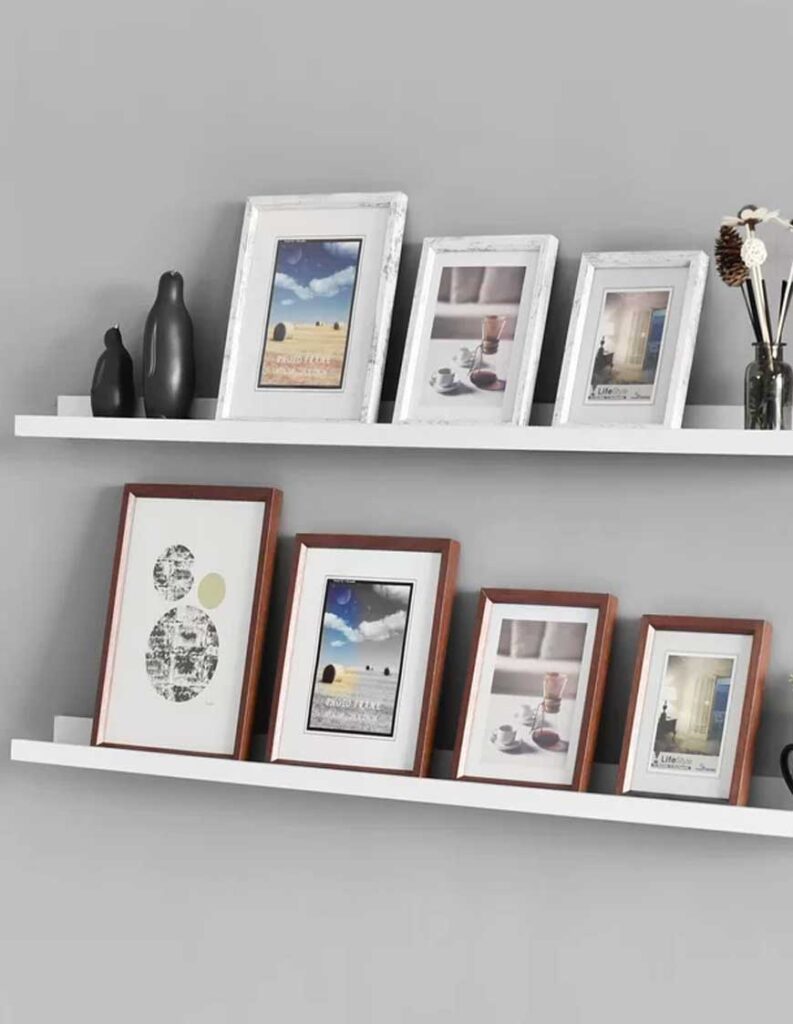 Choose a color theme
Whether it's a neutral look, or themed in a color like blue. You can choose a color theme for your floating shelves depending on your room and decor.
Wooden plank and dark brown finish, can stack a few of these for additional shelving
Double up on your floating shelves
Two floating shelves will work well together. Either one on top of the other or asymmetrical. Either way they will work well together!
Focal point
If you are working with one shelf you can have a central wow piece accented with supporting elements that bring your eye back to center.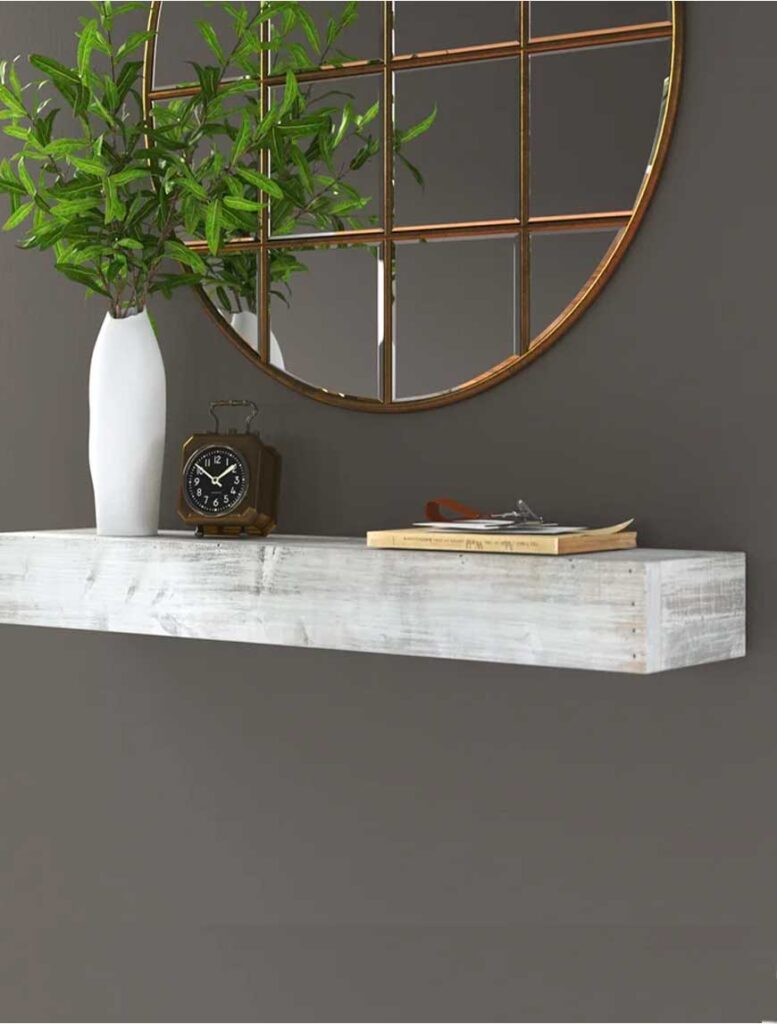 Made from solid pine wood and features a distressed white finish for a vintage look. This shelf is available in different sizes.
Variety of heights
When choosing your items for your floating shelves pick things that have varying heights to add interest and depth to your shelves
Evonne Solid Wood Floating Shelf (Set of 2) Shown in white, these blend perfectly with white walls for a more unified look.
Layering up on objects
Stack like objects from big to small and layer multiple objects on one shelf. add vertical as well as horizontal objects as shown on lower shelf for more interest and depth.
Sleek Authentic Rough Cut Floating Shelves will add a rustic yet modern feel. Easy to mount with hardware included.
Floating Shelf Decor Ideas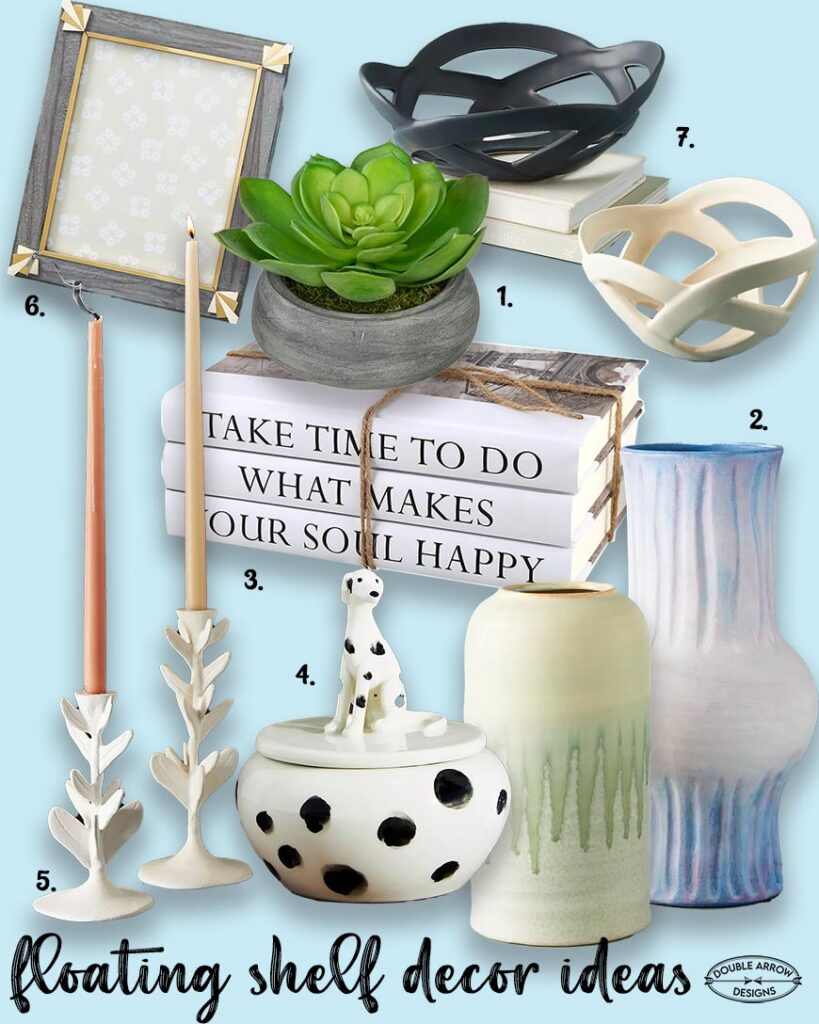 There are lots of items that can work on these floating shelves. Check out the list below for some easy ideas for to decorate your floating shelves.
Add lighting to your floating shelves
Once these floating shelves are installed you can stick battery operated puck lights on the underside of these shelves. With just a touch, or a remote nearby, they will illuminate underneath giving you a dramatic finishing touch to these floating shelves. Below are some options:
Related posts
Check out these additional posts! Each week I continue to add new posts, Bookmark my site so you can easily check back to find new posts each week.
What's on your floating shelves?
The list if items are endless! Share in the comments your ideas or items that will be on your floating shelf decor!