In this post I share open when letters for new mom. I created these fun open when letters for new mom as a perfect way to give a gift that can help any new mom navigate the first few months.
Open when
My blog periodically contains affiliate links meaning that if you make a purchase, I might make a small commission at no extra charge to you. Purchases made through them are greatly appreciated.
I created these open when letters for new mom as a way to give the extra help in a gift form. The first few weeks of bringing a baby home can be a huge adjustment. These open when letters can help ease that time and can be a great gift. Part of the magic of these open when envelopes is the special momentums that these can be filled with. Each stack of "Open When" letters will be unique depending on the content.
Open When printables – Message on each
The letters start first with: Open now – which explains the envelopes. Use all 14 and blanks, use a few, just use the blanks. Decide on any combo that works for you.
You need some company
In need of a manicure
You are feeling blue
Need breakfast delivered
You are going back to work
You need a confidence boost
Need a night out
Some serenity
Need a good laugh
You need a babysitter
Your feet hurt
You have been spit/peed on
Need to feel pretty
Need sleep
4. Bonus Open when blank labels to fill out your own ideas that you may want to include.
18 in total!
Use the blanks to write your own messages and open when ideas. Use all 14 of the above ideas, or use a few of the ideas above. You get to choose what your open when for new mom looks like and what it will contain.
First Open when for new mom
This letter should be the first one opened so they know what to expect:
No peeking!
Open only, when the topic applies at the moment.
Don't open up more than one or two in a week.
Send me a selfie with your letter when you open it.
Save them to remember that nothing stays the same forever!
Items to put in your letters
Funny stories: to brighten their day, or remind them to not take themselves too seriously.
Self care: lip balm, facial moisturizer, nail polish, stainstick
Handwritten notes: sometimes just your words are all they need to read.
Quotes: This can be perfect when some inspiration is needed.
Giftcards: small gift cards, to a favorite coffee shop, cafe, or bookstore.
Old photos: can be a great reminder of fun days and funny moments.
Some of my open when letters include
You need some company -insert your number with a note to say call me! then come over and just chat. Sometimes adult connection is all a new mom needs.
need of a manicure– A gift certificate to a local spa
You are feeling blue– New moms or parent can feel overwhelmed and tired. An inspirational quote or a personal note to cheer them up.
Need breakfast delivered– A gift certificate to a local cafe, or a note for a "good for on" voucher where you will pick up breakfast and personally deliver.
going back to work– This is a tough one. So many challenges. A subscription to audible for a month so they have something to listen to on their commute.
Need a good laugh– I printed out a bunch of fun photos of family and fun events so she has great memories on hand to look at and remember that everything is just a moment in time.
Need a confidence boost– PAcket of herbal tea and Inspirational quotes to keep her going!
You need a babysitter – If you are close you can add another "good for one" voucher for babysitting. Now that's priceless!
Your feet hurt– Add some foot cream,or a gift certificate for a pedicure, or a reflexology session.
You have been spit/peed on– Add a stain stick or small detergent packet
Need to feel pretty- Add a pair of fun earrings or bracelet, a lipgloss, or a small mirror with a note to say this mama is gorgeous!
I love a Printable! You can check out my other printables here, I have lots of great ideas, and free printables. Take a look and feel free to download and use them for your personal use and gift making.
How to Create Open when letters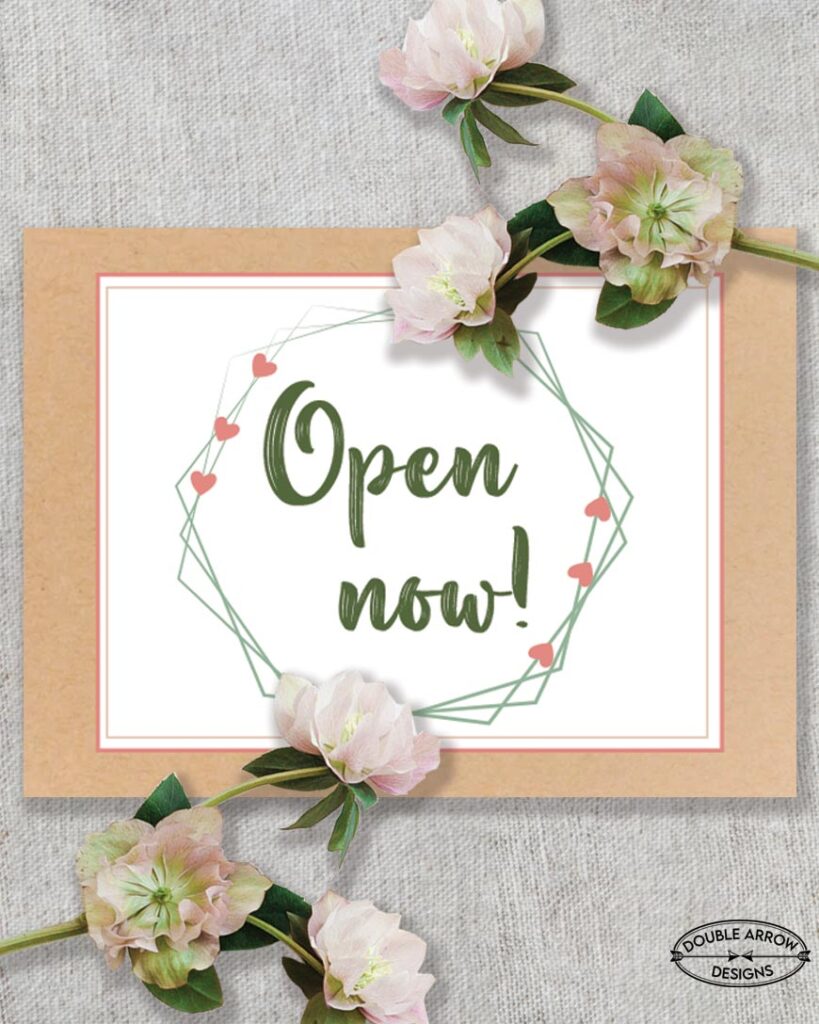 Once you download your open when labels just cut them out, and use either double stick tape or glue stick to adhere them into the center of either store bought envelopes, check these from Amazon here or use the envelope template below to create your own. These open when labels are sized for 4 3/8″x 5 3/4″ envelopes.
DOWNLOAD BELOW- Your free Open When labels
Yep! I am sharing my free printables that can be used to create your own "Open When for new mom or parent" Add your own twist on these fun free open when printables. Share in the comments any fun ideas that may add more fun to these.
For the Full series of Open when labels see below for my Etsy Store and Double Arrow Designs.
Open when labels on Etsy
For the full series of Open when labels see below for my Etsy Store and Double Arrow Designs. Each one was created with a graphic that I designed to reflect each envelopes purpose. Once tied up in a bundle they all have a unified, yet individual look for fun each time one of these "open when" envelopes are opened. I sprinkled with a good helping of confetti to keep these festive and appealing.
FREE TEMPLATE FOR ENVELOPE-click download button below
You can easily buy these craft envelopes here on Amazon, or if you are like me, make your own! Below Is a printable 4 3/8″ x 5 3/4″ envelope template that you can print and cut out as is, or use as a template and make your own envelope using any letter size construction, craft, or novelty paper.
Print out the envelope template. Crease all dotted lines. Fold both small side tabs in then fold longer bottom tab up. Use either double stick tape, or glue stick and attach the sides of the larger tabs to the side tabs. ( See image above). Fold top tab over, for envelope flap. Once you fill your open when envelopes you can seal them with some glue stick, double stick tape, regular tape, or if you are really fancy, a wax seal!
Open when letters make a perfect gift to either send your college student off with, or an unexpected surprise that they can receive in their college dorm mailbox. You can print these out on fun construction paper, craft paper or regular paper and add your own personal touch. They fit perfectly in a standard letter envelope or you can make your own, using the template that I created.
Supplies & fun stuff for Open when envelopes
|| 1 || 2 || 3 || 4 || 5 || 6 || 7 || 8 ||
Gift ideas for new mom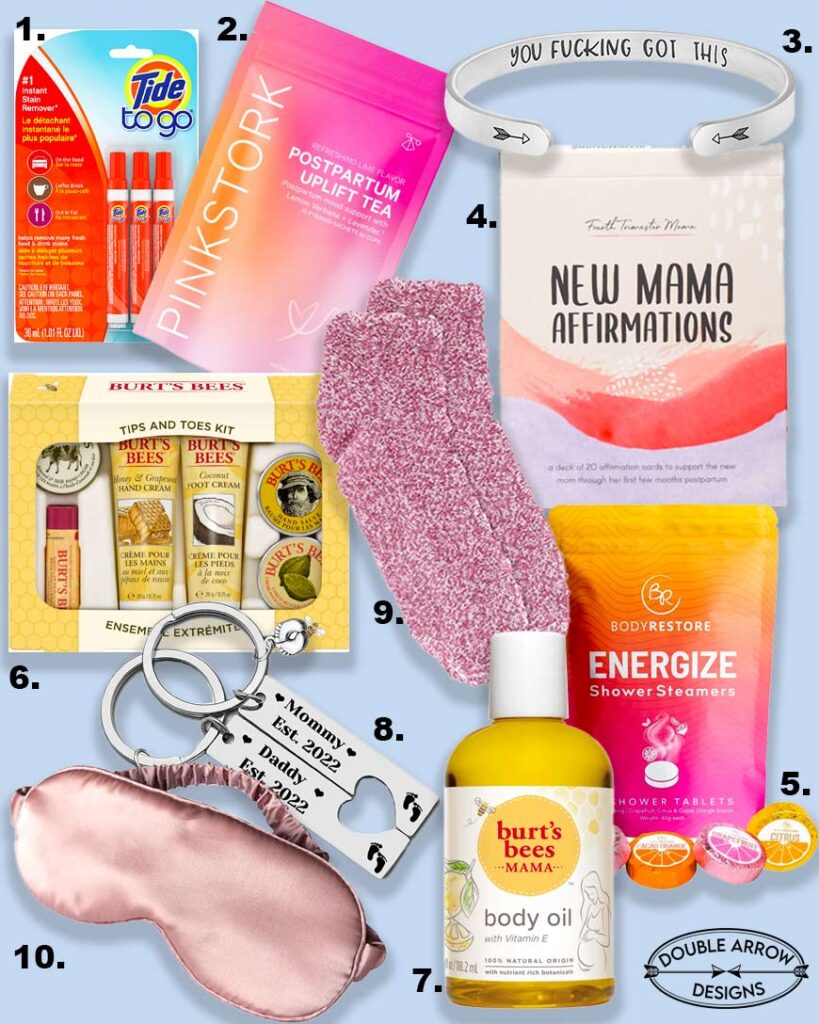 download free open when for new mom labels!
Subscribe below and receive an instant download for these pretty open when labels for new mom, dad or parent. Subscriptions help for me to see what printables are popular so that I can create more like them. I will not bother you with pesky emails… I promise!
packaging for open when letters
You do not have to just stick with envelope, if your gifts are too big for an envelope you can use, a larger envelope, gift bag or even a big gift box and tag everything with the coordinating open when labels.
Create your own Open When Letters
So many amazing ideas out there! below are some ideas for your open when letters for a new mom, dad or parent, but there are so many more open when letter ideas, below is a list of some additional ideas. All you need to do is create your own open when printable and place them on an envelope! The ideas are endless.
had a run in with your mother in law
First day home with baby
Small mom victory
Big mom victory
When you need a nap
Need a pep talk
your breasts hurt
You need a hug
You feel overwhelmed
Share your open when letters for new mom, dad or parent creations in the comments. Always love to see how people utilize what I make and what they create on their own.