My blog periodically contains affiliate links meaning that if you make a purchase, I might make a small commission at no extra charge to you. Purchases made through them are greatly appreciated.
In this post I created this beautiful perpetual printable- that's Free! Being prepared for any upcoming year or month with this perpetual Calendar is a great way to stay organized.
I designed a 2022 calendar that was a big hit, so I decided that a perpetual calendar printable would be perfect as a follow up. This pretty watercolor perpetual calendar is easy to download and print. See below for two start dates that I have created for this free perpetual calendar template.
Perpetual calendar template!
I created this perpetual calendar with two start days. Below I have included the two versions. All you need to do is download and print the perpetual calendar template pdf !
Sunday start perpetual calendar printables
Monday start Perpetual calendar printables
These are some great options depending on what your needs or preferences are!
You can instantly download these perpetual calendar printable from this post and please feel free to print out as many as you need for your personal use. These are for personal use only and cannot be resold.
PERPETUAL CALENDAR TEMPLATE – SUNDAY START
This vertical one fits great on a novelty clip board, add them all to one, or pin them individually onto a bulletin board for a full view of this blank calendar template. Choose which one you would like, download and print!
This calendar PDF once, downloaded, can be printed on regular copy paper or I prefer Epson Presentation Matte paper for a heavier and crisper print quality. Make sure that you have your printer set on portrait to print these out correctly.
PERPETUAL CALENDAR TEMPLATE- MONDAY START
MONDAY PERPETUAL CALENDAR
Use this Monday start calendar for all your work needs. When you print this, make sure that you have your printer set on the portrait orientation so that you print out the calendar best.
Use this perpetual calendar printable over and over!
No need to wait for a new year to start, or finding a pretty calendar just to find out your limited by the year and dates. Fill in your own year and dates and you are all set!
Download the perpetual calendar printable below!
Set your printer to portrait. Once you have decided you want Sunday or Monday start date, set your printer to the pages you want and you are all set. Pages 1-12 for Sunday. Pages 13-24 for Monday start date.
Once you download this calendar PDF's you can use them in an assortment of ways. Print the perpetual calendar for your clipboard at home, or print the perpetual calendar and pin them to your bulletin board. This is great way to keep organized for all your upcoming schedules and life events.
USE THE PRINTABLE CALENDAR FOR A PRODUCTIVE MONTH
We all start the week with great expectations! I know I do. With these printable calendar templates you can easily write out your whole schedule for the month. Highlight important days.
It's so easy to get distracted and lose track of the days. appointments somewhere that you can easily take a look without losing your focus is a great help when you want to keep organized. It's important to take a little time to really think which things matter and need to be done.  Start any month or any year with this free calendar printable.
Accessories to use with your free printable calendar
Check out these fun and pretty accessories that compliment these calendar printables! I love the clipboard which can easily hold all 12 months of this beautiful calendar. Also check out these fun push pins that would look terrific on a fun bulletin board.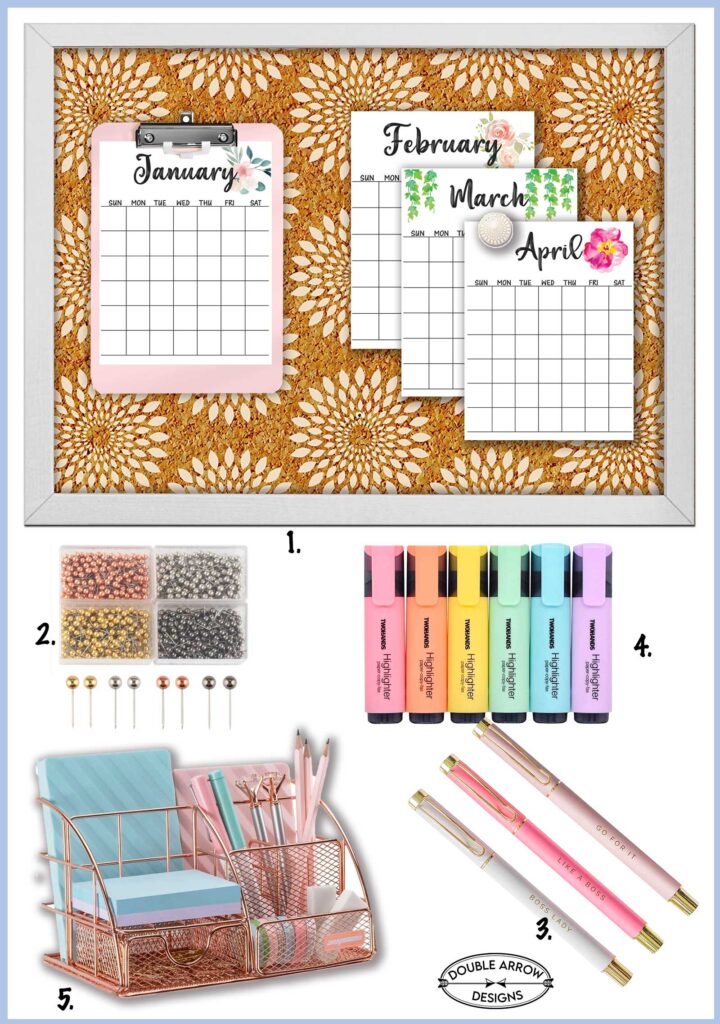 Suggested supplies for your printable 2021-22 calendars
Once you have downloaded the layout and design that you want. Just print! The best outcome is to print these pretty designs on quality paper. Below are a few suggestions
cardstock – that will give your perpetual calendar more body
novelty paper -that has some texture. you can print these calendars on regular copy paper.
Epson matte Presentation paper– This is my go to for printing my calendar template pages. This is just a little heavier than regular copy paper and prints really nice!
Razor tip Sharpies– Perfect writing tool to fill in your calendar events with
Highlighters– great way to color code your daily tasks! This can make your perpetual calendar colorful and bright, and fun to look at.
Fun Printables
The images have my logo on them, however the PDFs when downloaded will not have them. Those are just there if someone wants to pin those images, so pin away for later reference!
Please note that all designs on my site are for personal use only, and may not be sold, altered, redistributed or claimed as your own. A lot of hard work has gone into making these. Thank you for respecting my terms!
Related Posts
Check out some additional posts that you may find useful. I have a whole section of useful printables! Fun Labels, inspirational monthly calendars,stencils take a look, lots to choose from!
Are these printables helpful?

Check out all my Double Arrow Design printables, They range from calendars, to labels. I have you covered for those printables that you can easily download and print in an instant! I continue to add new designs, and printables every week, so keep checking back to keep up to date on all my free printables.
Bookmark this page!
How many times do we find that great resource, then cannot find it again? Bookmark this page for easy reference. This way you can come back and easily see additional resources that I am constantly adding, next I have worked on a daily planner. I have made all my images Pinterest friendly, so you can also pin all my images on your pinterest board, or share on facebook with friends! Have fun and hope you find all of these helpful!