My blog periodically contains affiliate links meaning that if you make a purchase, I might make a small commission at no extra charge to you. Purchases made through them are greatly appreciated.
Student budget template
So your child is off to college! So exciting, and a perfect time to start looking at budgets! I created this college student budget template so that spending and saving can be looked at on a monthly and a weekly sheet.
I have two kids in college, my daughter Emm will be a junior this year and living off campus. This is a perfect time to sit down and talk about a monthly college budget so that we can make sure she is living responsibly and within her means.
Monthly student budget template
I started out with a monthly college budget in order to see all the expenses. This is a good time to discuss what you will be covering and what they will be responsible for. Below is the breakdown for my household.
Expenses covered by parent
This is really important to discuss what you will be covering so that your student can save or work for the items that they have to pay for. Below are the things we are covering for her:
Tuition- Minus her Fafsa loans, scholarship, and aid.
Rent (renters insurance is part of her rent)
Groceries- Her house has a full kitchen where she will cook many of her meals
Utilities- This will be split amongst all roommates
Internet- Also split so our cost will be 1/5 of the total
Transportation- when she is traveling to and from school
Books- for all
Supplies
phone
Items that Emma will be responsible for:
Eating out
Music subscription
Sorority dues
Ubers
Extra clothing that's not essential
Any "extras" that she deems necessary!
Since she is working this summer she will have saved enough for the extras listed above. Having this conversation is helpful so there are no surprises.
Weekly Expenses
I created this sheet for weekly college expenses so that she can trak her daily, weekly spending. A good exercise in seeing where her money goes each day and each week.
Printable college budget template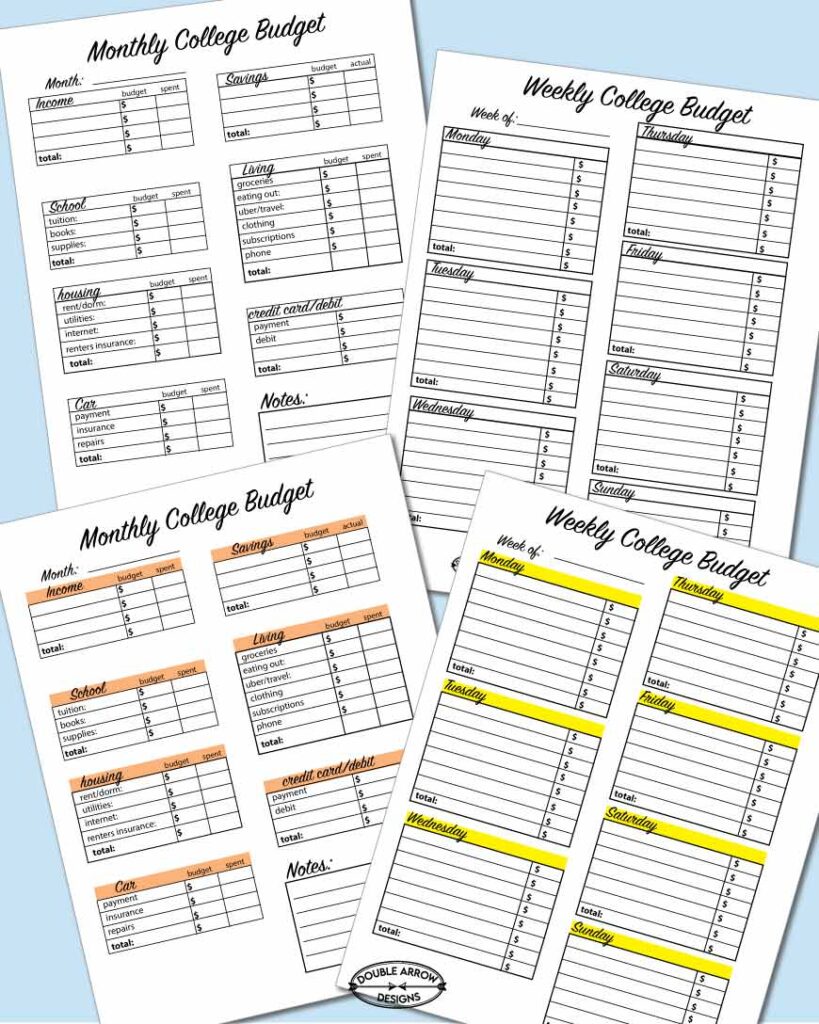 Feel free to subscribe below for your free college student budget template. Don't worry! I will not bother you with emails! This just helps e to understand what printables I create are useful to others. This way I can continue to create printables that are needed.
College Budget templates
I created these in both color and black and white! all four worksheets are included in the free download.
RELATED POSTS
Take a look at these additional posts that are so useful for your college student!