My blog periodically contains affiliate links meaning that if you make a purchase, I might make a small commission at no extra charge to you. Purchases made through them are greatly appreciated.
My Son is off to graduate school! I thought I was done, but he landed an amazing opportunity to earn his masters degree while teaching in Boston. So I created this printable college dorm checklist for guys so that I can start getting my son ready for college…Again!
College essentials for guys
Packing for a guy is much easier than packing for a college girl. Since I have both I know this as a fact! However if you have a college guy like I do, they do not like to plan or pack, so I compiled a free printable college dorm checklist that will make this process much easier.
What to pack for College guys
Below is a comprehensive college packing list I put together in order to make sure we have everything for Connor on his next college adventure! printable college dorm checklist for guys will help you get organized. Not only is there what clothes to pack for guys, but all other items to pack for your college guy. It is a full college essentials for guys, so take a look!
Below is everything that is on this printable dorm checklist for guys.
1. CLOTHES
My suggestion is to pack 7-10 days worth of clothes. Two reasons for this. One, dorm rooms are not known for storage space, two, your guy will learn to do laundry when they do not have any clean clothes!
A few go to for my son are:
Old Navy– great for basics like t-shirts, sweats, etc
American eagle outfitters– Go to place for denim jeans they have a wide variety
H&M– Perfect to find some more fashionable items without breaking the bank
2. SHOES
Sneakers! yes, but what about athletic shoes, flip flops for the shower or slides for after the gym. He will need boots when October comes around. Take a look at my free printable for a whole list of shoes he may need.
DSW– has a wide range from sneakers, to boots to dress shoes.
3. OUTERWEAR
A waterproof jacket with a hood is essential! Guys are not going to carry around an umbrella but will use a hood.
4. TOILETRIES
A portable caddie is a great way to store and bring to a bathroom all your toiletries, especially if shared on a hallway.
5. PERSONAL ITEMS
This can include many things. I categorized a backpack in this because this is a place where many of your college guy will carry them. I love this lululemon one because it is water repellent and exterior padded pocket that fits a 16″ laptop.
6. BEDDING
Most Dorm rooms have xl beds so it's important that you buy the XL twin sheet sets and buy 2 sets! Most college students will not change their sheets for weeks, sometimes months. You can test this theory by putting a note and $20 under their sheets. When they finally change the sheets, you will get a call thanking you for this found money!
Mattress topper! the mattresses are covered in plastic, this is not a nice feeling under a pair of sheets. Invest in a mattress topper/ mattress cover to add additional softness and comfort
7. TECH ELECTRONICS
All college students will go off with their laptops but will need additional tech items. The most valued add on are airpods. They offer free engraving on the case, so there will never be a mistake whos airpods these are!
8. ROOM ESSENTIALS
Love this lamp for the adjustable neck, light features and multiple charging. A great all in one for a dorm room.
Another must have is a mesh collapsible hamper. My son has used his for the last 4 years and now it is time to replace it. Below is what I am getting for him. What I love about this is that you can pack it up as an additional bag and fold up to nothing when not in use.
two good places to store additional clothes or supplies is by using the space under the bed. These flat boxes can easily be pulled out or pushed back in.
9. SUPPLIES
When living in a dorm you will need to pack some essential cleaning supplies.
10. MEDICAL
Last phone call you want from any college student is that they are hurt. So yes, make sure that they have their own medical card, know what insurance they carry and how to use their college health services on campus. Having a first aid bag readily available in your students dorm is a handy way to keep first aid essentials on hand.
11. Miscellaneous items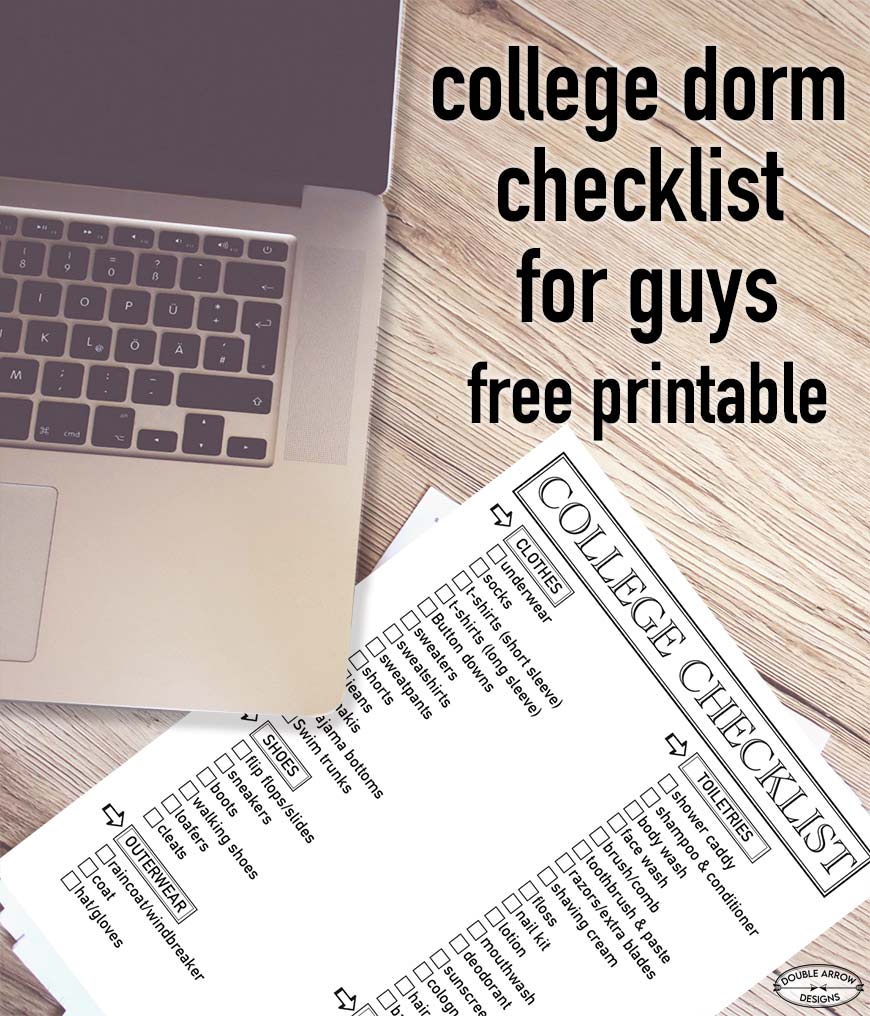 There are always items that do not fall into exact categories so I made this on the list with some extra blank boxes to easily fill out for your college guys needs. Some of these items for my college student are:
Reusable water bottle
Tool kit, just like the above first aid kit. A small too kit comes in handy to tighten up a screw, put togther a small item.
12. SHARED ITEMS
In any dorm situation whether it be a room off a hallway with a shared bathroom for the floor, or a suite that consists of multiple dorm rooms with a shared bathroom you will essentially need to share some items. Check with your college to find out the rental for mini fridges and microwaves since they have specific requirements. You can split the college year cost with all the roommates and it makes this very affordable. Check out the printable college dorm checklist for this section to see other items that your college guy can share cost of with his roommates.
13. SCHOOL SUPPLIES
Most college kids will be using their laptops to write their papers and even take notes in class. However their is a section on this college dorm checklist for guys for basic school supplies that can sit on their dorm desk.
14. BLANK SECTION
Fill out your own category, this isn't a one size fits all printable dorm checklist, so I have put this section in for an additional situation.
15. NOTES/ EXTRAS
a few blank lines are here so you can take quick notes of last minute items or even tasks to get done before or while you are moving your college guy into the dorms.
Hope this was helpful! I will be printing my printable college dorm checklist for guys and will start getting everything together so there is no stress about forgetting what he needs for this upcoming school year.
Printable College dorm checklist for guys
Just download your free printable college dorm checklist below. Super helpful and you can even color code it for easy viewing.
RELATED POSTS
Check out these "open when letters for college students" they have been such a great hit. I am getting together a package for Connor so when I leave him this summer he will have some fun opening them up!