Note: My blog periodically contains affiliate links meaning that if you make a purchase, I might make a small commission at no extra charge to you. Purchases made through them are greatly appreciated.
Easy steps to Repurposed Patio Furniture. My sisters and I sat at this Patio furniture set when we were children in Brooklyn. When my parents divorced it moved upstate with us. After her death in 2017 I inherited it this patio furniture set. This patio furniture set sat unused in my backyard for the last few years. We were having a backyard grad party for my daughter and took the opportunity to repurpose this patio furniture set. Come follow the journey below for a beautiful refurbished and updated look!
Steps to Repurposed Patio Furniture
Original paint and condition that I started with. This set was never repurposed, it still had remnants of the old white paint with an allover patina of rust that it had succumbed to over the years. The old painted wood seats that came with the set had no cushions.
STEPS TO REPURPOSING A PATIO SET
It is so important when using the steps to Repurposed Patio Furniture to spend some time on the prep work, this will always make the finished project that much better!
Use a wire brush for small areas or a power tool with wire brush attachment to remove any excess paint & rust on your patio set.
Wipe down your pieces with a damp clean rag to remove any dust or flaking paint that may still remain.
Place pieces of your patio set upside down on tarp outside and use Rust-oleum spray paint for coverage. Then use light even strokes to cover your surface. Also remember you can do this in layers to avoid paint from pooling, which will give it an uneven look.
Flip and spray right side up to ensure full coverage. Because I fell in love with this color I used Rustoleum color vintage teal in a satin finish Loved the finished results from this!
You can also use a Minwax polycrylic spray sealant to seal the paint. I didn't on this project, but did on this wicker chair project. The spray gives it that extra seal, especially if used outside.
Since these are outside pieces, you may have to do some touch ups time to time, so keep the color that you used for the patio furniture on hand!
Pro tip: Spray paint can go everywhere and stick to things you have close by, so PLEASE do yourself a favor and spray outside, give yourself ample room, and make sure there is nothing close by that you want left with spray paint.
Repurposed patio furniture seat covers
Using the wood inserts, I marked the foam that was left over from a previous project. Also I used remnant fabric that I also had left over from my Kitchen stools which I had upholstered a few years ago. this was a Sunbrella fabric in Hybrid sky intended for high traffic and outdoor use. The Fabric is not inexpensive, however you do not need a lot, depending on the width of the fabric you may only use a yard or two. Be creative on how you lay out your templates to optimize your fabric piece.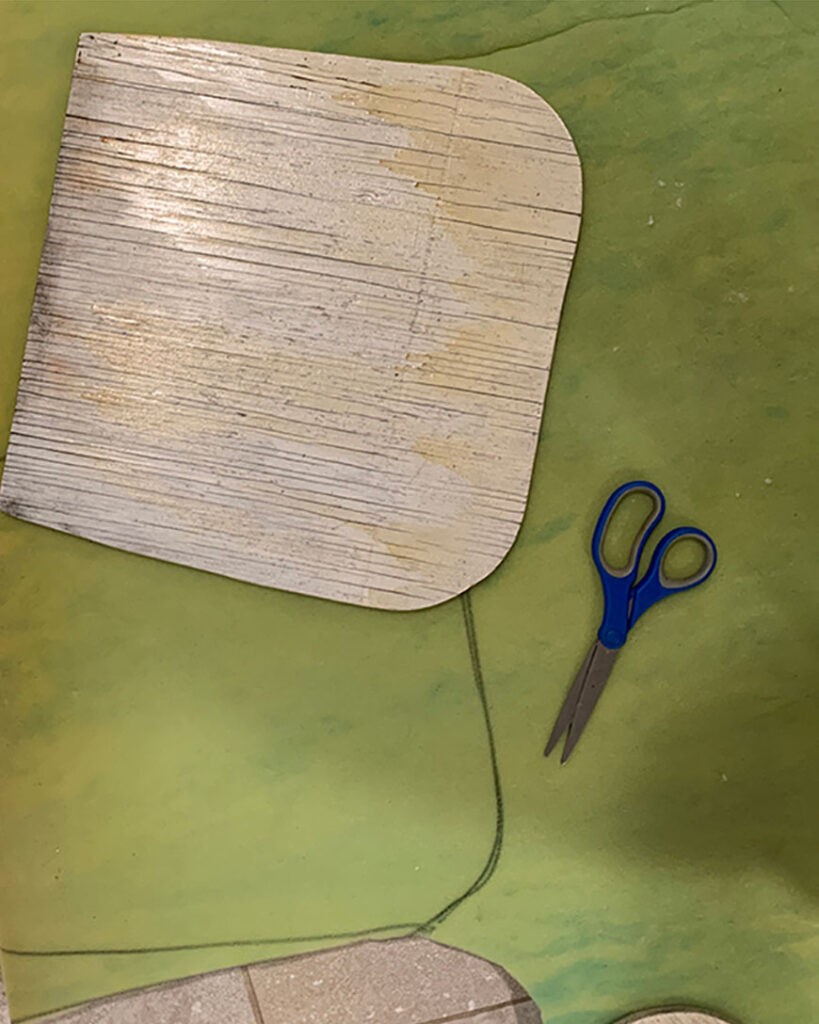 Place seat base for the patio furniture seat cover on top of foam, this can be used as the template to cut out foam to size and shape.
Choose your fabric, Amazon has a pretty good variety, I had originally bought my fabric at Mood Fabrics.
Stack both the seat cover and foam on fabric and allow for enough fabric to come over foam and back of wood. You can always trim this later.
Bring fabric up and around and fold at corners and fold around corners in place to staple.
Pull snugly around and using a staple gun, staple once on all 4 sides to ensure an even tension.
Then, continue & staple fabric down evenly around all 4 sides until fully secure and stapled.
For the corners, fold fabric around, as shown in above photo, then secure with staples.
Cut excess fabric around staples.
Constructing Seat covers
Fabric hack for seats
Not enough fabric to cover all seats? Check out how I solved this below!
My remnant was just a little shy of covering 4 seats, so I got creative. First I cut out the 3, then for the fourth one, I pinned the extra pieces to two sides, then sewed up two simple seams, ironed them down so they would lay flat. The seams fell to one side and the back of a cushion, and not readily noticeable, and allowed me to use all the fabric I had.
Supplies used for my steps to Repurposed Patio Furniture project
|| 1 || 2 || 3 || 4 || 5 || 6 || 7 ||
Related posts for painting metal
Check out these related DIY furniture posts for more projects! Below are additional DIY painted furniture posts for metal. You can also take a look at my Double Arrow Designs furniture section for other DIY furniture posts.
Patio Furniture Sets
Not everyone is into DIY, so I always love to add a section of items that do not have to be DIY'd. Take a look at my selection below for some fun patio sets. I even included some retro looks, happy shopping!
Join my mailing list
I do new DIY projects every week, Join to keep up to date on these! Hope you enjoyed these Easy steps to Repurposed Patio Furniture project!