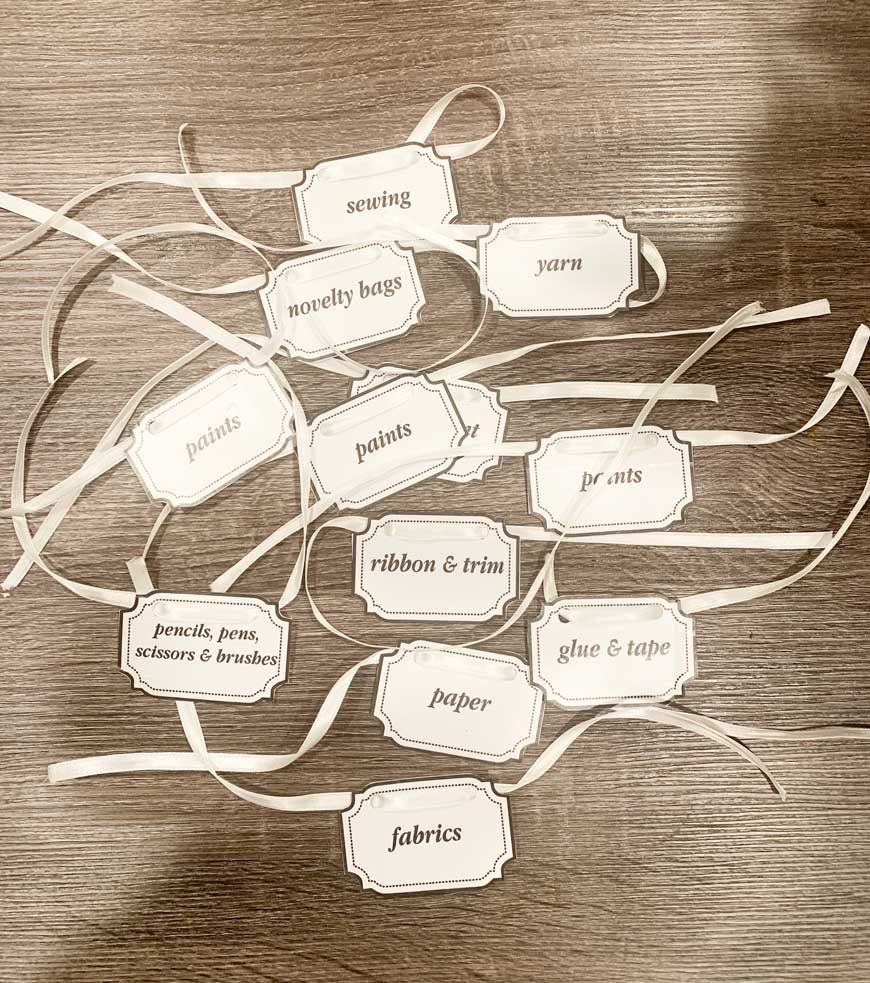 My blog periodically contains affiliate links meaning that if you make a purchase, I might make a small commission at no extra charge to you. Purchases made through them are greatly appreciated.
When I redid my Craft Closet I made these really cute labels. Check out these free printable craft labels they help organize any craft space, closet, area or room! These came in handy when I redid my craft space into a well organized craft closet. It was the finishing touch needed to help organize my craft closet. The labels were all uniformed and had a fun look to them. You can read about that here.
Once I had organized everything into the correct bins and baskets I needed craft labels to make everything organized. I may pull out baskets while working and if I don't put the baskets back in the same order, this will be ok. Once they have their craft labels on them they can be placed anywhere on the shelves. I will be able to identify each basket and their content at a glance.
Craft labels
I designed the below labels for my specific craft closet, However I also left some empty that can be filled out to be filled out for specific craft materials I may not be using at the moment. Just download the free printable craft labels and you can fill out what your craft contents are.
Variety of ways to use these free craft printable labels.
Once I printed these out I "laminated" these craft labels by adhering contact paper on the back and then on the front. This will help to keep them from tearing or getting beaten up when taking the baskets on and off the shelves. I cut each one out, added two hole punches then threaded 1/4″ white satin ribbon through the front and tied them in a bow at the back.
Another way you can use these free printable craft labels is by printing on a heavier stock paper and using double stick tape on the back and sticking them directly onto your bins or baskets. Below are the supplies that can be used for this very easy simple project.
Print the labels out on colored paper, or brown craft paper for easy color coded tags, or print out on regular paper and marker in different colors. You can personalize these labels to anything you want.
This other way can be pretty good as well when wanting to attach the through a cardboard box. Printout the craft labels and then with Paper Fasteners. I remember these as kids, but the front can give you a nice decorative look with their brass heads.
Materials for Craft labels
Free Printable Craft Labels That Help Organize- download below
Whatever way you decide to use these free printable craft labels, they are great to organize with! You can check out my other printable wine labels here. These are also a fun way to tag a bottle of wine and make them n instant gift. Leave a comment, or better yet an image of how you used your free printable craft labels below. I always love to seehow people have used what I can provide.