My blog periodically contains affiliate links meaning that if you make a purchase, I might make a small commission at no extra charge to you. Purchases made through them are greatly appreciated.
In this post I highlight some amazing sweater shorts in matching sets. Yes this is a trend alert and I am loving it! These comfy two piece sets are perfect for end of summer into the cooler days of fall. Check out the sweater shorts I highlight below!
Sweater short trend
Sweaters are making a huge presentation this coming season. The use of sweaters in matching sets can be found in a variety of retailers. Not only in these fun sweater short sets, but also in stand alone cardigans for layering pieces, matching sweater skirt sets, and sweater pant sets. Below I am focusing on the sweater short, however as you shop you will see these additional key item sweater sets.
Matching sweater shorts in sets
These two piece matching sweater short sets are trending not only in women but in juniors and kids. I know this is what I will push for in my designs for kids.
Top retailers for these cute sweater shorts in matching sets
Below is a top list of retailers that carry these sweater shorts in really cute matching two piece sets. These matching sets are perfect to wear on their own, or pair with other items in your closet for multiple outfits.
Free People
Anthropologie
Abercrombie & Fitch
Reformation
Amazon
This striped sweater short set from Free People. This oversized short sleeve top can be easily used as a layering piece over a tank or tee. Free People has a great selection of trend right styles, including some additional sweater set options.
Free people has this pretty solid sweater short set style in multiple solid choices. Long sleeves are great for those chillier days.
Love this textured cable knit sweater set perfect for lounging on the weekends, as the days become cooler. Super cute and comes in some additional color options.
This slouchy V neck sweater set is perfect in this neutral colostory. Ribbed sweater has a little bit more of a sporty feel to it and love the textured look it provides.
These sweater lounge shorts come in a really good price point. Then each piece can be paired alone for additional outfit options.
REFORMATION- SHORT SETS
For a more luxurious set Reformation carries this beautiful Cashmere Short Set in a dark grey color. This set is a little pricey, but you will have it for years to come. Reformation is a sustainable clothing line that will make you feel good about your purchase.
Perfect sweater short set that comes with this trendy cardigan that would look great with a pair of jeans and a cute tank.
AMAZON– TWO PIECE MATCHING SHORT SETS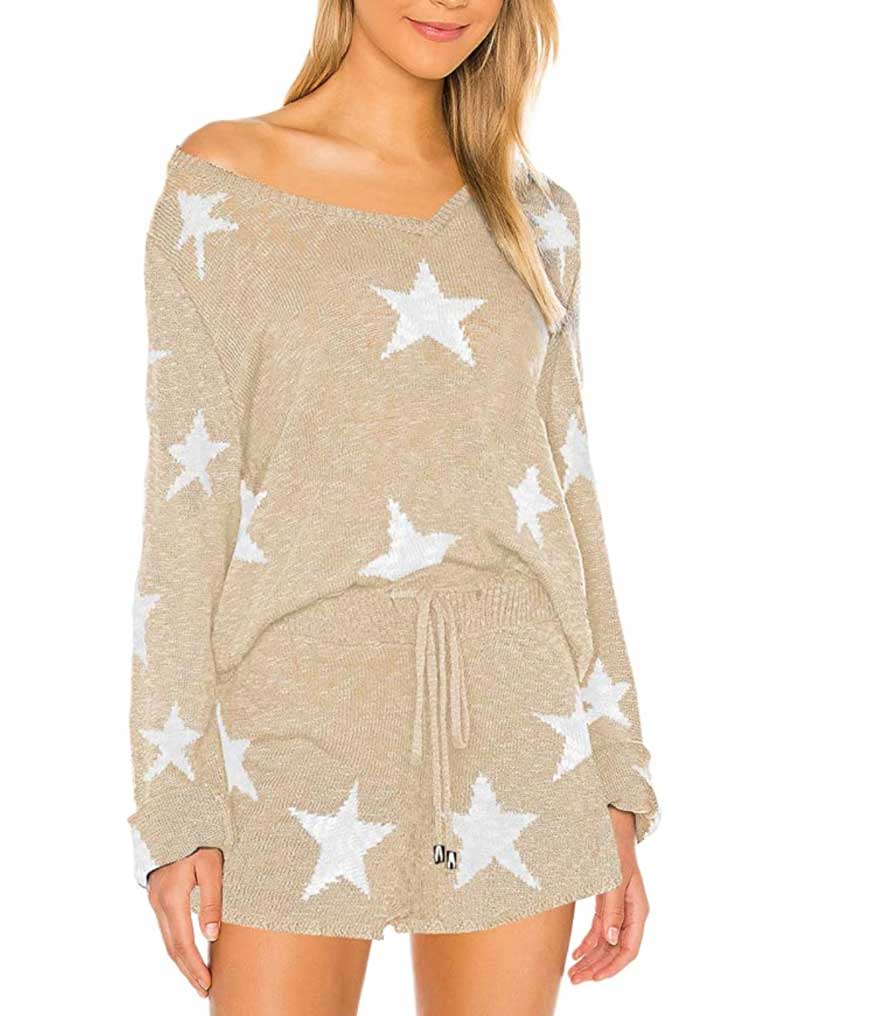 2 Piece Knit Long Sleeve Sweater Top and Shorts Take a look at the link, this specific styles comes in a multitude of colorways, and patterns, something for everyone! For more of a playful take on the sweater short set.
Womens 2 Piece Lounge Off Shoulder Floral Knit Sweater. Now this is a fun set! perfect for late summer nights and cool autumn days.
Related Posts
Check out the below posts that may interest you! Since I am constantly researching trend I update my posts regularly. Take a look, below or visit my design section on my blog for a full list at Double Arrow Designs clothing trends.