My blog periodically contains affiliate links meaning that if you make a purchase, I might make a small commission at no extra charge to you. Purchases made through them are greatly appreciated.
In this post I created a December calendar printable that is perfect to download, print and then assemble into this perfect December inspiring tear off calendar. This is a great way to keep you organized for the month of December. I use mine each month, hanging from my bulletin board and remind myself to see the potential of the month ahead!
For the Month of December
I celebrate each month with a new inspirational calendar. Below is a December calendar printable. In this post you will find the following free calendar downloads. Print as many as you like for personal use.
Scroll down to find the calendar perfect for your needs!
Some great choices, easy to download, print and use right away.
Download below your December calendar pages.
Just hit the link below and you will instantly download a pdf of the December calendar with inspirational quotes for each day. Once you download, print on paper. I always suggest Epson presentation paper, for better quality. Then with either a scissor or a paper trimmer, cut out all the squares. Convenient hole punch guides are at top, simply use a hole punch and thread with some ribbon or yarn. Stick on a bulletin board for daily Inspiration!
When printing your December calendar with inspirational quotes, my suggestion is to print landscape so that each box will print out 3 3/4″ by 3 3/4″
Download-December calendar daily inspiration
When I think of the month of December, it always reminds me of Christmas. This is the perfect month to celebrate our lives and the gifts we have been given. So my inspirational month of December calendar is themed around the importance of celebrating life and our gifts. These quotes for this month are about appreciating what we have around us and celebrating them!
Check out the individual Calendar pages below
Life is a precious gift. Use your days wisely.
Love the giver more than the gift.
Love is, above all, the gift of oneself.
Every birthday is a gift. Every day is a gift.
life isn't about finding yourself. Life is about creating yourself.
We are born alone, we live alone, we die alone. Everything in between is a gift.
The true meaning of life is to plant trees, under whose shade you do not expect to sit.
You can give without loving, but you can never love without giving.
If you count all your assets, you will always show profit.
Things turn out the best for people who make the best of the way things turn out.
At some point, you gotta let go, and sit still, and allow contentment to come to you.
Be grateful, not only for others, but for yourself.
Cease to inquire what the future has in store, and take as a gift whatever the day brings forth.
Health is the greatest gift, contentment the greatest wealth, faithfulness the best relationship.
Life is a gift, love opens it up.
Youth is the gift of nature, but age is a work of art.
Love is always bestowed as a gift-freely, willingly and without expectation. We don't love to be loved; we love to love.
A gift of truth is the gift of love.
One word frees us of all the weight and pain of life: that word is love.
Love is the master key that opens the gates of happiness.
The more grateful I am, the more beauty I see.
A grateful mind is a great mind, which eventually attracts to itself great things.
Do not spoil what you have by desiring what you have not.
You will never have enough, do enough or be enough, until you see yourself today as enough.
We should certainly count our blessings, but we should also make our blessings count.
Gratitude is more of a compliment to yourself that someone else.
There is a calmness to a life lived in gratitude, a quiet joy.
The thankful receiver bears a plentiful harvest.
Now is no time to think of what you do not have. Think of what you can do with what there is.
The invariable mark of wisdom is to seek the miraculous in the common.
Some people grumble that roses have thorns; I am grateful tha thorns have roses.
A page for notes, to write your own favorite quote.
Inspirational Quotes for December
Love these quotes that I have added to this inspirational December calendar! Each day has a different quote that will set you right for the day. I chose ones that are remind ourselves to celebrate our lives and to remember that it is a gift. A nice way to start our day.
Check out my past posts for my months inspirational printable Monthly Calendars. I am adding all the months so that each month will have it's own special inspirational quotes for each day of the month.
December Calendar to keep organized
As a designer, I loved redesigning this calendar and adding my own design images for a pretty eye catching calendar that you can download for free! There are a few fun versions of this December calendar for multiple needs, check out below the different versions you can find and download – for free!
Full Month of December calendar page:
Just scroll down until you see the design you like and you can find the direct download link(s) under the image. Actual downloads are logo free. The images below are great to pin for your pinterest board, so pin away!
There are two versions to choose from, Monday start date or Sunday start date, depending on when you like to start your week.
Perfect for your planner, binders or bullet journal, or bulletin board! Or use the December 2021 calendars as is! Check out below for each month with free downloads.
Supplies Monthly Calendars
Instant download. Free printables.
Download and print out your Favorite version of the December calendar. Or download the monthly and the inspirational one and use both! Personalize them by adding your own events and holidays. Print out the Vertical one or the horizontal one. So many options to choose from.
FREE PRINTABLE DECEMBER CALENDAR – GET ORGANIZED!
Additional Months
Since the beginning of the year I have been creating a monthly inspirational calendar that you can download and assemble like I have. See Below for each months calendar. Just download and you are set for the upcoming year.
Look at this colorful themed Monthly Calendar, all designed by me. Easy to download and print so that you can stay organized for the rest of the year. Each graphic helps to depict the feel of each month, so no two months look or feel the same. So with color coordinated months, each month looks different. Then I took each monthly graphic and used this to create my inspirational monthly calendars. Each month coordinates back to these fun printable inspirational daily calendars.
Printable December calendar – Pin to your favorite Pinterest board
Let me know if any links are not working. Always helpful so I can fix anything that may need to be fixed.
Shop Desk Accessories- for your home office- Super stylish, check them out!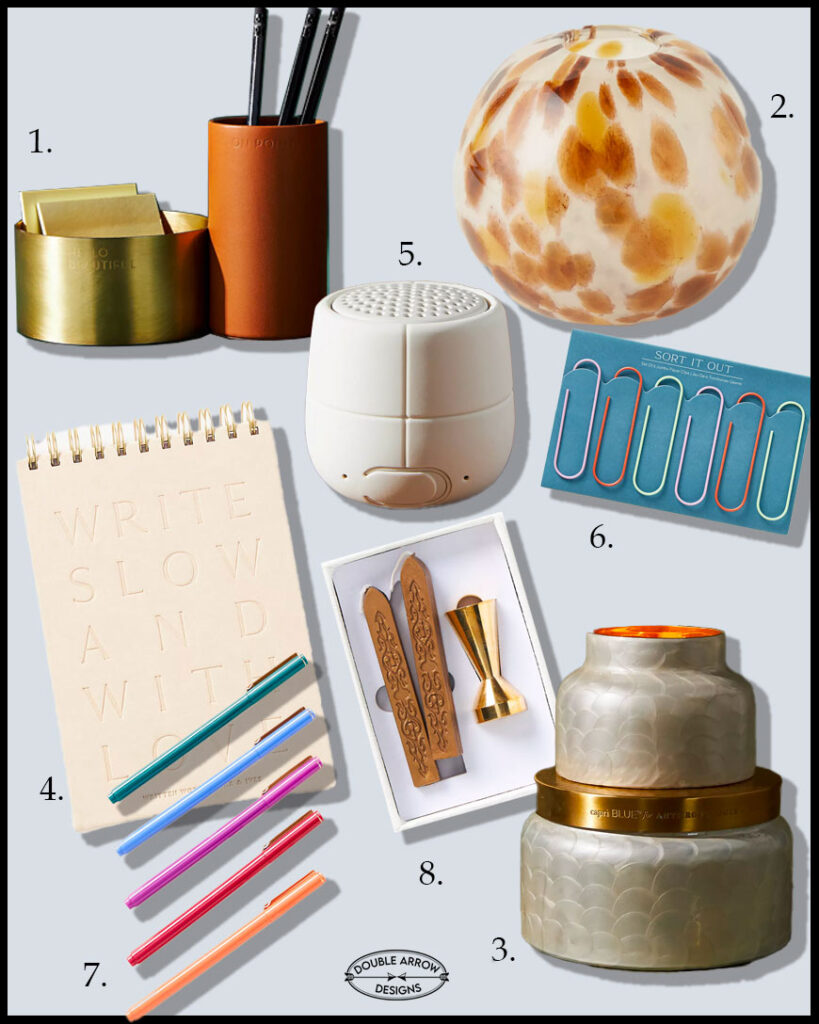 Having your calendar on your desk definitely helps keep you organized,especially for the month of December. I put together additional desk accessories to complete your work space. Shop below for some really pretty accessories.
This year and beyond
With the holidays coming, it time to be celebrate what we have! To enjoy life the people we love around us. Enjoy this season and remember that each day we have, and the potential our lives hold. Use it to its fullest! Enjoy!
Susan
Keep in touch with my newsletter and you won't miss the monthly calendars.